Lessons learnt from Awatarariki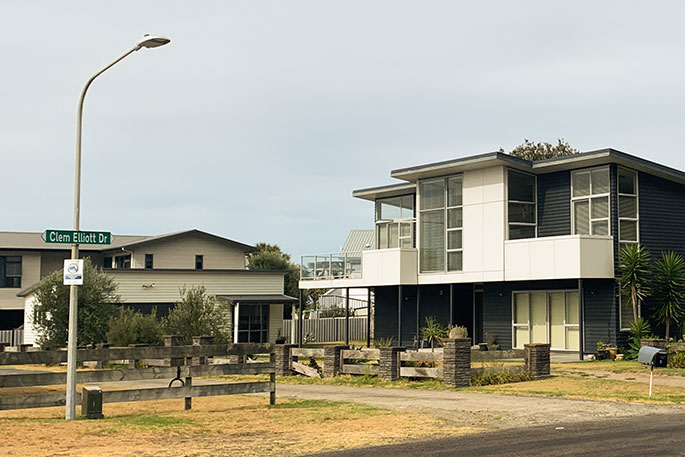 A week after commissioners decided the fate of Awatarariki residents, Whakatane District Council has reflected on what it has learned from the saga.
Councillors received a report on the decision at an extraordinary council meeting held last Thursday - the first official council meeting to be conducted via Zoom.
Commissioners confirmed the council's position on the danger of future debris flows to residents living on the Awatarariki fanhead at Matata and agreed with the appropriateness of the plan changes intended to extinguish resident's existing use rights.
Councillor Lesley Immink asked managers if, at any stage, councillors would get a vote on the future of residents or if it was "out of their hands now".
General manager planning and finance David Bewley says the previous council had already delegated authority to the commissioners and the decision commissioners made was on council's behalf.
Manager strategic projects Jeff Farrell says if residents appeal the decision to the Environment Court, councillors might need to vote to adopt any recommendations made there.
However, this is essentially a formal adoption process.
Councillor Gavin Dennis says while it's important to acknowledge council staff's hard work, it's also important to acknowledge the ongoing emotional strain the process had caused affected residents.
Councillor Gerard van Beek says although he disagrees with some of what was said in the report, he thinks it' very well-written and he hopes residents will take up the council's acquisition offer.
Councillor Nandor Tanczos asked what the decision and lockdown meant for the managed retreat process.
Jeff says the timeline for the managed retreat had already been pushed out to May 31 and the council had already acquired 17 properties in the fanhead, 10 of which had homes on them.
Further mediation was held last Friday for eight properties and he says the council will be returning to those property owners with a revised offer today.
He says the Government had indicated it will not supply funds to purchase homes in the next financial year but it has agreed to supply funds for the open space development of acquired properties as this will take longer and involve community input.
"This will be transformational for the Matata community.
"You can already start to see it happening now that some houses have been removed. But it needs time to be worked through in a comprehensive way."
Councillor Victor Luca questioned what lessons council had learned from the residents' "15-year ordeal".
He says the council is likely to be in the same position again due to climate change and urged councillors to think to the future.
Chief executive Stephanie O'Sullivan responded by saying the Government needs to come up with a national framework for councils that might find themselves in a situation like this.
She says it's "difficult and unsustainable" for councils to be left to make decisions like this on their own.
Mayor Judy Turner says in the future, council should be careful when, in the middle of a crisis, it made promises on what it could fix.
She says the council spent a significant amount of money and carried debt to investigate engineering options to the debris flow risk which were simply not viable.
"We need to be careful at the beginning on what we promise to do."
At the council meeting, councillors also accepted half-yearly reports from the Local Government Funding Agency and the Bay of Plenty Local Authority Shared Services.
Council also resolved to delay consultation on District Plan Change 3 due to the current nationwide lockdown.

More on SunLive...