Delays in harvesting may impact revenue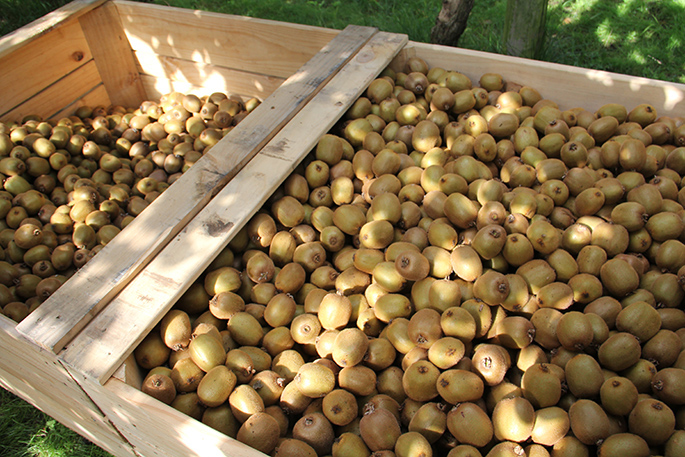 A reduced capacity of packhouses to process product will likely impact kiwifruit quality, and consequently grower income, in coming months, says an industry source.
A grower, who did not want to be named, says the requirement for physical distancing in packhouses means fewer staff are able to pack creating a backlog of produce waiting to be harvested.
Kiwifruit is picked as and when packhouses are able to process the fruit.
Physical distancing rules in response to Covid-19 also apply to those working in the orchards.
The longer the fruit is left on the vine, the riper it becomes, increasing the risk of damage when it finally is handled.
"The rejection rate then becomes higher and that's reflected in orchard income", says the grower.
"Kiwifruit is picked at its optimum time to ensure quality and storage ability."
"It's not so much as to packhouse requirements. But a reduction in packhouse capability could mean this optimum window is missed for many orchards."
This could potentially impact things like the issuing of new licences to grow the sought-after gold kiwifruit variety.
Zespri's SunGold G3 kiwifruit commands a premium retail value both here and internationally.
Licences to grow it also command a premium price with the limited number of new licences released each year both hotly contested by growers and tightly managed by Zespri.
Last year, the tender process for G3 gold kiwifruit saw new licences reach a medium price of $290,000 per ha, up from $265,000 the previous year.
The total G3 hectares released by Zespri last year was 700 ha.
It was not enough to satisfy buyer demand which was closer to 1700 ha.
With Covid-19 now increasing both harvesting times, and grower uncertainty surrounding cashflow and forecasts, Zespri has extended its opening date for new gold licence applications by three weeks.
Tenders will now open on April 24.
Kiwifruit worker pay rates are not traditionally high with the hourly rate each season often reflecting New Zealand's minimum hourly wage.
Zespri's website, in its FAQ section, currently states: "There's a range of pay rates across the industry, the average picking rate this season is expected to be around $22.50 an hour."
However Work and Income NZ's job databank is currently displaying listings for kiwifruit picking and packing positions in the Bay of Plenty at the minimum hourly rate of $18.90 an hour.
New Zealand-based Zespri is the world's largest marketer of kiwifruit, selling to more than 50 countries.
More on SunLive...