Keeping the community clean amid lockdown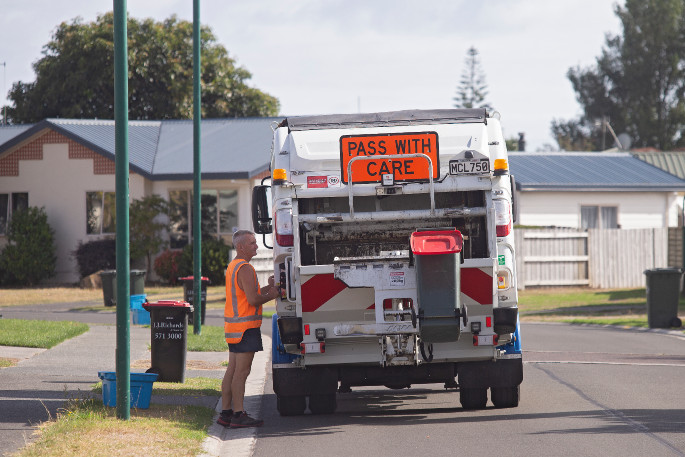 Tauranga City Council is asking the community to help take the pressure of their waste service providers amid the COVID-19 lockdown.
Essential workers continue to collect, transport and process rubbish and glass recycling and empty public bins throughout the lockdown period.
"These essential workers are taking extra measures to keep themselves and you safe, and we know you too appreciate the work they are doing to support the community during lockdown," says a council spokesperson.
"There are a few things we'd like to ask your help on, to keep workers safe and our environment beautiful."
Glass recycling:
• If you or someone in your bubble is in self-isolation or has flu like symptoms, please hold on to your glass for one extra collection cycle. This ensures any potential bugs will have lost potency.

• Respect the 2-meter distance rule. Please don't be offended if a collections operator asks you to step back while they do their job, this is for your safety as much as theirs.

• As crates are NOT manually sorted during lockdown, if a collection crate contains material that shouldn't be in it, the whole crate will need to be left behind. Crates only take glass bottles and jars used for food and drink – rinsed and without lids.
Illegal dumping
The spokesperson says they have seen an increase in illegal dumping while alert level 4 restrictions have been in place.
"This is unacceptable at any time, and very disappointing to see. Illegal dumping not only increases the workload for essential workers, but also attracts vermin, creates unpleasant odours and spoils our beautiful environment.
We understand that every household is facing different challenges, and it may not be easy with the transfer stations being closed to the public."
They are also urging the public to dispose of their rubbish in their current rubbish bin or bag.
• If you see someone illegally dumping their rubbish, if possible take a video or photo of the registration plate, take note of the time, date and location and a description of the offender and materials dumped – and call council to report it on 07 577 7000.
It is important to ensure all bins, bags and crates are placed on the kerbside by 7:30am, says the spokesperson.
"Trucks are able to finish their runs faster with less traffic on the road, therefore they may collect your rubbish or recycling earlier than they normally did before lock down."
More on SunLive...