LIVE: COVID-19 death toll rises to nine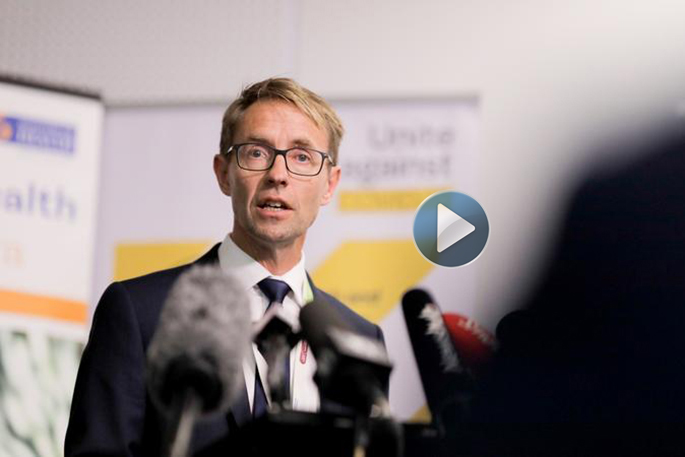 UPDATE: Another four people have died from COVID-19 related illnesses.
Director-General of Health Dr Ashley Bloomfield is delivering the latest upate in Wellington today.
The total number of deaths associated with COVID-19 is now at nine.
He says three of the four deaths are from the Rosewood Resthome Cluster and one is a person in Wellington Hospital.
Ashley says two of the deaths were men in their 90s, another was a man in his 80s. All three from the Rosewood Cluster.
"A man in his 70s died in Wellington Hospital. He was linked to overseas travel."
He was admitted to Wellington Hospital on March 22 and has been quite unwell since, says Ashley.
"This is the largest numbers of deaths in one day
"It is a sobering reminder of what is at stake here.
"We are thinking of the families of those who have died."
Ashley says the resthome residents had underlying medical conditions.
The number of recovered cases is now dominating the number of new cases.
Today, there are 628 recovered cases - an increase of 82 from yesterday.
Ashley has reported an additional 17 cases of COVID-19 - eight confirmed cases and nine probable.
Fifteen people remain in hospital. Three are in ICU and one person, in Dunedin Hospital, remains in critical condition.
A total of 48 per cent of cases is now linked to close contacts of confirmed cases, while the number of casses linked to overseas travel has dropped to 39 per cent.
Around two per cent of cases are linked to community transmission.
EARLIER:
The All of Government COVID-19 National Response will provide an update at 1pm today.
Speaker:
• Dr Ashley Bloomfield, Director-General of Health
What we know so far
A man is his 80s is the fifth person to die from a COVID-19 related illness in New Zealand.
Director-General of Health Dr Ashley Bloomfield says he is the third person in the Rosewood Resthome cluster to pass away.
There are a total of 33 people involved in this cluster - 17 confirmed and 16 probable.
Ashley says the man was being cared for at Burwood Hospital after being transferred from Rosewood Resthome in Christchurch.
"We know that because of the underlying vulnerabilities of this group we need to be prepared for further illness and possible death."
There are now 33 COVID-19 cases involved with the Rosewood Cluster.
"Thirteen of the 33 were residents and 18 are staff."
He says there are now 15 clusters around the country.
On Monday, there were 15 confirmed cases and four probable casses of COVID-19 in New Zealand.
This brings the total number of cases to 1349.
Ashley says the number of people who have recovered from the virus is now at 546.
He says this is 75 more than Sunday.
"Fifteen people remain in hospital, four in ICU and one person is in critical condition."
Speaking at the same media conference, Prime Minister Jacinda Ardern says she hoped despite obvious restrictions, people had been able to have a meaningful Easter.
Bu the news of the fifth death was a "timely reminder that our battle with this virus is far from over".
Jacinda says the number of cases may be small but that doesn't mean we have successfully "hunted the virus down".
To those who broke the lockdown rules weekend, she says it takes just one case to spread among others.
If the country moved to level three, people should treat it as a live "waiting room".
She says the government will this week set out details of what different alert levels would look like.
Further details of the impact on the economy will be released this week, including the impact on business and this year's budget.
"I understand the importance of this information for businesses and industry to plan."
Jacinda will be live at 4pm today for her post cabinet conference at the Beehive. Tune into the SunLive at 4pm to see what the Prime Minister has to say.
• If you have symptoms of the coronavirus, call the NZ Covid-19 Healthline on 0800 358 5453 (+64 9 358 5453 for international SIMs) or call your GP - don't show up at a medical centre
More on SunLive...