Retired nurse working for free amid COVID pandemic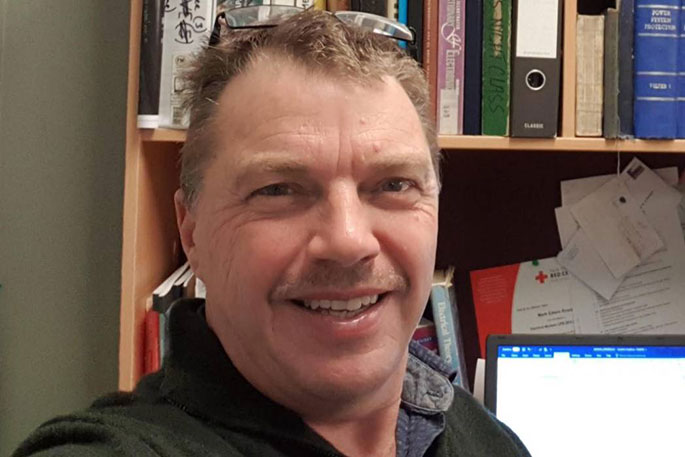 A registered nurse is heeding the call of his community and temporarily put on scrubs to assist during the coronavirus pandemic.
And he's doing it all for free.
Andrew Adams is one of several hundred health professionals who over the past few weeks, have come out of retirement to help during the current crisis.
He's currently spending between three and fours each day giving advice and helping clients navigate state services.
Andrew, 51, worked as a community nurse for six years, before semi-retiring two years ago to manage his epilepsy, which was caused by a head injury.
He worked in the Wellington community, specialising in paediatrics and dealing mainly with families with children that have disabilities.
His current role is focussed on advocacy and advice and not clinical work, however, all his clients have varying amounts of comorbidity health issues.
On Monday, he received a call from a client who was suicidal.
"I'm seeing several of my former clients and within the last few weeks, everything has deteriorated [for them].
"Most of them are struggling, and I'm spending quite a few hours a day sorting these issues.
"I knew I would be needed but I didn't realise the extent."
Andrew, who is currently based in the Bay of Plenty, says many of the issues his clients faced have been exacerbated because of COVID-19.
He says there is a need for Government agencies to relax their policies at this time.
He has clients who are struggling to access pharmacy medications because of a lack of stock, some who are struggling with Studylink payments, and several that are struggling for housing.
"One of my clients is under financial stress and needs to get an emergency food grant, which is taking between one and two weeks to approve, there are huge waiting lists.
"There are examples that I am coming across daily and it's only been three weeks.
"I'm sure other [health professionals] are seeing this across the country, too."
The Ministry of Health is working with the Nursing Council to identify nurses who have a lapsed certificate and could return to nursing for a limited time during the pandemic, says a spokesperson.
The Nursing Council was able to reissue an interim practising certificate until December 31, with the condition of restricted practice for the duration of the COVID-19 pandemic.
Andrew currently has an interim practising certificate.
To qualify, a nurse needs to be aged under 65, have a practicing certificate that lapsed within the past five years and no professional issues.
These nurses would also be registered on a regional database.
So far, the NZ Nursing Council has issued 750 interim practising certificates to nurses seeking to assist in the pandemic, chief executive Catherine Byrne said.
More on SunLive...