Residents accuse Council of flouting level 4 rules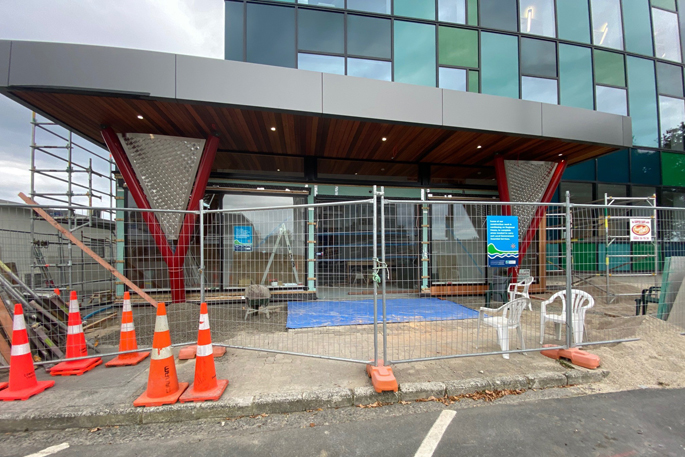 Elizabeth Street residents have expressed their anger towards the Bay of Plenty Regional Council for continuing construction on Regional House during the COVID-19 lockdown.
Construction on the building's front entrance, on Elizabeth Street, restarted on Monday.
BOPRC corporate general manager Mat Taylor says regional council remains fully operational, as they continue to directly deliver and co-ordinate essential services including flood protection, public transport and testing drinking water.
"If we need to rapidly upscale our essential service delivery, or if our remote technology and communications systems are compromised, it's likely that a large number of our staff would need to relocate to Regional House," says Mat.
"The limited construction work being completed is necessary to allow for safe entry, exit and physical distancing if large numbers of staff need to deliver essential services from the building. In normal operational circumstances, up to 200 staff would be located there."
Mat says the current alternative entry points are not designed to be used for an extended period, and don't allow for 2m social distancing.
"The front entrance is not being completed to enable public access, so any visual and aesthetic features that are not required by the building code will be left unfinished until after the national restrictions are lifted."
One resident says visual aesthetic work is already happening.
"Putting up cedar cladding just to doll the thing up is not essential.
"Their work has included laying cobble stones, erecting cedar cladding and commissioning the front entrance door under the guise 'it's needed for emergency response teams,' when in fact, the inhabitants of the half vacant building have been using alternative entrances for months."
Another resident, whose apartment has full view of Regional House, says there have been up to nine contract businesses onsite every day since Monday.
"I continually see contractors break the 2m distance rule, and I never see them wear masks. It makes me so upset to think of them returning home to their bubbles, when any of them could be carriers.
"They are making a mockery of everything Jacinda Ardern is trying to achieve to keep us safe."
Mat says on-site contractors are being monitored.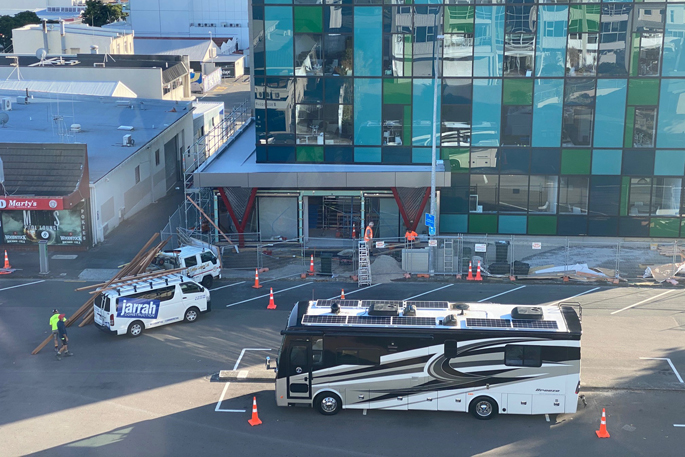 While the lockdown brings quiet to many public spaces, Elizabeth Street residents are woken by construction workers before 7am. Photo, supplied.
"This happens on an on-going basis and they're regularly assessed to ensure safe working procedures are followed."
Multiple residents reported council to 105. Following multiple complaints, a sign stating the construction is essential was put up, allegedly after police suggestion.
While residents understand that the council aren't breaking the rules on paper, they say they are "arrogantly dismissing" what the lockdown is trying to achieve.
"Every day I see almost ten people taking photos of what they are doing in disgust," says a resident.
"The council should be setting an example, but instead they are sending the exact opposite message to the general public. This is wrong."
For more information on essential services in the construction sector, visit: https://www.building.govt.nz/covid-19/
More on SunLive...