LIVE: Second person in NZ dies from COVID-19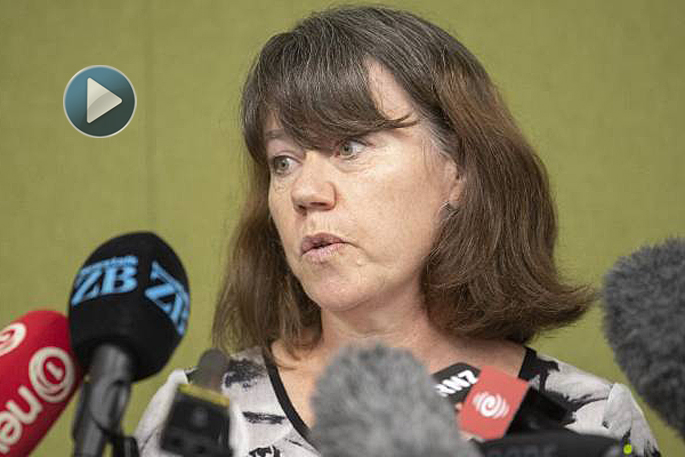 Updated: An elderly woman is the second person to die from COVID-19 in New Zealand.
The woman aged in her nineties is from Christchurch and passed away yesterday. The woman had recently returned a positive test to COVID-19.
She was a resident of the Rosewood rest home and was part of a group of residents that had been transferred to Burwood Hospital, as part of a cluster management process.
"Our thoughts are with the woman's family," says Director of Public Health Dr Caroline McElnay.
The elderly "frail" women had common age-related conditions prior to testing positive, says Caroline.
The woman was unable to have family around her in the last few days because they were not allowed at the facility in Burwood Hosiptal, she says.
"However, hospital staff were able to provide her with comfort and support, and we thank them for that."
The Canterbury DHB is investigating staff and residents to find out how the virus affected the rest home.
She says the number of new cases in New Zealand has risen by 44 today, there are 23 new confirmed and 21 new probable cases.
The country's current total of Covid-19 cases is 1283.
There are now 16 people in hospital with coronavirus - four are in ICU and two are in a critical condition.
Fourteen of the new cases are linked to existing clusters around the country. There are currently 12 clusters in New Zealand.
There were 29 new cases yesterday and Caroline says the rise in new cases today shows the country can't be too complacent.
"We are heading in the right direction. We're not out of the woods."
There are now 373 people that have recovered from the virus, an increase of 56 people since yesterday.
There is still a strong but declining link to overseas travel at 40 per cent, Caroline says.
The number of cases linked to community transmission remains at two per cent with around 14 per cent of cases still being investigated.
Earlier: The All of Government COVID-19 National Response will provide an update at 1.00 pm today.
Director of Public Health Dr Caroline McElnay will be speaking.
What we know so far
On Thursday there were 29 new cases of COVID-19 - made up of 23 new confirmed cases and 6 new probable cases. There have been no additional deaths.
There are now 317 reported cases of COVID-19 that people a have recovered from – an increase of 35 from Wednesday.
The combined total of confirmed and probable cases in New Zealand is 1239.
There are currently 39 confirmed and probable cases of the virus in the Western Bay of Plenty.
There is one confirmed or probable case in the Eastern Bay of Plenty, eight cases in Rotorua and four in Taupo.
There are 14 people in hospital. That includes four in ICU – one each in Wellington, Waitemata, Counties Manukau and Southern DHBs. Two of these ICU patients in Southern and Waitemata are in a critical condition.
For those cases the Ministry of Health has information on, there is still a strong but declining link to overseas travel at 41 per cent, and growing links to confirmed cases within New Zealand at 44 per cent including those in clusters and community transmission remains at two per cent. The ministry is still investigating 13 per cent of cases.
There are still 12 significant clusters. The three largest clusters remain the same: Matamata at 64, up two from Wednesday; Bluff 87 up six; and Marist College at 84 with no change.
There were 3990 tests processed on Wednesday bringing the total number of cases carried out to date to 51,165.
The Ministry of Health's day rolling average of tests is at 3,547 per day.
The test capacity continues to increase and there are supplies in stock for nearly 47,000 tests. The ministry expects to have between 50,000 to 60,000 complete tests in stock by the end of the week.
More on SunLive...