Too many beers for Greerton bear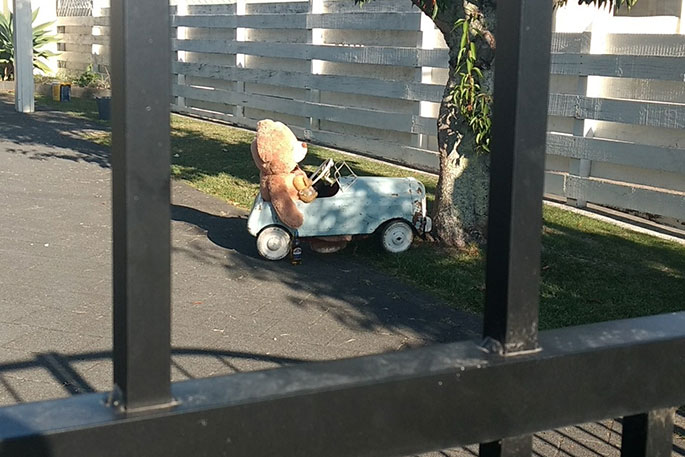 Spotted in a Greerton driveway this week, 'Little Bear' is part of the nationwide "We're Not Scared NZ Bear Hunt", the fun Facebook activity set up to bring some joy to kids when so much around them is being cancelled.
Little Bear's owner Karl, a diesel mechanic by trade, says his family decided to join the Bear Hunt so that other parents could get a laugh while hanging out with their kids.
He says the upside of the lockdown is an opportunity for parents like him to spend time with their families, something they often complain they don't have time to do.
There's nothing wrong with enjoying the kind of fun he grew up with, says Karl. Things like mums and dads building forts with the kids or, in his case, showing off their "so-called" extreme skateboard and bike skills.
Karl, who has normally started training for Greerton Marist rugby club about now, likes to see the bright and sunny side of life – hence Little Bear's driving mishap with the tree in front of the house.
Karl and partner Amy have a two year old daughter and she certainly let's him know when it's time to stop doing jobs around the house, and play.
"We know this extra family time is actually a blessing and won't last forever," he says.
The Bear Hunt NZ page has more than 23,000 followers, and their website includes maps listing good bear-spotting locations.
Authorities are encouraging families, so long as they stay in their 'bubble' group and respect physical distancing from others, to get out into their neighbourhood for some exercise and fresh air during the lockdown.
More on SunLive...