Councils' plea to save the pipes from wipes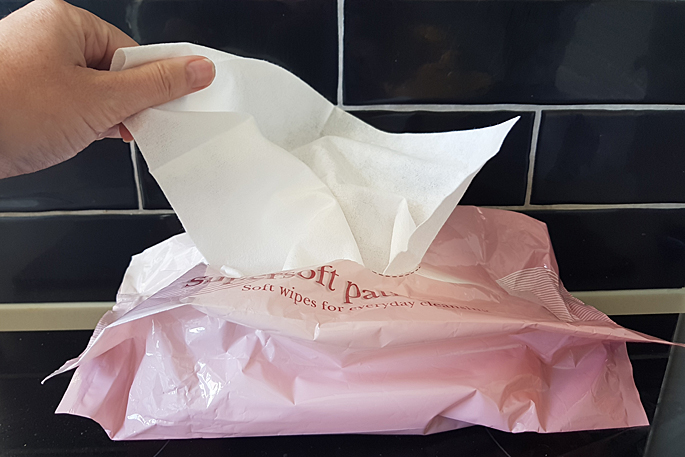 Wet wipes being flushed down the toilet continues to create extra work for councils in the western Bay of Plenty.
The Western Bay of Plenty District council has noticed a 10 per cent increase in the number of issues relating to blockages to our wastewater network since the COVID-19 pandemic began. This equates to about five additional callouts for a week, a council spokesperson says.
"This figure would be higher if it was not for the fact that council has stepped up its frequency of checking and cleaning its major wastewater pipelines and main pump stations
"Council staff have increased surveillance at wastewater stations to try to reduce major blockages before they occur and result in sewer overflows.
"If flushing of wet wipes continues at the current increased level it will risk overwhelming council's wastewater emergency operators and could mean widespread toilet blockages."
Council's wastewater maintenance staff have been working hard to reduce major blockages and subsequent sewer overflows into the environment, says council chief executive Miriam Taris.
"We realise that wipes are a convenient and hygienic option during the Alert Level 4 situation but please don't flush them down the toilet. Place them in a bag and put them out for rubbish pick-up to the landfill.
"Dealing with these blockages is putting our essential services staff under increased pressure and is also putting them at risk of contracting the COVID-19 virus while they are repairing blockages. Even though our staff are wearing protective equipment, their personal risk is increased with every additional call out."
Tauranga City Council city waters manager Stephen Burton says council hasn't noticed an increase in blockages from wet wipes since the lockdown but they do still attend to about 25 blockages a week.
The council's Save our pipes from wipes campaign launched in 2018 has created good community awareness of the risks of flushing wet wipes, says Stephen.
"Now more than ever, we're focussed on hygiene – washing our hands and keeping surfaces clean. We urge people that when using wet wipes, to please bin them not flush them.
"When wet wipes block pipes they can cause overflows. That means raw sewage spills, posing a risk to our environment, our health and it's expensive to sort out.
"So please only flush the three Ps; pee, poo and paper."
Miriam says some communities in Western BOP, including Maketu, Te Puna West and Tanners Point have community wastewater systems which are connected to grinder pumps at individual properties. Wet wipes are a major risk to blocking up the grinder pumps the puts further callout pressure on council's wastewater team.
Local Government New Zealand and Civil Defence Emergency Management are working with major food distribution chains to support the wet wipes message with additional information in-store and online wherever possible, she says.
Countdown is supporting councils' efforts by rolling out signage in all of its stores reminding customers not to flush them.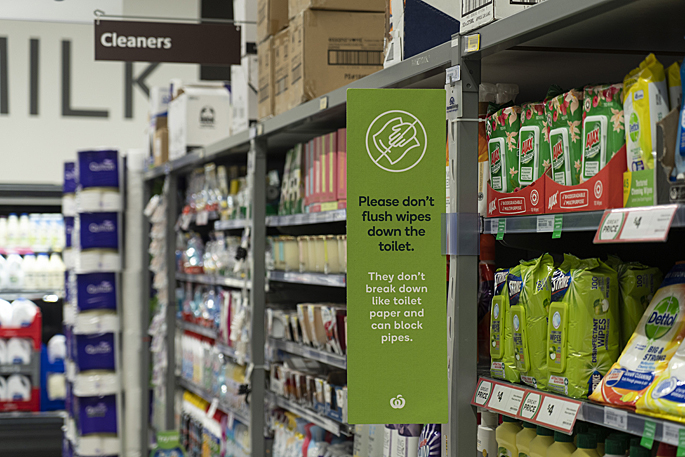 Countdown has added signage to all of their supermarkets. Supplied image.
Countdown general manager of corporate affairs, safety and sustainability Kiri Hannifin says that while wipes can be useful, customers must dispose of them properly.
"We appreciate that customers are particularly keen to keep surfaces in their homes clean and safe at the moment, but we just want to make sure people are putting them in the bin rather than the toilet when they have been used."
President of Local Government New Zealand Dave Cull welcomes the new signage, saying councils throughout the country are struggling to cope with the impact of wet wipes.
"We're hearing from many councils throughout New Zealand about increased blockages in their wastewater systems due to wet wipes. We all have to do our bit to make sure councils can focus on providing essential services to their communities, rather than clearing unnecessary blockages which could have otherwise been avoided."
Water New Zealand technical manager Noel Roberts says that right across the country there has been a big increase in the number of dry weather sewage overflows caused by blockages due to wipes and other non-flushables in recent years.
"This is not only a risk to the environment, but also a costly headache for wastewater operators."
More on SunLive...