Keeping connected with The Weekend Sun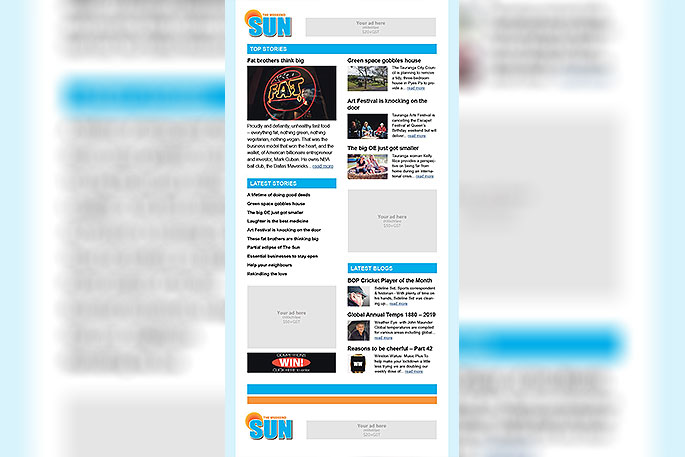 The Weekend Sun may not be in your letterbox this week, but that doesn't mean it's not there. All the usual content can now be found at www.theweekendsun.co.nz including local news, letters to the editor, columns and entertainment.
Times may have changed, but the flavour of The Weekend Sun stays the same. We love telling stories, we love hearing about what people are doing and we love keeping our community connected.
We know it's not the same as holding a paper in your hands, but at least you don't have to wait all week to get it now.
Please pass this message on to anyone who loves their local paper so they can stay in touch too, until we get back into letterboxes. Like us on Facebook and share our stories far and wide.
We will also be emailing out a weekly news bulletin every Friday (example below and on the attached with links to the site). To sign up hit the 'Join Free' button on The Weekend Sun website home page and fill in your details or click here https://www.theweekendsun.co.nz/register.html
People can also send their story ideas to daniel@thesun.co.nz and their letters to letters@thesun.co.nz.
-The Weekend Sun editor, Daniel Hutchinson
More on SunLive...