COVID-19: What happened on April 7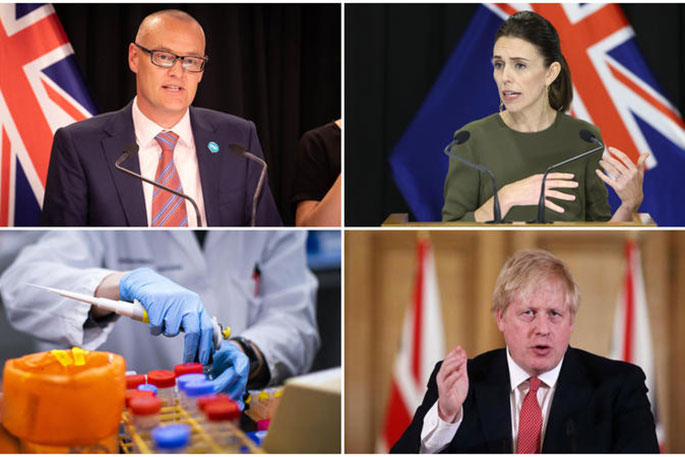 On a day when the number of Covid-19 cases in New Zealand decreased for the first time, Health Minister David Clark offered to resign after revealing another lockdown breach and UK Prime Minister Boris Johnson spent the night in intensive care after his coronavirus symptoms worsened.
Clark said he drove his family 20km from his house in Dunedin to Doctor's Point Beach for a walk during the first weekend of the lockdown in breach of the rules.
Prime Minister Jacinda Ardern says under normal conditions she would sack him. However, she says to avoid disruption she would be demoting David instead and strip him of his role as Associate Finance Minister and demote him to the bottom of the Cabinet rankings.
David told Morning Report he acknowledges that his ministerial judgement is now in question and that he needs to rebuild trust with the public, who were making huge sacrifices during the lockdown.
"At a time when we are asking New Zealanders to make historic sacrifices I've let the team down. I've been an idiot, and I understand why people will be angry with me," says David/
Drop in number of current COVID-19 cases
Director-General of Health Ashley Bloomfield reported 54 new confirmed and probable cases of Covid-19 in New Zealand on Tuesday, bringing the total number of cases to 1160.
Twelve people are in hospital and four are in intensive care, including one person who is in a critical condition.
Yesterday's new figure is down from the 67 new cases reported on Monday.
With 65 people recovering in the past day, Tuesday was also the first day that recoveries have exceeded new cases in New Zealand, meaning the country's number of current cases has decreased for the first time since the lockdown began.
Ashley says the Ministry of Health is expecting the number of new cases of COVID-19 to stay level.
He says there are now five more people in the Marist cluster, a larger increase in the Bluff cluster and one more in the Matamata cluster. There are no new clusters, he says
The prime minister also spoke at Tuesday afternoon's media conference, saying the case rates suggested that the level four lockdown was working. "Now is not the time to change any of our behaviours," says Jacinda.
• If you have symptoms of the coronavirus, call the NZ Covid-19 Healthline on 0800 358 5453 (+64 9 358 5453 for international SIMs) or call your GP - don't show up at a medical centre
Testing and monitoring
A public health researcher says the government needs to step up COVID-19 testing and introduce electronic surveillance of international arrivals.
Michael Baker, from the University of Otago Wellington, says the testing base needs to be expanded and that he was not sure whether moves to electronically track new arrivals into the country were immediate enough.
Michael says initial results of the lockdown were positive, but that improved testing should entail swabbing people with other symptoms, such as loss of smell, or testing all healthcare and shop workers.
He says contact tracing also needs to be working better, and quarantine at the border is the country's weakest link.
Another scientist, Professor Nick Wilson from the University of Otago's public health department, said electronic bracelets could ensure travellers arriving in New Zealand did not break the rules and they could help with tracing contacts if people did breach their quarantine.
Police report hundreds flouting the rules
Police have reported that hundreds of people have breached the lockdown rules across the country.
In his media conference, Ashley said there had been 291 breaches of the CDEM Act or the Health Act and that 16 people have been prosecuted with 263 warnings and 10 youth referrals.
Police in Dunedin are continuing to spot surfers at the city's beaches despite orders last week that made it clear such activity was prohibited. The message was simple - stay at home, save lives, a police spokesperson said.
British PM taken to intensive care
UK Prime Minister Boris Johnson has been moved to intensive care in hospital after his coronavirus symptoms worsened, Downing Street has said.
A spokesperson said he was moved on the advice of his medical team and is receiving "excellent care".
Mr Johnson has asked Foreign Secretary Dominic Raab to deputise "where necessary", the spokesperson added.
The prime minister, 55, was admitted to St Thomas' Hospital in London with "persistent symptoms" on Sunday.
-RNZ
More on SunLive...