COVID -19 update April 7: 54 new cases today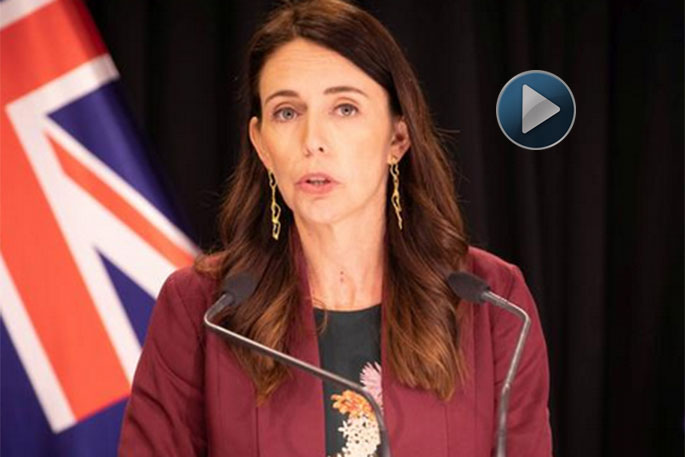 UPDATE: The number of people who have recovered from COVID-19 has increased to 241.
This is the latest number from Director-General of Health Dr Ahsley Bloomfield, who is providing the latest Ministry of Health update today, along with Prime Minsiter Jacinda Ardern.
He says there are a total of 54 new cases in New Zealand. That's 32 confirmed cases and 22 probable cases for today.
Today's new figure is down from the 67 new cases reported yesterday.
This brings the total number of cases of COVID-19 in New Zealand to 1160.
A total of 12 people are in hospital, one in critical condition.
"One person has been discharged from hospital since yesterday."
Ashley says 42 per cent of the cases are linked to overseas travel, while 41 per cent of the cases have links to confirmed cases.
Around two per cent is from community transmission and Ashley says the balance is still under investigation.
A million workers supported by Govt wage subsidy
The Government's wage subsidy to protect jobs and keep workers and businesses connected during the lockdown has now supported over a million New Zealanders, with $6.6 billion already paid out.
"We're supporting businesses to pay wages, and stay connected with their workers so that we are all in a better position to kickstart the economy on the other side," Finance Minister Grant Robertson says.
"This helps make sure people have what they need during this lockdown to stay home, break the chain and save lives. The best way to support the economy is to fight this virus."
The million-worker milestone was reached following $1.25 billion of payments on 6 April, taking the total paid out to $6.6 billion.
This is supporting the wages of 1,073,129 workers, comprised of 914,931 employees and 158,198 sole traders. This represents 41% of the New Zealand workforce. In total, 305,363 applications from businesses, the self-employed and sole traders have been approved.
"We moved early to get money got out the door to protect jobs and support New Zealanders through the lockdown. We won't be able to save every job and every business, but we are making sure people have the underlying support they need to get through this," Grant Robertson said.
Minister of Social Development Carmel Sepuloni said MSD staff are getting the payments out to support workers and businesses at an unprecedented pace. MSD has brought in more front-line staff to take on the work load.
"In a number of countries, similar schemes aren't paying out yet. We've moved fast and early, supported by a dedicated team at MSD.
"We continue to ask people to remain patient, and know that staff are working as hard as they can to process applications," Carmel Sepuloni said.
The Treasury estimates the 12-week scheme will pay out between $8 billion and $12 billion. For each full time worker, businesses receive a lump-sum payment of $7,029.60, and for each part time worker $4,200. The full value of the subsidy has to be passed on to employees, unless their normal wages are below the subsidy, in which case the employee must be paid at least their normal wages.
EARLIER
The All of Government COVID-19 National Response will provide an update at 1pm today.
Speakers:
• Prime Minister Jacinda Ardern

• Dr Ashley Bloomfield, Director-General of Health
What we know so far
At least one resthome has been hit, essential workers and those made redundant are finding it tough, and app-based tracing is being explored - this is what happened on Monday, April 6.
Director-General of Health Ashley Bloomfield reported another 67 cases of Covid-19 in New Zealand, taking the country's total cases to 1106. Of those, 13 were in hospital and three in intensive care, with one considered critical.
He says 3709 tests were completed yesterday, the highest number in a single day, and the total number of tests for the virus in New Zealand was nearly 40,000.
The number of significant clusters - of 10 or more people infected from the same place - remained at 12 after two new ones were confirmed yesterday. The Marist College cluster is the biggest, with 72 confirmed cases.
One of the new clusters is at Rosewood rest home in Christchurch, with at least 15 likely infections among residents and staff; 20 residents would be moved to Burwood Hospital.
So far there has still been only one confirmed death from the virus, with Ashley saying a man's death with influenza-like symptoms had not been linked to COVID-19. Sudden deaths like that would be investigated by the Coroner, he says.
At her daily media briefing, Prime Minister Jacinda Ardern stressed that the lockdown needed to remain in place for at least the full four weeks it had been set down for.
She says she doesn't want New Zealand at Level Four for a minute longer than necessary, but it takes time for symptoms to be seen and the country needs to ensure there is no "silent outbreaks".
• If you have symptoms of the coronavirus, call the NZ Covid-19 Healthline on 0800 358 5453 (+64 9 358 5453 for international SIMs) or call your GP - don't show up at a medical centre
Overseas, deaths spiked dramatically in the US with 600 in New York alone, The Queen of England made a rare speech, her Prime Minister Boris Johnson was admitted to hospital with the virus, and Japan's Prime Minister Shinzō Abe prepared to declare a state of emergency.
Oh, and a tiger has also tested positive at a US zoo.
More on SunLive...