Taking the temperature of fund growth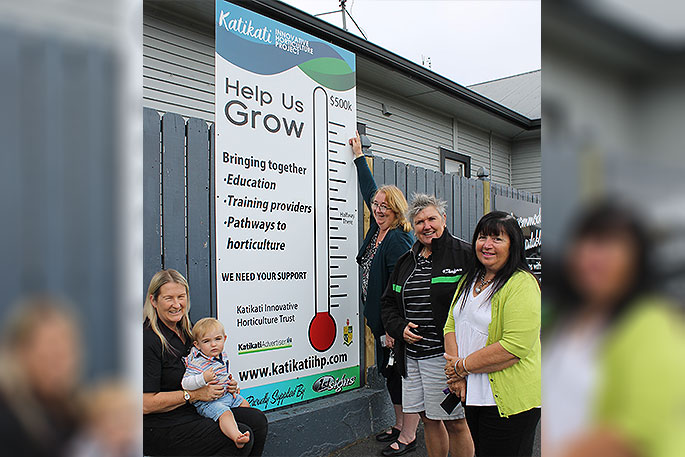 The rapid upward movement of the red line on a thermometer sign outside the Talisman Hotel in Katikati will be a healthy signal as it tracks the growth of funds received by the Katikati Innovative Horticulture Trust toward its new educational centre.
While the project has received pledges from businesses and individuals and donations to its Givealittle page, Hilary Johnson, Katikati Innovative Horticulture manager says fund raising towards its $500,000 target is just beginning.
"The sign in such a high profile position, is an excellent way to keep the community informed of our progress and the trust is grateful to Zoe Skayman of 1st Signs for creating the sign, Michele Reichmuth of the Talisman Hotel for allowing us to put it on their fence, and Chris Steel from the Katikati Advertiser for initiating and co-ordinating the sign," she says.
The Katikati Innovative Horticulture Trust is fundraising to build and operate a $500,000 facility for Katikati College's Innovative Horticulture Programme and also provide a venue for training providers to run courses for young people not in education, employment or training and assist them into employment, as well as adults seeking to upskill in horticulture.
"The project will support the growing demand for skilled workers in the horticultural industry by providing young people with the skills and knowledge that the industry needs, improving their employability," says Hilary.
"It will also offer other members of the community the opportunity to upskill in a way relevant to local employment pathways which industry is increasingly finding difficult to fill."
Zoe Skayman of 1st Signs says when Chris Steel approached her to create and donate the sign, she didn't hesitate. "We are part of Katikati which is a great community and were happy to help out."
Michele Reichmuth of the Talisman Hotel was also happy to be involved. "We are former farmers and orchardists and know how important to this region horticulture is. It's also vital to offer alternative learning opportunities to young people and that's what the centre will do," she says.
The Katikati Innovative Horticulture project was launched last year, and the idea quickly found favour with the industry and the college. Hilary says the Ministry of Education has indicated it will be happy to have the centre built on the school site. The building itself will belong to the trust.
Hilary and members of the trust have approached industry including major packhouses and large growers for financial support. "We are receiving a positive reaction and expect to see funds begin to flow in soon.
"For example, an open letter of appeal to avocado growers drew an immediate response with $2400 in donations to our Givealittle page immediately afterwards," says Hilary. "A number of local kiwifruit orchardists have made extremely generous donations. A Lotteries grant of $21,000 has been secured and applications are pending with other philanthropic organisations."
The planned horticulture centre will benefit the wider Katikati community, including community garden and foodbank initiatives. In the longer term the project also involves establishing a nursery to generate revenue to allow financial sustainability of the project along a social enterprise model.
The Katikati Innovative Horticulture Trust has engaged with major industry and regional stakeholders, all of whom have shown overwhelming support for this initiative.
With a full business plan, the trust has support from Zespri, NZKGI, Priority One, industry leaders and Katikati horticultural businesses. To donate or learn more go to: https://givealittle.co.nz/cause/innovative-horticulture-is-the-future https://www.facebook.com/kihproject or contact kkhort_trust@katikaticollege.school.nz
More on SunLive...