COVID-19: NZ Dairy farmers' positive message to NZ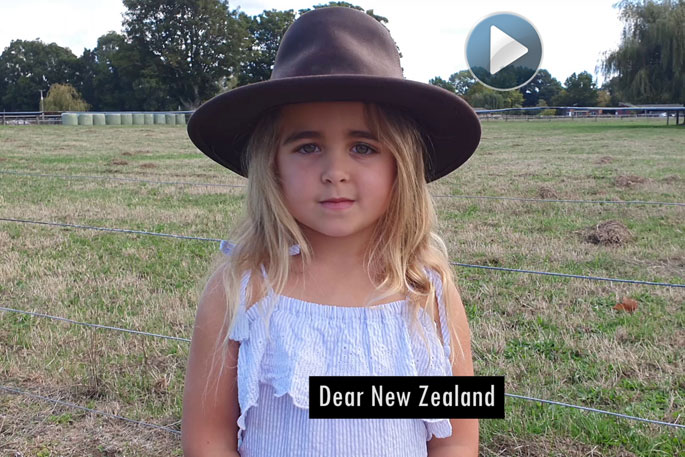 From Northland to Southland, dairy farmers in lockdown across New Zealand have banded together to send a clear positive message to the rest of the country during the Covid-19 national emergency – 'We are a food producing nation and there is enough to go around for everyone.
New Zealand dairy farmers produce enough nutritious food to feed 100 million people their Recommended Dietary Intake - RDI - of dairy, each and every day. That's three 250ml serves per day.
Around the country, milking and calving seasons differ, but this means that there is a constant supply of fresh milk and dairy products being produced daily. More than enough food for everyone!
Using nothing but their mobile phones, often with no reception, they have filmed themselves 'within their bubble' on their farms. The result is a powerful, authentic, positive and fun video that has since gone viral.
The video has each of the farmers involved in the filming saying a section of the message which is:
"Dear New Zealand, we know things are really tough out there right now. People are concerned about their health and the health of their loved ones. People are worried about the economy and when will things get back to normal. Believe me when I say, us farmers are feeling it too - but now's no time to panic. Our country can get through this together. We just need to follow instructions and stay home, inside our bubble. Let's flatten this curve and stop this disease spreading, together! You don't need to worry about supermarkets getting low on food. There's plenty to go around for everyone. Of all the countries that could run out of food, New Zealand is not one of them. Our farmers are world leading and we're damn good at what we do – producing high quality food. We have strong supply lines and we're all working hard to keep food on the table for your family and for ours. New Zealand dairy farmers produce enough for 100 million people. You're in good hands New Zealand. You can count on us to keep calm and carry on farming. We're trusting you to stay at home, to keep our country safe. We are following the rules too. We can do this! We're all in this together! Cheers New Zealand."
The beauty of the project is that it isn't a slick marketing campaign dreamed up in Auckland. It was pulled together within 24 hours with no budget, no paid actors – and during a national lockdown. The stars of the clip are proud Kiwi dairy farmers and their friends and family.
Andrew Booth, Northland dairy farmer
In Northland, about half an hour west of Whangarei, Andrew and Vicky Booth are 50/50 share milking on Andrew's parents' 200-hectare farm, of which 174 hectares is the effective milking platform and the rest is in bush and riverbank. While many other dairy farms around the country are in a different milking cycle, the Booth's milking season with 410 cows has just ended. Right now, they're busy putting grass seed into the ground and repairing damaged pastures from the drought.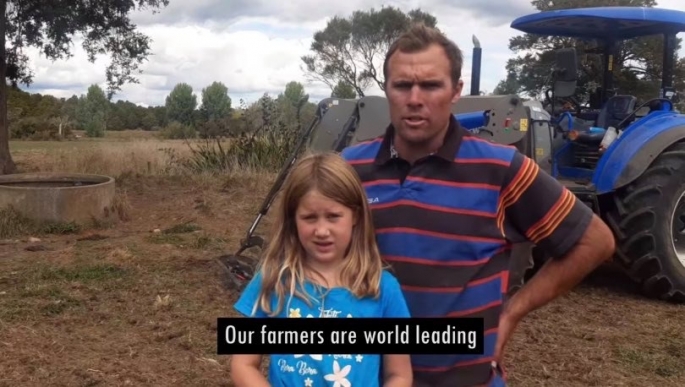 Tamsyn Booth, age 6, with her father Andrew Booth in Northland
"Most of the country is still milking but we calve at a different time," says Andrew. "A lot of the farmers who calve in the springtime are nearing the end of their lactation, so they'll probably dry their cows off in late April/May.
"Here in Northland there are quite a lot of autumn calving farms which are halfway through calving now, so there's a new supply of milk coming on.
"For New Zealand there will be plenty of milk flow through the winter months, it won't be an issue. And we still export plenty of milk through the winter as well. So long as the supply chain stays secure, milk supply to the country won't be an issue at all," says Andrew.
Tankers visit the farms to collect the milk, transporting it to factories where it is processed, and from there, delivered to supermarkets and other outlets.
"A lot of the factories are automated these days, and the operators work in control rooms," says Andrew. "I think the measures they've got in place will be satisfactory to enable the factories to keep working."
The tanker drivers also have strict protocols to follow during the nationwide lockdown due to Covid-19.
"We all have an app that tells us exactly when the tanker is turning up, so we make sure we're nowhere near when they come on the farm.
"There's no risk of any sort of transfer either. We're all wearing gloves. The tanker is only going to touch the vat tap and the delivery line so it's very easy to spray it all and clean it afterwards."
Andrew along with his daughter Tamsyn, age six, appear in the video, saying 'our farmers are world leading'.
"We're just trying to let the public know that there isn't any need to panic. We know there's plenty of food being produced in New Zealand, not just dairy, but, meat and produce as well. There's certainly no need to worry about running out of food, so this is a positive way we can try and reassure the general public," says Andrew.
In March 2020, the NZ Government announced that dairy is NZ's biggest export earner – worth about $19 billion a year. As the the largest economic powerhouse of this country, NZ dairy farmers generate around 8 per cent of total exports to 140 countries. Exports include whole milk powder which last year earned $6.7 billion, butter $2 billion, cheese $2 billion, anhydrous milk fat $1.6 billion, casein $1.4 billion, and skim milk powder $1.2 billion. Other dairy exports such as fresh milk, yoghurt and infant formula made up a further $1.1 billion. Each one of the 46,000 people employed by the dairy sector brings in the equivalent of $350,000 in export earnings.
At home working on the farm and all within the same bubble with Andrew, Vicky, Tamsyn and daughter Hannah, age five, are two Filipino staff members.
"They are concerned about their own country and give me an update every couple of days on what's happening back in the Philippines. I think they're reasonably happy to be here and probably feel it's safer here than back there," says Andrew.
The staff workers are living in separate accommodation on the farm.
"I'm still working with them daily. We just include them in our bubble."
The day's work usually starts around 7.30am for the Booths as the cows are dried off and they're not milking. Once the cows start milking again, they normally start work around 4.30am.
"We will be calving in three weeks' time, so we're quite busy now getting new grass back in, and we've been doing a bit more fencing and maintenance to keep everything efficient. We're hoping to get a bit of rain on to germinate the grass seed."
Vicky is a teacher at nearby Poroti School, and the family live about half an hour away from a supermarket. Before going into the nationwide lockdown Andrew says they were already quite well-stocked on the farm. This means they are able to maintain minimal contact with the outside world beyond their bubble, compared to many other kiwis who may live in the more urban areas.
"I quite like the flow of our video and the positivity from it," says Andrew. "It's representative of our people right across the country showing a good mix of what it is that makes up the New Zealand dairy industry at the moment. And everyone is singing from the same song sheet."
Edwin Mabonga, Southland dairy farmer
In Southland, dairy farmers have had to contend with recent flooding.
Southland dairy farmer Edwin Mabonga asked his 13-year-old son Mako to film his contribution to the video, using his phone.
"We had a lot of fun doing it. Mako filmed me, and then I videoed an extra clip with him and my other son Takunda using a tape measure. We filmed it on April 1 which was also Takunda's 18th birthday."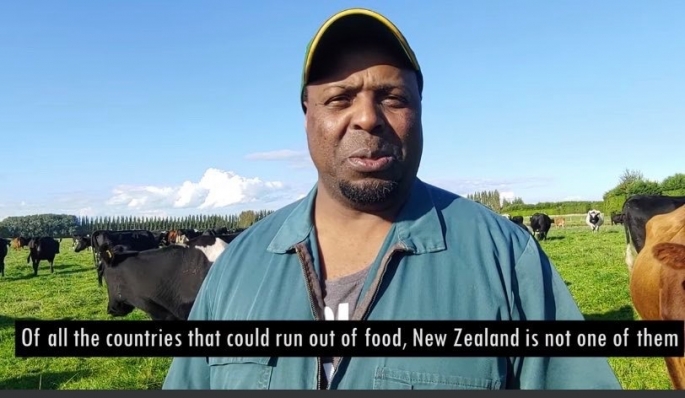 Edwin Mabonga, dairy farmer in Southland
On the video, Edwin is shown saying 'of all the countries that could run out of food, NZ is not one of them'. His sons are saying 'we are following the rules too'.
Edwin arrived in NZ from Zimbabwe in 2003.
"I was dairy farming over there too. The politics were bad, and I came here looking for a better life," says Edwin.
"We went dairy farming in Taranaki for four years. And then we were advised that there were more opportunities down south, so we moved down."
Initially in Taranaki Edwin was contracting milking, completing six months as a farm assistant, then six months as a herd manager followed by share milking. After moving south, he set up an equity partnership with seven other shareholders. He, wife Fungia and their two sons live in one of the five houses on the 270 farm which runs 850 cows.
"The nearest house on the farm is about a kilometer away, so there's plenty of space for us all to self-isolate.
"We have one milking cow shed, and the five of us take turns milking twice a day. One person milks in the morning, one later in the day, and someone else brings the cows in for milking."
The family live three kilometers away from Otautau which has a Four Square and a SuperValue store.
Edwin loves living in NZ.
"It's a beautiful country. It's peaceful and the people are nice. We think we have a problem, but compared to the rest of the world, no, we don't."
He wants to emphasize the message in the video.
"People are panic buying in shops and thinking this is the end of the world. There is plenty of food. We want to tell them 'don't worry, we won't run out of food'. We are just trying to say 'calm down'."
He believes that along with other industries doing similarly, NZ dairy farmers are going to play a big part in helping to get the country back on track again.
"Dairy is going to help bring in the export money that the country is going to desperately need going forward," says Edwin.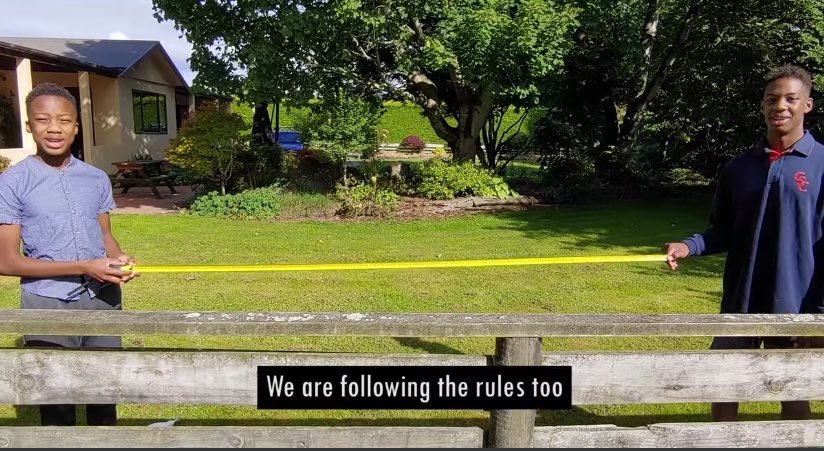 Mako Mabonga, 13, and Takunda Mabonga 18, show the two metre distance on their dairy farm in Southland
Many would argue that NZ dairy farmers have been feeling under pressure as of late with unpredictable weather and huge regulatory changes. They would be justified feeling a little down and out and under attack, but they're not holding grudges. Instead our cheerful dairy farmers are proudly going to work early each morning with a great 'can do' kiwi attitude, producing healthy food for their fellow kiwis.
They haven't been tardy either about addressing the issues they've been kicked about. NZ dairy farmers have fenced off 24,744 kilometres of waterways. That means that 98.3 per cent of the waterways on New Zealand dairy farms are now excluded from dairy cattle. They have also constructed bridges and culverts for more than 99.8 per cent of 44,386 regular stock crossing points on dairy farms.
"We are sending a strong positive message to New Zealand to not worry," says Edwin. "People just need to stay at home and calm down. Three weeks of not going to the beach – no one is going to die from not going to the beach."
Edwin says there are a lot of pressures on farmers and that Covid-19 is the least of their worries right now.
"I think the challenge that we as farmers are facing is that this has come on the back of a drought in Northland and floods here in Southland, and it's putting pressure on people not going to work in the meat works because they're scared with the need to isolate. The two-metre rule is slowing the process down. So that creates a backlog for us, that we are trying to manage.
"Despite all that we are still positive about the future."
Melissa Slattery, Te Aroha dairy farmer
Melissa and Justin Slattery are milking 300 cows on their 100-hectare dairy farm in Te Aroha. They have three boys – Tim age six months, Connor age three years, and Ryan who is jumping in the air on the video. Ryan turned six years old on the day the video was made.
"Part of our birthday excitement was creating the video," says Melissa, who says that it's a privilege to be a dairy farmer and feed families. "The video is showing our support for the nation, to show everyone that we're in this together. Farmers are still out there doing what they do best in creating food for New Zealanders and for the world."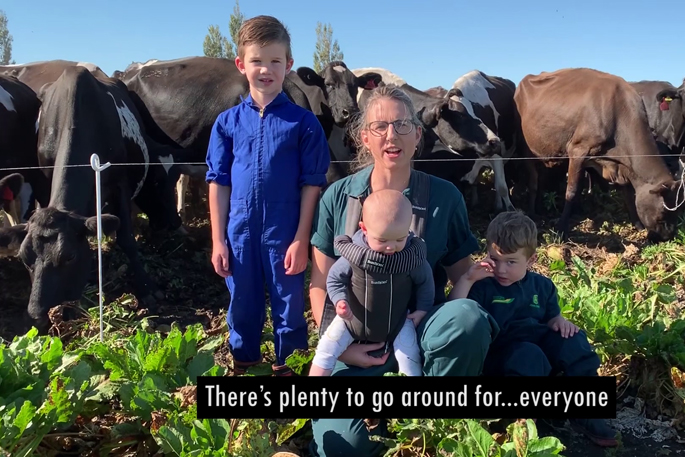 Melissa Slattery in Te Aroha with sons Ryan, age six, six month old Tim, and Connor age three
The couple have one Filipino staff member who recently returned from overseas and has been self-isolating.
"He's in a separate house and maintaining distance," says Melissa. "He hasn't been back on the farm yet but once his quarantine period is over, he'll be coming back on. In the meantime, Justin is doing everything."
They are still milking once a day.
"The [milking] cups are on just after 5am, we finish for breakfast at home by 8.30-9am and then back feeding out fodder beet and silage, because it's super dry. We're pretty much done on the farm around midday and then just catch up on odd jobs from there."
Melissa, an accountant, is working from home during the lockdown, and helping out where she can, as well as looking after their children. Their bubble is their whole farm, with schooling for Ryan and Ryan's birthday all taking place inside the bubble.
"Normally it would have been a little different with their grandparents seeing them on his birthday. With farming, it's doing the essentials and trying to keep our bubble as small as possible.
"We got our last online delivery of groceries on Monday, and we haven't done a big shop yet. We haven't needed to do that yet but I'm guessing that will be next week.
"We wanted to share a positive message about farming. New Zealand is going through a lot of change at the moment, and we want to unite in fighting COVID together.
"We're all wanting to unite to fight against this virus to protect the lives of New Zealanders," says Melissa.
Trish Rankin, Taranaki dairy farmer and 2019 Dairy Woman of the Year.
Trish Rankin is on her South Taranaki farm with husband Glen and four sons, about an hour south of
New Plymouth, or 20 minutes from Hawera and Stratford. Their dairy farm in Kaupokunui has a stunning backdrop with Mt Taranaki rising in the distance.
"It's a nice flat, south side of the mountain," says Trish, "beautiful view and location."
Their sons Charlie, age 15 this week, Harry age 13, Tom, 9, and Patrick, 7, joined them for a group scene in the video, with the boys also contributing another segment further on.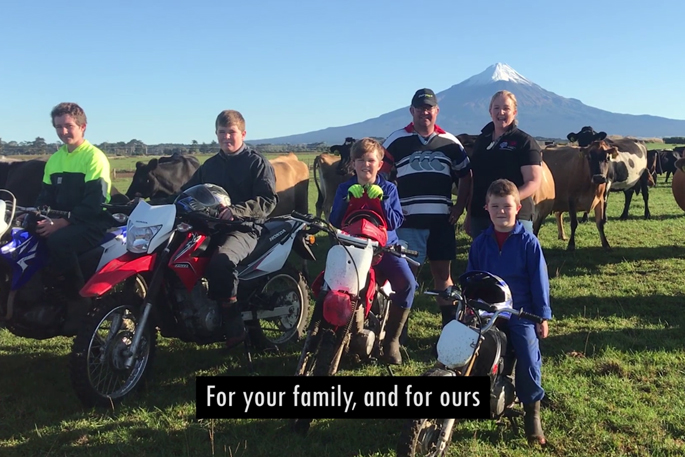 Glen and Trish Rankin with their sons Charlie, age 15 this week, Harry age 13, Tom, 9, and Patrick, 7, on their south Taranaki farm
"Our farm assistant Bridget who is 19 is also in our bubble, lives on the farm by herself and was able to film that shot for us.
"I got home from milking, and said "right kids, it's a beautiful day, there's no clouds, bring your motorbikes down to the paddock, the cows are in a perfect corner paddock in front of the mountain, and we'll just line you up." It probably took about five or ten minutes at the most.
"It was just a magical moment and we had a nice photo afterwards for our family too so that was good."
Trish is saying 'for your family, and for ours' and the boys are saying 'together'.
Prior to winning Dairy Woman of the Year in 2019, Trish has been a teacher and deputy principal of a large school.
"I decided to give that up when I had our fourth child, but I didn't want to lose my skills and the mental challenge of all the things that I liked doing.
"I managed to find lots of different things with the dairy industry."
The 'lots of different things' include being a climate change ambassador, a dairy environment leader; she's on the national executive for the dairy industry awards, she is chair of a local dairy leaders committee, secretary of the local surf life-saving club, and she does plenty more for her community and for the dairy industry.
"I really enjoy the challenge that it brings me, but also the reward that it brings for both our family, and also for our sector. I can use my strategic planning to help the dairy sector."
Her Dairy Woman of the Year award came with a Fonterra $20,000 prize.
"That was a pretty amazing prize. I went over to Harvard University in Boston in January and did the International Agri Business Seminar.
"Glen came over and joined me at the end of my four days at Harvard, and then we did New York for four days and Washington for four days. Coronavirus wasn't even a thing then, certainly it wasn't in the American realm then. We were away from January 10- 24."
They returned home to NZ safe and sound well ahead of any talk of shutdowns due to coronavirus.
"We were so lucky. It's turned to custard since then."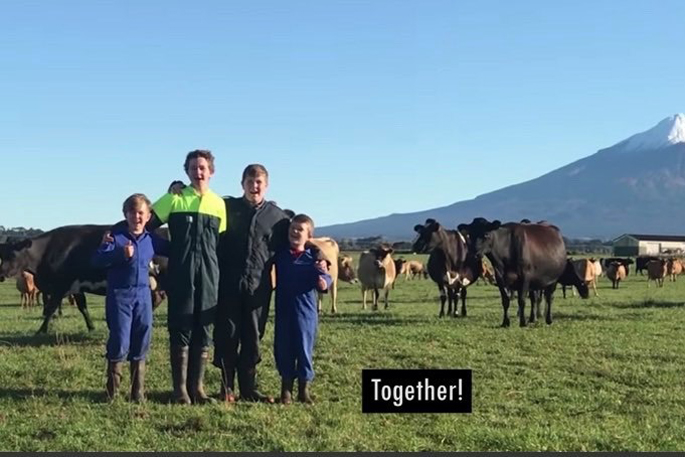 The Rankin brothers on their south Taranaki farm - Charlie, turning 15 this week, Harry, age 13, Tom, 9, and Patrick, 7
Trish loves that her family were able to be a part of sending a positive message to the rest of New Zealand, as they themselves have experienced what it's like to struggle financially with an uncertain future ahead. During the 2015/2016 and 2016/2017 periods, her family and others faced $4.40 and $3.90 payouts from their farming enterprises. For many farmers, the breakeven price point is around $5.50 to $6.
"In those two years, our family lived off $17,000 and really scraped by, so we certainly appreciate what it looks like to have no idea about your business or paying your bills, especially for all those sectors out there facing that in the future, like tourism or self-employed people.
"Every farmer would have had a different reason for wanting to do the video. For me, it felt really raw when we had that very low pay out on the farm. I know what it felt like at $3.90 payout when you didn't know how you were going to put groceries on the table, or whether you were going to be able to stay in your sector, or be able to keep your business. Things were really tight for our family, and I know what that's like for all those families that are out there that may have people unemployed or struggling at the moment."
NZ dairy farmers are proud of their contribution.
"One thing you don't have to worry about is food, because that's one thing that we can do to help you, and obviously export earnings too. For our family, that's the message that we wanted to give to New Zealand," says Trish.
Andrew in Northland agrees.
"New Zealand just lends itself to such a good grass-based feed production system. We tend to grow a lot of grass and by allowing the cows to actually graze the grass, it makes for a really efficient milk production system, or beef production system for that matter as well," says Andrew. "The cost of production in New Zealand, and the way we go about everything is very efficient. We have a very, very low environmental footprint and compared to a lot of the other farming practices around the world we certainly are one of the most efficient producers."
Trish also says the video was a way of saying "look, it doesn't matter what's happened and how the dairy sector might have felt in the past being picked on. All that's in the past, and we're very much about 'don't worry New Zealand, we've got your back', because we know how hard things can be."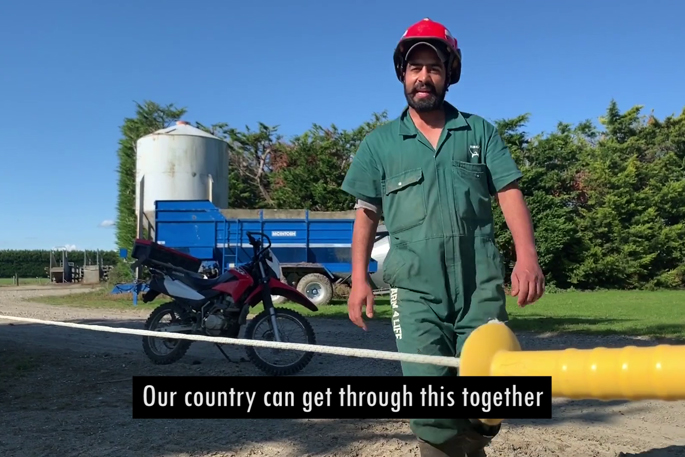 Guri Sohi from Southland, who works with Tangaroa Walker the dairy farmer who runs the popular 'Farm for Life' Facebook page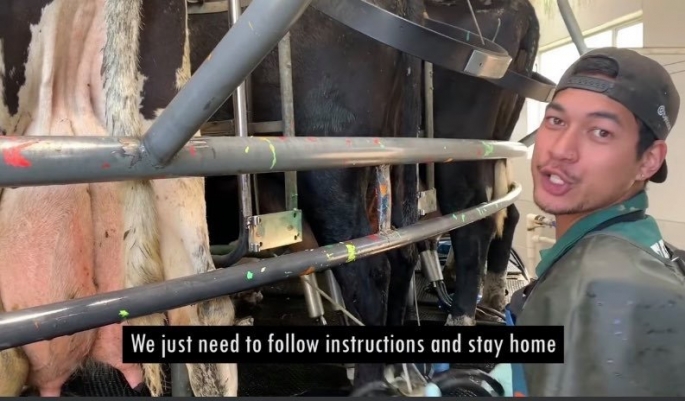 Detroit Ririnui, originally from Tauranga, attended Tauranga Boys' College, and now farming on Tangaroa Walker's farm in Southland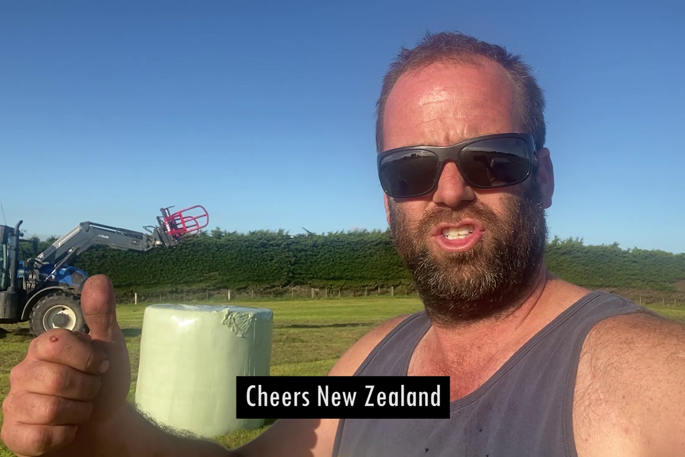 Jon Pemberton from Southland, who also runs the Agproud Charitable Trust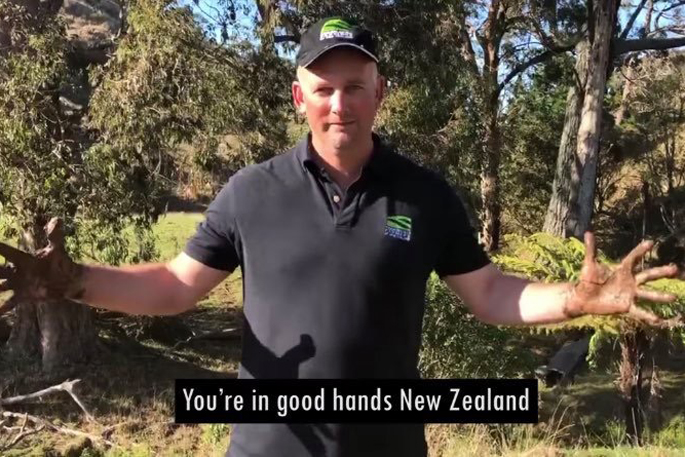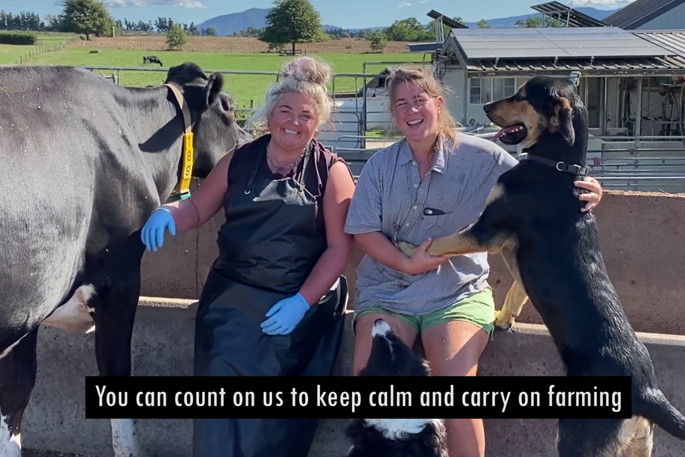 Emma Boase and Sophia Hunt farming in Orakau, just outside of Te Awamutu
Story: Rosalie Liddle Crawford/Rise Up New Zealand
More on SunLive...