COVID-19: What happened on April 6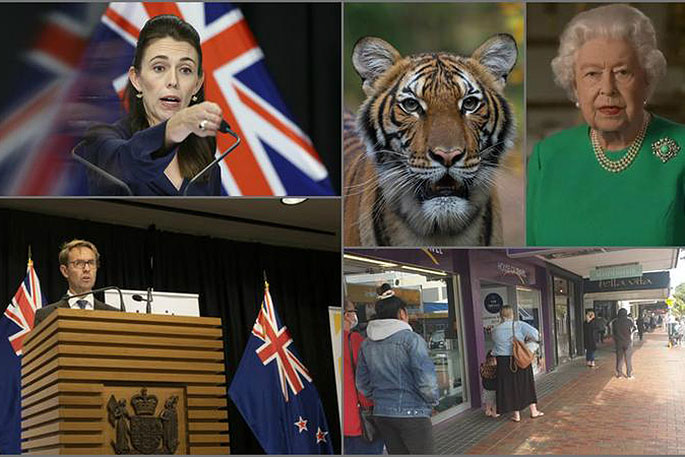 At least one resthome has been hit, essential workers and those made redundant are finding it tough, and app-based tracing is being explored - this is what happened on Monday, April 6.
Director-General of Health Ashley Bloomfield reported another 67 cases of Covid-19 in New Zealand, taking the country's total cases to 1106. Of those, 13 were in hospital and three in intensive care, with one considered critical.
He says 3709 tests were completed yesterday, the highest number in a single day, and the total number of tests for the virus in New Zealand was nearly 40,000.
The number of significant clusters - of 10 or more people infected from the same place - remained at 12 after two new ones were confirmed yesterday. The Marist College cluster is the biggest, with 72 confirmed cases.
One of the new clusters is at Rosewood rest home in Christchurch, with at least 15 likely infections among residents and staff; 20 residents would be moved to Burwood Hospital.
So far there has still been only one confirmed death from the virus, with Ashley saying a man's death with influenza-like symptoms had not been linked to COVID-19. Sudden deaths like that would be investigated by the Coroner, he says.
At her daily media briefing, Prime Minister Jacinda Ardern stressed that the lockdown needed to remain in place for at least the full four weeks it had been set down for.
She says she doesn't want New Zealand at Level Four for a minute longer than necessary, but it takes time for symptoms to be seen and the country needs to ensure there is no "silent outbreaks".
• If you have symptoms of the coronavirus, call the NZ Covid-19 Healthline on 0800 358 5453 (+64 9 358 5453 for international SIMs) or call your GP - don't show up at a medical centre
Overseas, deaths spiked dramatically in the US with 600 in New York alone, The Queen of England made a rare speech, her Prime Minister Boris Johnson was admitted to hospital with the virus, and Japan's Prime Minister Shinzō Abe prepared to declare a state of emergency.
Oh, and a tiger has also tested positive at a US zoo.
The essentials
Surgical masks have now been ruled essential for workers in hospitals at all times, after new evidence from overseas prompted a protocol change.
Some have suggested the masks should be used by everyone, but it's a little more complicated than that, as microbiologist Siouxsie Wiles and The Spinoff's Toby Morris explain.
Residents have also been finding banking services essential, so much so that hundreds of people were queued up at TSB in New Plymouth when it opened this morning - including vulnerable elderly. Those lining up were good about maintaining 2m spacing, but worried the lines still posed a health risk.
Moving on to other essentials: essential workers.
It's not easy working in supermarkets right now. A 16-year-old gives an account of what it's like to be a supermarket worker during the crisis, and just like the supervisor last week who said she saw daily abuse by customers, says she has been yelled at by customers.
That's small potatoes compared to one man who has been charged after filming himself coughing on people at a Christchurch supermarket.
One supermarket worker in Kaikohe has tested positive for the virus. Customers were assured they could continue shopping there as before.
Taxi and rideshare drivers also told RNZ about the health and safety challenges they were facing.
It's no picnic for non-essential workers either, like for an acupunturist made redundant due to the lockdown, who got a real shock when she found her boss had applied for a wage subsidy in her name.
The National party has suggested more businesses could be allowed to operate during the lockdown.
Contact tracing - is there an app for that?
Jacinda says the government is looking into the possibility of using apps to help with contact tracing.
The country's three major IT groups are frustrated they were not consulted over such a move, while opposition MPs said there was little evidence officials had been preparing for it either.
The prime minister says technology is going to be part of the solution but it had to be balanced against people's privacy, and needed to be something New Zealanders would actually use.
Ashley says the Health Ministry has been approached with myriad offers of technology using GPS or Bluetooth, and was actively looking at what role technology could play.
Jacinda and Ashley also signalled surveillance testing - randomised testing in regions across New Zealand - would start soon.
More on SunLive...