COVID-19: What happened on April 5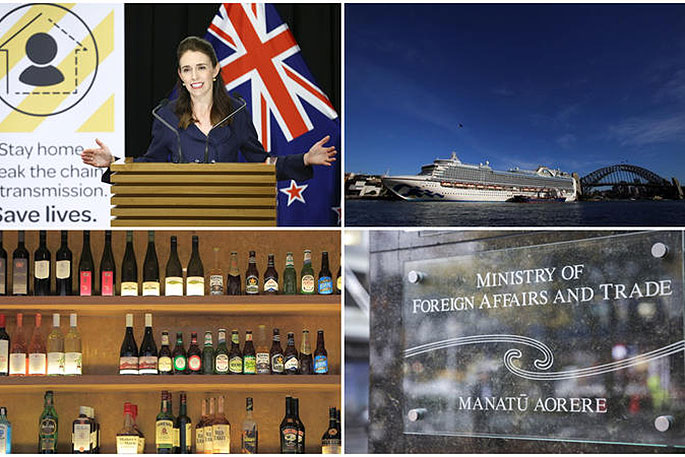 New Zealand now has a total of 1039 confirmed and probable cases of COVID-19 cases, but the prime minister says the country could have had four times that number if it was not in lockdown.
At this afternoon's media briefing Director-General of Health Ashley Bloomfield said there were 89 new cases on Sunday which included 48 confirmed and 41 probable cases, taking the total to 1039.
There were 15 people in hospitals - three in ICU and two were in a critical condition. There have been 156 people recover from the virus now.
Ashley says there are now 12 clusters, which are defined as 10 or more infections from the same place, an increase of two from Saturday. The Marist College cluster has 66 cases and is the largest cluster in New Zealand.
Prime Minister Jacinda Ardern says the lockdown was making a difference and cites modelling by economist Rodney Jones which forecasted that New Zealand could have had 4000 cases to date if not for the strict isolation measures.
She says overall compliance with the Level 4 lockdown has been excellent except for a few people who she says she "would charitably describe as idiots".
Jacinda also she expects Health Minister David Clark to continue doing his job after he broke the lockdown rules last week and drove more than 2km from his home to a mountain biking track.
He has admitted his mistake and apologised to the Prime Minister.
Jacinda says she's very disappointed she had to discuss his activities with him and had asked him to restrict any activity that could put him at risk, saying he "needs to be a role model".
• If you have symptoms of the coronavirus, call the NZ Covid-19 Healthline on 0800 358 5453 (+64 9 358 5453 for international SIMs) or call your GP - don't show up at a medical centre
Solution 'close' for NZers stranded in Peru
The Ministry of Foreign Affairs and Trade says it is "very close" to a solution to get the remaining New Zealanders who are still stuck in Peru home, but there are no guarantees due to the complex and rapidly changing situation.
Some New Zealanders in Peru managed to catch a repatriation flight to the UK and the ministry says getting the remaining 80 or so who are still there out of the country is no easy task, but it's getting "very close".
The ministry says it has helped thousands of New Zealanders during the COVID-19 pandemic, its largest and longest-running consular response.
The ministry has also secured a route home for 27 New Zealanders on a flight from Kathmandu to Brisbane, for seven people who had been in Uruguay, and a further 98 who had been on a cruise ship off Perth, Australia.
The Zaandam and Rotterdam cruise ships were yesterday allowed to dock in the United States and all 15 New Zealanders on board are now also en route home.
Liquor retailers given 'almost free reign' health watchdog says
An alcohol watchdog says allowing all alcohol retailers to sell online during the lockdown is doing more harm than good.
Under a rule change made late on Friday night, all alcohol stores can now sell online, and some retailers have had to temporarily stop delivery because they cannot cope with demand.
Alcohol Healthwatch executive director Nicki Jackson says it has now become too easy to buy alcohol, and at a time like this, that is not a step in the right direction.
She says drinking can increase anxiety and other mental health issues, as well as lead to more accidents and domestic violence.
A Ministry of Business, Innovation and Employment spokesperson says alcohol was always included as an allowable product due to the risk of panic buying as the country transitioned from Alert Level 3 to 4.
NSW Police launch investigation into cruise ship Covid-19 deaths
The New South Wales police have launched a criminal investigation into the operator of the cruise ship Ruby Princess.
Ten people who were on its most recent cruise have died from COVID-19 since it docked in Sydney last month, and 600 more have been confirmed as infected.
A cluster of cases has also been linked to the ship's visit to Napier three weeks ago.
The New South Wales police commissioner, Mick Fuller, says information already received about the case would be handed to the homicide squad today. The ship is operated by Carnival Australia.
Trump deploys the military to deal with coronavirus outbreaks
Thousands of military personnel will be deployed in US states to help them deal with the COVID-19 coronavirus epidemic, says President Donald Trump.
He says 1000 military personnel were being sent to New York City, including military doctors and nurses.
New York State recorded 630 more coronavirus deaths, another daily record that takes its toll to 3565.
The US has the world's highest number of known COVID-19 cases - more than 300,000 confirmed - and more than 8000 deaths.
-RNZ
More on SunLive...