Sign language interpreters face online criticism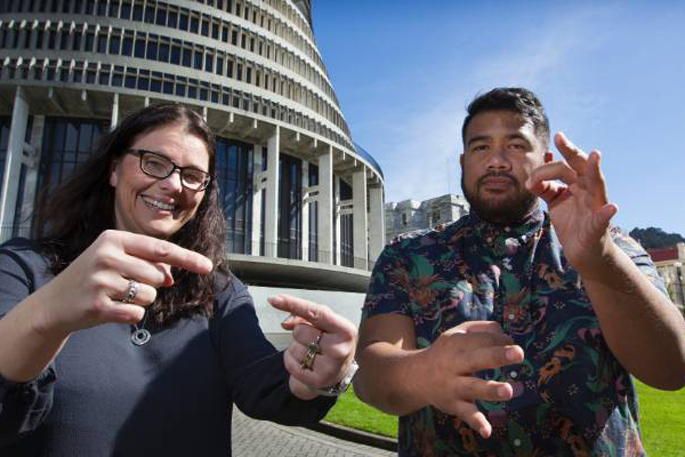 Sign language interpreters working on the coronavirus response are copping flak on social media simply for doing their jobs.
New Zealand Sign Language interpreters have become a staple on TV screens during the Government's daily coronavirus press conferences, helping to keep the country's deaf community informed.
But parody videos, memes and comments circulating online making fun of interpreters – calling them "distracting" or "unnecessary" – is causing these workers added stress, Deaf Aotearoa and the Sign Language Interpreters Association of NZ (SLIANZ) say.
The groups say some recent comments had been "particularly disrespectful" and they were calling for New Zealanders to show respect for interpreters and the wider deaf community.
Approximately 4000-5000 New Zealanders are deaf, and rely on NZSL as their first language.
It is one of the country's three official languages, alongside English and Māori.
Deaf Aotearoa say there are six "highly-skilled and experienced" interpreters working on the Government's Covid-19 response.
They work seven-hour shifts across a seven-day week.
While the presence of NZSL on screens during times of crisis is a "novelty" to many, everyone has the right to access crucial information – the same information other New Zealanders are hearing, Deaf Aotearoa president Oliver Ferguson says.
Oliver says New Zealand is doing a good job of ensuring deaf people are not left behind in accessing information and support, but calls for wider respect of interpreters.
"We are all in this together, and ask that the public show their respect to deaf people and their language," he says.
Interpreting is a "very stressful" job at any time – with interpreters having to take in information, think on the spot and sign while also listening to the next sentence.
But interpreting for the prime minister or director-general of health brought "increased scrutiny" and pressure, Deaf Aotearoa chief executive Lachlan Keating says.
"If they get one sign wrong, everybody will know about it."
SLIANZ president Micky Vale says interpreters are working in a very "fast-paced, challenging environment" requiring a high-degree of skill.
In providing access to deaf people in this way, they had to be "in the limelight" – which is stressful in itself, he says.
"Interpreters do not need the added stress of being made the butt of jokes or negative comments."
There are about 100 NZSL interpreters working in New Zealand.
More on SunLive...