COVID-19 wrap: What happened on April 2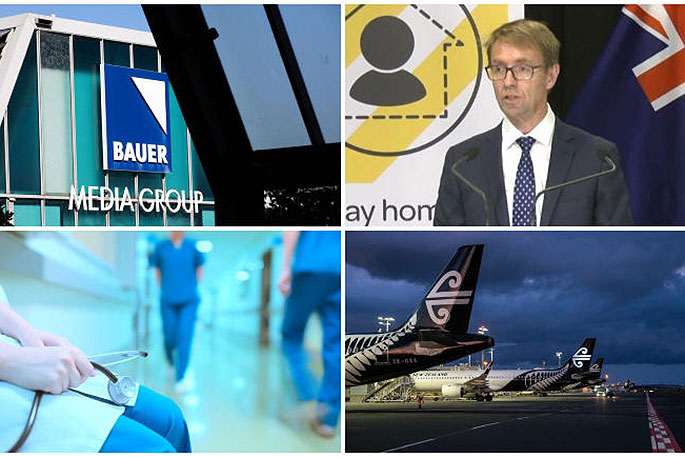 Major magazine publisher Bauer Media folds, New Zealand has its biggest increase in the number of new COVID-19 cases in one day and Air New Zealand slashes its domestic flights by 95 per cent.
These are some of the main things that happened on April 2 as New continues to remain at Alert Level 4.
The German-owned company Bauer Media, which publishes some of New Zealand's best known magazines, has announced it is going to close.
Bauer Media chief executive Brendon Hill says the COVID-19 lockdown had stopped magazine production and put the business in an untenable position.
The company publishes the following magazines which include a range of entertainment, lifestyle and current affairs titles: The Listener, Woman's Day NZ, New Zealand Woman's Weekly, The Australian Women's Weekly NZ, North and South, Metro, NEXT, Fashion Quarterly, Simply You Style, Living, Home NZ, Your Home & Garden and Kia Ora magazines. It also publishes the Property Press real estate guides.
Brendon says the magazines depended on advertising and it's unlikely they would recover to pre-crisis levels. He says New Zealand Bauer staff will get full redundancy and other entitlements.
Prime Minister Jacinda Ardern says she's "frankly gutted" to see a part of New Zealand's history close its doors.
She says the Broadcasting Minister Kris Faafoi asked Bauer Media if they could take up the wage subsidy, but they refused.
"In my view, from what I know of this situation, this appears to be a decision that has been made at the same time as COVID-19, but not because of it."
Jacinda says nobody wants to see the loss of these magazines.
Mediawatch reported the sudden closure had shocked the media industry and asked former Bauer Media chief executive Paul Dykzeul why the company swung the axe so brutally.
NZ's biggest increase in one day with 89 new cases
New Zealand has recorded its biggest increase in COVID-19 infections in one day as the Health Ministry confirmed 89 new cases, bringing the total number of cases to 797.
Director-General of Health Dr Ashley Bloomfield says labs processed more than 2563 tests on Wednesday - the largest number of tests taken in one day.
Only one per cent are being classed as community transmission, but 17 per cent are still being contact traced and Ashley says it's expected that many of those will be classed as community transmission.
He believes the peak in COVID-19 infections is still to come and we will not see an impact of the current lockdown restrictions until next week.
Ashley says about 100,000 swabs are being sent into the community and health officials are moving from "a peace time distribution system to a wartime distribution system" to ensure the swabs are where they need to be.
• If you have symptoms of the coronavirus, call the NZ Covid-19 Healthline on 0800 358 5453 (+64 9 358 5453 for international SIMs) or call your GP - don't show up at a medical centre
Internationally, the World Health Organisation Director-General Tedros Adhanom voiced deep concern about the rapid escalation of the new coronavirus which has now reached 205 countries and territories is expected to reach 1 million cases and 50,000 deaths worldwide in the next few days.
The US death toll from the coronavirus pandemic has now exceeded 5100 and is continuing to rise, John Hopkins University has said.
Health staff under pressure
GPs say testing centres for COVID-19 are at risk of being overwhelmed.
Since the rules were relaxed this week, people with COVID-like symptoms can ask to be referred for testing.
The medical director of the Royal College of General Practitioners, Bryan Betty, says unrealistic expectations have been raised, and until there is enough personal protective equipment, test swabs and lab capacity, it is likely people will still be turned away.
Three healthcare workers in the Auckland area have tested positive for COVID-19 and are being managed at home in self-isolation.
The healthcare workers are not believed to have been exposed to the virus at work and close contacts with the three have been stood down as a precaution.
Health staff and other essential workers are increasingly reporting being spat at by angry members of the public while trying to work during the lockdown.
The Nurses Organisation says this is "just unacceptable" and warns it's putting the workers at risk of contracting COVID-19, as well as putting the rest of us at risk too.
Air NZ slashes domestic flights by 95 per cent
Air New Zealand is cutting its domestic operations from tomorrow retaining only a handful of return services a day operating from Auckland, Wellington, Christchurch, Nelson and Dunedin.
The decision affects 15 regional destinations, including Hamilton, Tauranga and Queenstown.
Air New Zealand chief revenue officer Cam Wallace said it marks a 95 per cent reduction in services from before COVID-19, and goes hand-in-hand with demand falling by 99 per cent.
The airline will still fly domestic charter flights to any airport at the request of the government.
Later in the day the government announced that it will allow foreign nationals to travel domestically to get to international airports to allow them to fly home.
Speaking at the 3pm media briefing, Jacinda announced details of a plan to enable a safe, orderly exit of the tens of thousands of people stranded in New Zealand.
She says travel to get an airport in order to fly home will be considered essential.
Jacinda says commercial flights are still available, and there's no time limit to the managed exit plan.
It's expected the first foreign government-organised charter flight, operated by Air New Zealand, could leave as early as Friday evening.
-RNZ
More on SunLive...