LIVE: 'The worst thing we could do is relax' - PM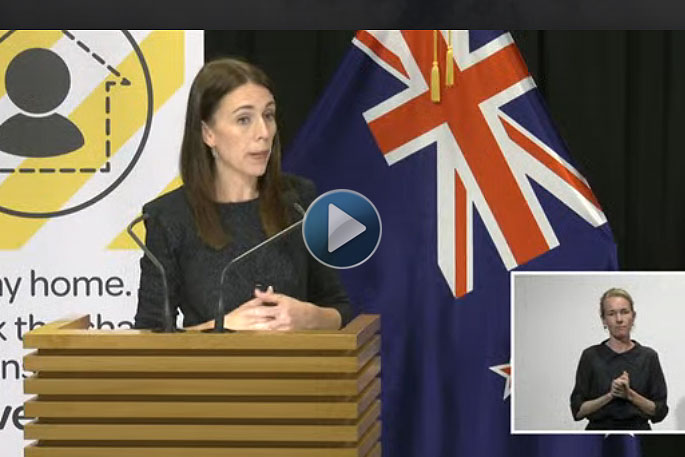 UPDATED: Prime Minister Jacinda Ardern says it is too early to tell if the measures put in place to reduce transmission of Covid-19 are working.
There could still be an increase in cases despite the lower numbers that have been reported in the past few days because of the 14 day incubation period the virus has, she says.
If the virus is in the community - present but not yet seen - "then the worst thing we could do is be relaxed or too complacent and allow a silent spread," Jacinda says.
The current Matamata and Marist College clusters could be a lot worse if the country is not at alert level four, she says.
The country does not have a full picture of the extent of community transmission, she says.
"That's why we've been so focused on testing capacity, which over a period of time we've seen a 91 percent increase in."
She reiterates the need for people to continue to adhere to the level four measures.
"Our goal is to be confident that we have got this virus under control."
The government has asked a lot of New Zealanders in a short space of time by raising the alert level to four, she says.
"The majority are doing an amazing job. This period of time is our chance to break community transmission."
About 990 emails had been received on the first day of the Pricewatch service and the most common complaint was the high prices of cauliflower, bread, meat, facemasks and garlic.
"We are taking these complaints seriously. We are investigating complaints that are being made."
The process for dealing with complaints is being worked through and would allow supermarkets a chance to be involved.
Shop as normal and be kind to the supermarket workers, she says.
Jancinda also provided a few updates on the $56 million support package for Māori communities and the $27 milion one for non-governmental organisations and community groups.
"The funding allocated to Whānau Ora commissioning agencies has been fully paid out which has helped the agencies to coordinate 100,000 care packages, with over 11,000 delivered to date and aiming for 130,000 by the end of the week.
"The investment has also helped to facilitate priority access for testing to vulnerable whanau such as kaumatua."
Additional reporting RNZ.
EARLIER: Prime Minister Jacinda Ardern is updating the public on the government's response to the COVID-19 situation in New Zealand this afternoon.
Today there are 47 new confirmed cases of COVID-19 in New Zealand and 14 new probable cases.
This brings the total number of confirmed and probable cases to 708.
Fourteen people are in hospital with the virus and two are in ICU and are stable, says Director of Public Health Dr Caroline McElnay.
She says about one per cent of the total cases is from community transmission.
"We are continuing to focus on getting better information on community transmission."
Caroline says a new case definition will be issued today as a guide for clinical practitioners.
It says those with respiratory illness consistent with COVID-19 should be considered for testing, regardless of travel history or contact with a confirmed case.
Labs for testing are increasing from eight to 10 and will be in place by the end of next week.
More on SunLive...