Council and community close Matapihi access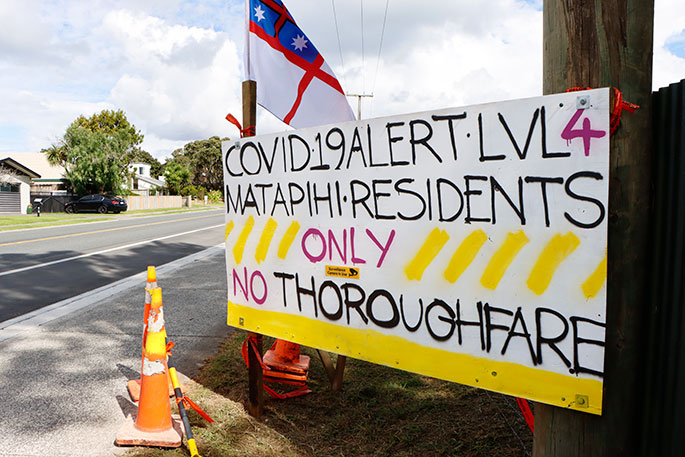 Matapihi community members are taking extra precautions to protect kaumatua, children and immunocompromised residents during the COVID-19 lockdown period.
Cyclists, runners and walkers from other Tauranga suburbs frequently use Matapihi as a thoroughfare when exercising - but concerned locals are saying now is not the time.
Non-residents have been barred from entering the rural suburb while Alert Level 4 is in place.
Large signs reading 'Matapihi Residents Only. No thoroughfare' were installed over the weekend at both entry points into Matapihi.
The first sign is at the beginning of Bayfair Estate and the other at the end of Matapihi Road - right after the footbridge.
Tauranga City Council has also announced the closure of the Matapihi Bridge Walkways. This will be closed until further notice to help stop the spread of COVID-19.
A statement issued by council says "with an average width of 1.5 metres, the bridge's walkway is too narrow for people to maintain the Government advised safe physical distance of two meters".
Matapihi resident Carlo Ellis, who works as Tauranga City Council's manager of strategic Maori engagement, says this community-led move is simply to help protect the vulnerable residents.
"This is about safety, adhering to government guidelines and reducing the risk of community transmission.
"Matapihi is a small community - our greatest fear is that somebody passes away from this and we aren't able to have a tangi and have whanau around."
Alert Level 4 lockdown restrictions allow people to exercise within their neighbourhoods. Civil Defence Emergency Management director Sarah Stuart-Black reiterates the importance of "staying local".
Carlo says a high number of non-resident cyclists, runners and walkers have been making their way through Matapihi since New Zealand went into lockdown last Wednesday.
"What we have noticed is people are not confining themselves to their own communities for their exercise needs."
More than 25 cyclists tried to enter Matapihi on Sunday in the space of about 40 minutes, says Carlo who was onsite the Bayfair Estate sign at the time.
Both signs remain unmanned, however, the Matapihi community have been encouraged to "kindly remind" non-residents of the suburb's closure.
"All the individuals have been understanding when we have suggested for them to reroute and stay closer to home - no one has responded negatively," says Carlo.
"Some people are seeing the signs and not turning around - but I think we just need to give them a bit of time to make alternative plans."
A notice sent out to the wider Matapihi community states that "any resistance can be met with a reminder that these precautions are consistent with Ministry of Health guidelines".
Non-residents can still enter Matapihi to drop-off supplies to elderly people and carry out other essential tasks, says Carlo.
But his message to Tauranga remains clear. "If you don't need to be coming through this community, then please don't."
"We have had a few people say that they need to bike 30km a day as part of their exercise routine. But hey, we have heaps of stuff we would like to be able to do too - fishing, diving, hunting and whatever else," says Carlo.
"We have to adjust in these times, and hopefully we can get through it quickly so we can get back to those routines."
Bike Tauranga chairman Kevin Kerr says closure of the Matapihi Bridge Walkways may inconvenience the odd person - but right now is important to look at the bigger picture.
"I understand that Matapihi Road is quite a key route, but if you look at the rules about keeping exercise local, travelling through Matapihi is probably pushing the boundaries anyway."
There are a number of cycle tracks that are available locally to people, says Kevin.
Western Bay of Plenty area commander Clifford Paxton says they are aware the community is concerned about the welfare of residents and have taken various steps to express these concerns.
"Whilst we acknowledge the concerns, some may, in fact, be increasing the risk of transmission through their communities by not remaining within their homes.
"We are speaking to those involved and encouraging them to abide by the restrictions to ensure the safety of all members of the community."
More on SunLive...