Family first amid lockdown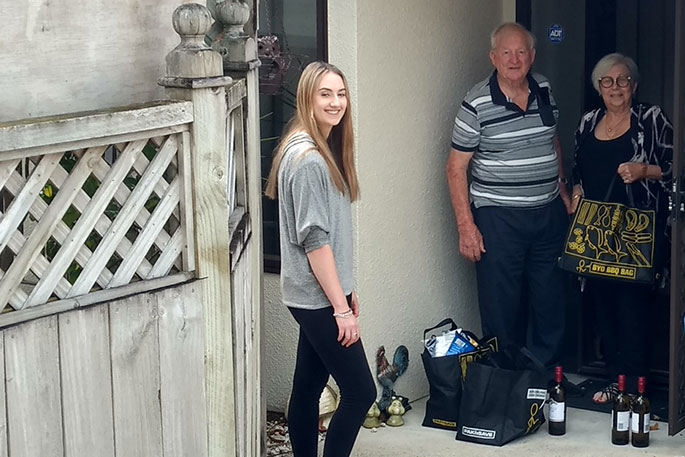 Retired Gate Pa couple Doug and Ann Roberts have their grocery - and wine - supplies sorted for this week thanks to a visit from granddaughter Gemma.
Doug, who just turned 90, and 75-year-old Ann were pretty chuffed when Gemma, 22, volunteered to do their shopping for them.
"She contacted us and it was very nice to find out that she took an interest in us," says Doug.
"I would have gone down and got the stuff, but she offered.
"I thought, lets' just let her do it...she'll feel good about it.
"And we do too."
Gemma contacted her grandparents just before the lockdown to advise them not to do their own shopping and to give her a call if they needed anything.
So they did.
This week's grocery delivery was the first and was made possible after Doug sent Gemma a photo of their handwritten list.
Gemma and partner Jesse, careful to keep at least the 2m minimum from Doug and Ann, dropped off the load on Monday afternoon.
The fleeting visit was a welcome break in Doug's day.
While physically well, he admits he's been a bit bored, and is sick of watching TV and the computer just at the moment.
He's still enjoying his reading though and is catching up on a few jobs, like gardening.
An unexpected highlight so far has been the memories brought back while doing a spot of tidying up.
"I've just cleaned out a couple of cupboards of old files we've had for over the 30 years," says Doug.
"It's amazing what I've found - what went on in our lives."
What he's currently missing is not being able to go out for a drive, but quickly adds he's happy about the restrictions because, "it's for the good of everybody".
He also feels the actions taken by New Zealand authorities in response to the pandemic have been fair.
"Personally I think we've done well. I think they've taken notice of what's gone on in other countries.
"I hear a lot of people grizzling we should have started this earlier [but] let's face it, that's not possible sometimes.
"They had to assess everything. You can't just turn around and make a decision like they have done, in a couple of hours."
Keeping in touch with the outside world by cellphone, landline and email,
Doug and Ann are getting most of their COVID-19 information from the TV and the odd newspaper.
Doug's advice to others in self-isolation is a plea to just "do as they're told".
Gemma, a hairdresser by trade, sees it this way, "we're obviously getting the information that we need. No one's really panicking round here; we're just doing what we're told and taking it day by day".
While access to the Tauriko supermarket she went to was restricted to one person in as one person leaves, Gemma says the atmosphere was fine.
"Everyone's lovely in there. Still in high spirits which is good."
More on SunLive...