Brian versus the bug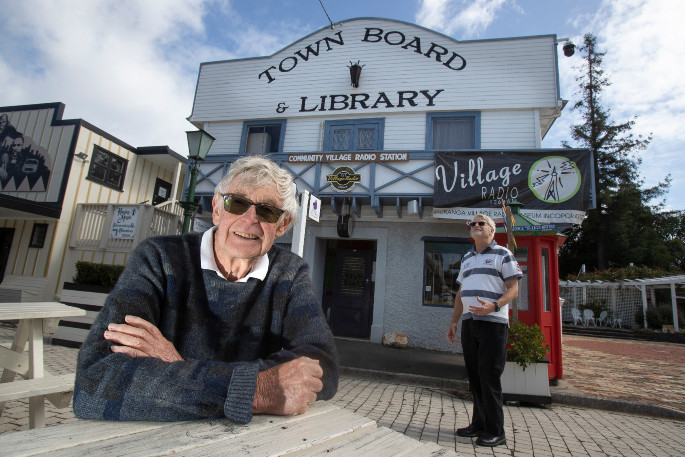 It's taken a global and viral 'nasty' to silence the man who won't be silenced.
Brian Cotter, the 90-year-old tonsils on the Saturday morning show on Village Radio, 1XT 1368AM, is under lockdown at his retirement village in Papamoa.
And the steam has gone out of his beloved steam radio station. It's closed down for the foreseeable future. Blame the bug.
"It's funny," says Brian, an inveterate teller of tales, even about pandemics. "I was doing my show Saturday morning and I said: 'good on all those people who are going into self-isolation, making the sacrifice'. I re-assured those listeners – we will be here to keep you company."
Then a couple of hours later, the news came through. "It was a game changer, the Government was telling 70-year-olds they were the most vulnerable and shouldn't go out. Stay at home, mind the virus.
"Then it kind of hit me." Brian wouldn't be there to keep them company.
Village Radio is a 70-years-old-plus industry.
"Of the 28 volunteers who run the radio station, only four are under 70," says manager George Stewart.
The audience of two or three hundred Tauranga faithful is of a similar vintage.
"And quite a few of us are over 80."
So they shut the station down on Sunday night.
"Until further notice, until this damned virus has passed and it's safe enough to go back."
The station apologises to all the loyal elderly listeners for whom Village Radio is a daily companion.
There were a few well-intentioned 'young turks' who wanted stay on air, but not enough to maintain the 8am to 5pm programme schedule.
"And it's a government protocol, if you are over 70 stay at home. We have to do our bit, stop it spreading around."
Out in Papamoa, behind the security curtain, radio man Brian Cotter is plotting against the virus. He might be in lockdown but he won't be silenced.
"I am putting together a radio programme that I would like for Village Radio and then playing it back to myself."
It won't even be a hiccup in the ratings – a radio show by one for an audience of one.
"Half the enjoyment is putting a show together."
Giving some thought to variety and going through the music of the ages – the 1940s and 50s. It'll keep that old head exercised.
"I just thought damn it, nothing can stop me from doing that, creating a radio programme, putting it up, listening to it and enjoying it."
Perhaps he should 'crank the speakers up full blast, and play it all night long' (acknowledgement Warren Zevon) so a few others at the Bayswater Village can tune in.
More on SunLive...