LIVE: 74 people recover from COVID-19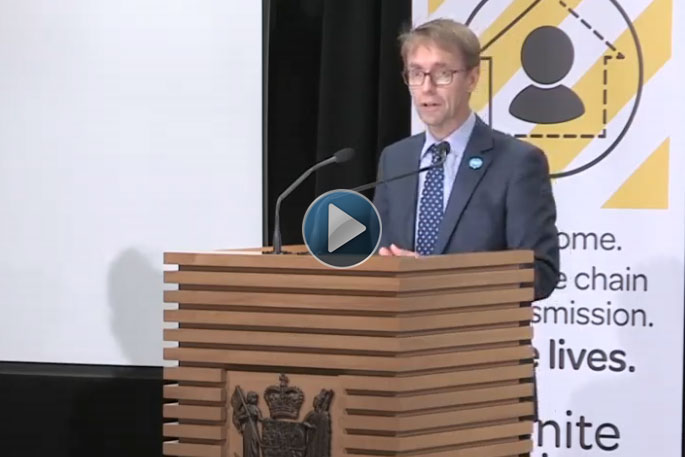 UPDATED: A total of 74 people have recovered from COVID-19 in New Zealand to date.
Director-General of Health Dr Ashley Bloomfield is delivering his latest update today.
He says there are a total of 48 new confirmed cases and 10 probable cases, bringing the total number of new confirmed and probable cases to 58 for today.
This brings the total numbers of cases in New Zealand to 647.
Ashley expects the numbers to continue to increase in the next seven to 10 days.
He hopes that number will start to decrease after that, if "people continue to do what they are being told".
There are 14 people in various hospitals around the country and two are in ICU.
"They are in a stable condition."
Ashley is asking people to continue to stay in isolation and help break the spread of COVID-19.
EARLIER:
The All of Government COVID-19 National Response will provide an update at 1.30pm today.
Speakers:
• Sarah Stuart-Black, Director of Civil Defence Emergency Management – update on COVID-19 national response, civil defence initiatives

• Dr Ashley Bloomfield, Director-General of Health – health update.
What we know so far
During his daily update on Monday, Director-General of Health Dr Ashley Blomfield says there have been no additional deaths related to COVID-19 in New Zealand.
Currently, only one person has died in the West Coast.
He says there are 76 new cases of COVID-19 today. That brings the total number of cases to 589.
He says of those, one probable case has been confirmed and there are no 37 probable cases.
Sixty three people have recovered from the virus.
Ashley says 12 are in hospital.
"Two of those people are in ICU."
Three people are expected to be discharged soon.
"We are still seeing a strong link to overseas travel or close contacts to overseas travel.
"Two per cent of the cases are from community transmission, that's 10 cases."
More on SunLive...