Waihi family mourns 'special' woman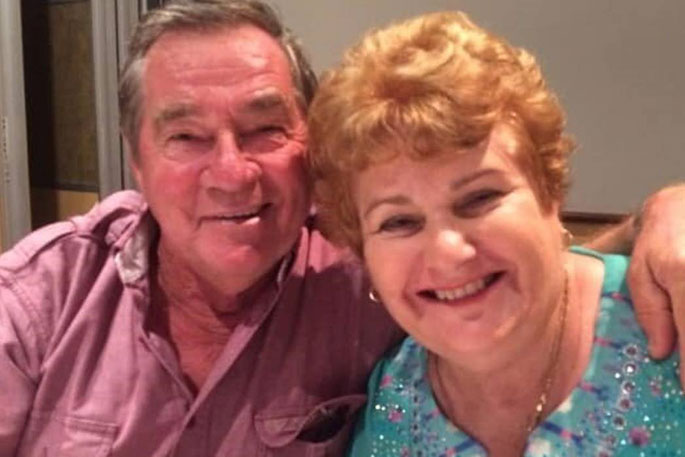 A Waihī family is grieving after a cruise booked as a birthday treat resulted in a death from coronavirus they came close to unwittingly bringing home.
Australian-based Karla and Graeme Lake had been on board the Ruby Princess cruise ship, and were scheduled to dock at Tauranga before visiting family in Waihī.
However, the Government's decision to ban cruise ships from docking in New Zealand until June 30, meant the couple were turned around, and sent back across the Tasman.
Their family, waiting on the wharf in Tauranga to greet them, had no idea the couple had been exposed to COVID-19.
Upon returning to Australia, Karla and Graeme fell sick, and despite the cruise being deemed "low risk" by NSW Health, tested positive for COVID-19.
Karla died from the illness on Saturday, while Graeme remained in a critical condition and with an "extremely broken heart".
"They were lead to believe there was no [coronavirus] on the ship, and so when I talked to them when they got home, they were fine," Graeme's sister Noreen Armstrong told Stuff.
"But that afternoon, they both took sick."
The Ruby Princess left Australia on March 8, travelling to Wellington on March 14, Napier on March 15, and back to Sydney on March 18.
According to 7News, passengers aboard the cruise ship freely disembarked in Sydney after the cruise was deemed "low risk" by NSW Health.
However, at least 171 cases in NSW and 122 interstate can be traced to the ship, they reported.
The realisation that the virus could have been transmitted to Noreen and her family, and likely on to others in Waihī, hit home, says Noreen.
"It wasn't until we got to the wharf that we heard the boat had turned around ... how easy it would have been to have brought it back because we had planned to bring their friends home with us, too.
"How would we have felt if that happened?"
Noreen is pleased at the lockdown efforts made by the New Zealand government, and says family in Australia "wished Jacinda was their prime minister, and wished their country was shut down, too".
Graeme remains in a Queensland hospital, in a room he was able to share with his wife.
"He's not in a good way and he's finding it hard to cope with the loss of his wife and his soulmate."
Noreen says the couple had underlying medical conditions: Karla had early-stage Parkinson's, and both had rheumatoid arthritis.
Despite this, the pair were avid travellers and had a mutual love of cruising. The Ruby Princess cruise was a 75th birthday present to Karla from her husband.
"Karla was the kindest, gentlest person you'd ever know. She never raised her voice.
"When my sister and I used to go and stay, there was always, always these gourmet meals she'd prepare.
"Karla loved shopping, and so of course we loved shopping, too. And jewellery. When we were in Singapore last year, I was with Graeme and we helped choose a ruby and diamond bracelet for her.
"She was such a special person."
Noreen hopes Karla's story would show how easy it is for the virus to spread and its ability to affect many lives. She encourages people to abide by the lockdown, in order to curb the spread of COVID-19 in New Zealand.
"Do what the Government says you have to do: stay home, and stay safe."
More on SunLive...