Rotorua mourns the loss of respected journalist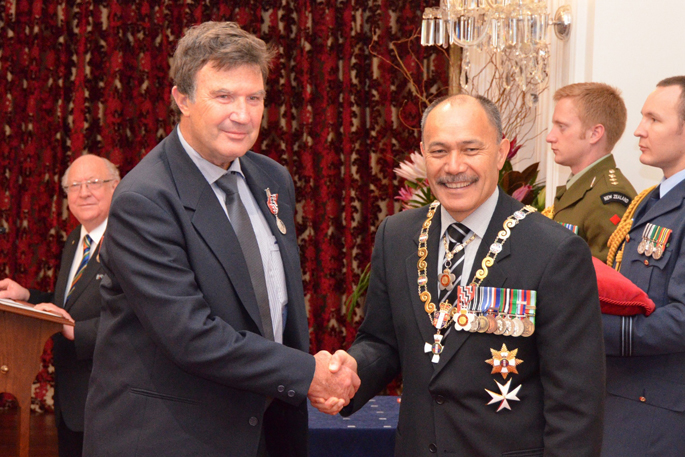 Highly respected and much loved Rotorua journalist Phil Campbell has been remembered as a man of integrity and warmth after he died suddenly earlier this week.
Tributes have been flowing on social media by people from all corners of the country, and overseas, for Phil who died in Waikato Hospital on Wednesday from a heart condition.
He was 72-years-old and leaves behind his wife Lesley and daughter Rebekah.
"It is with a heavy and utterly broken heart that I share the news of my beloved dad's passing," Rebekah Campbell says.
"He was exceptionally well cared for in Waikato Hospital but unfortunately due to complications with his heart valve replacement my darling dad is now having his longest sleep," she says.
"My dad was many things to many people.
"A son, an older brother, husband, my dad, uncle, cousin, a talented writer, and a dear friend.
"To me, he was my hero. He taught me strength, unwavering compassion and kindness. He taught me to always consider other people's feelings and points of view. He taught me how to stay true to myself.
"He was driven, measured and an absolute rock to my wonderful mum and I," Rebekah says.
"He was incredibly quirky and never stopped trying to make people laugh and feel thought after. His unique way with words is just one of the things I will miss, but cherish forever."
Rebekah says the next few months were going to be tough "as we navigate this strange environment without him" and the fact there would be no public farewell for her father in the near future.
"Mum is with me and we have each other. Be kind and look after each other."
She says the family were planning to hold an informal memorial service for Phil when life returns to normal.
Phillip Laurence Campbell was born in Island Bay, Wellington, in 1948 and was the eldest of five children.
He left school at age 14 and worked on a farm in Kaikoura for the Beattie family before starting his newspaper career at the Marlborough Express in 1966 as part of the advertising team.
But he soon found his true calling as a writer, becoming a journalist for the same paper in 1969.
He went on to become an award-winning sportswriter for The Dominion Post in Wellington, edited a national rugby magazine and worked at the Rotorua Daily Post for 15 years.
From 1997 to 2013 he was editor of the Rotorua Review and for the past year or so Phil reported for the SunMedia publication, Rotorua Now.
Phil was awarded the Queen's Service Medal for services to sport and journalism in 2013.
At the time he told the Rotorua Daily Post that "ninety-nine per cent of journalism is just bloody hard yakka ... but it's rewarding."
"You just need to keep your integrity and [ethics]," he says.
Former Prime Minister Helen Clark, whom Phil greatly admired, says she was saddened by the news of his death.
"Phil will always be remembered as a professional journalist of the highest integrity who was dedicated to informing the public accurately. He set a standard for all journalists present and future. Phil will be greatly missed. My deepest sympathies go to Phil's family, friends and colleagues," Helen says.
Long time friend and colleague for almost 40 years, Simon Earle, says Phil was the hardest working journalist he'd ever known.
"As a sub-editor at the Post he would invariably be the first to arrive and if staffing was down that would be very early – he would have pages laid out before the others arrived.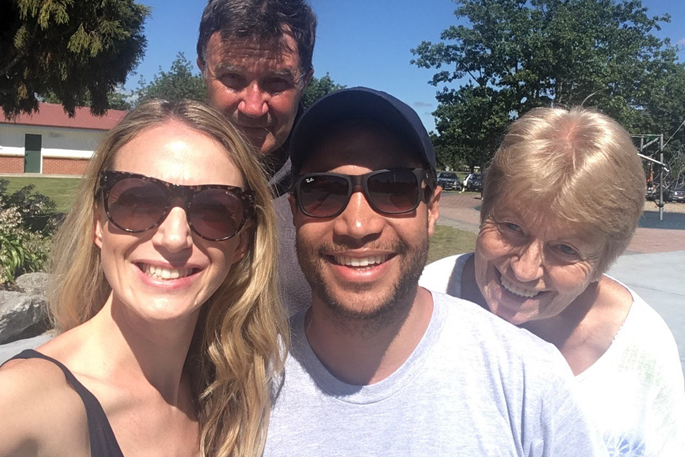 Phil with his wife Lesley, daughter Rebekah and her partner Daniel Dunkley. Photo: Supplied.
"When he was the editor of the Rotorua Review he may have left at the same time as others but often did interviews over the phone and wrote stories at home well into the night," Simon says.
"Phil came from family circumstances that were far from affluent and because of this he always had time for the underdog which at times was reflected in his writing and the issues he pursued. It also gave him a compassionate nature and he would go out of his way to visit people who were sick or generally down on their luck.
"I know this from my own experience as he would regularly call on me during a time when I was seriously crook. Not only did I appreciate his company, but he also helped keep me up with the play in the Rotorua world, which I was missing.
He says Phil had a good awareness of what could and couldn't be printed and often gave guidance to other community newspaper editors when they emailed him a story asking whether they could push ahead or not.
"He went fairly close to the edge with some of the stories he wrote but managed to get through 15 years without the paper being sued."Simon says Phil was an avid sportsman and was a good rugby player, cricketer and rower in his younger days.
"He was a menacing bowler, generating good pace and lift off a very short run-up.
"Batting and fielding were never his strengths in his early years with Arawa because of his eyesight. He would be hidden away in the field somewhere and sometimes had to be told by his teammates the ball was heading his way.
"That all changed after he had a laser eye operation – he started taking very good catches and no longer became an easy wicket for opposition bowlers. It is amazing what happens when you can actually see the ball!"
Simon says Phil used to carry a large book (possibly Sherlock Holmes) to some interviews with the centre of the book cut out. Inside was a miniature bottle of spirits - possibly whiskey, he recalled.
"He'd get the camera out and as he was about to take a pic he'd ask them to open the book - it would invariably result in a good smile, Phil got what he wanted."
Rotorua Mayor Steve Chadwick says Phil's death "will leave a big gap in the telling and reporting of issues that matter to our community".
"I have worked alongside Phil as a previous councillor, Member of Parliament and Mayor for the last 24 years," Steve told Rotorua Now.
"He had a passion for politics both at a local and central government level. Many politicians did not relish the way in which they were portrayed...politicians respected and also feared him.
"I took Ministers and Prime Ministers to visit his wee office at the Rotorua Review.
"He loved to chew over the hot issues and then came in incisively with hard questions. He was an old school journalist who understood the context and history of our place. He loved the written word.
"I valued his counsel, advice and his last words to me were how about thinking to use the phrase "be safe IN there" in relation to the current pandemic," Steve says.
On a personal note, I got to know Phil quite well over the last 15 years as a journalist, writer and friend. I enjoyed sharing the media desk with him during the many council meetings we attended, as well as the sausage rolls the council used to so kindly provide. His many and varied nic-names for our elected members always made me chuckle.
He was witty, verbose, insightful and never once did he make me feel like I was the "opposition" while we were working for different media outlets.
The stories behind the many, mainly sporting club, ties he'd wear with his loose-fitting jacket were often as colourful as he was.
He would call, text and email me with ideas and insights even from his hospital bed, as I know he did with his many other correspondents.
I was looking forward to working with him for Rotorua Now, but that was not to be. His will be very big boots to fill.
RIP Phil Campbell 30/01/1948 - 25/03/2020
More on SunLive...