Live: 83 new cases of COVID-19 in NZ today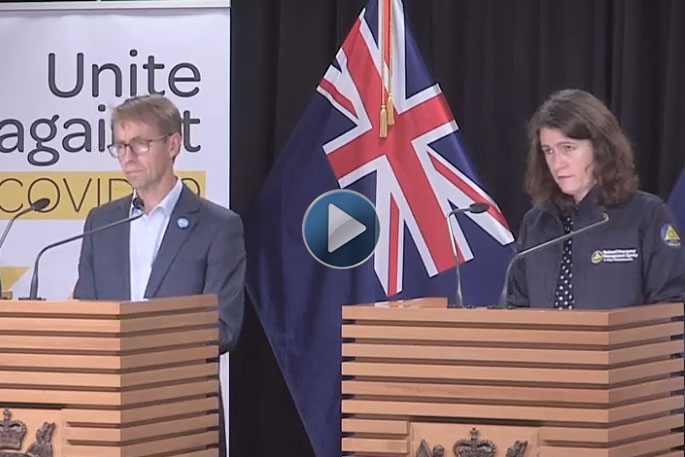 Updated: There are 83 new cases of Covid-19 as of this morning, made up of 78 new confirmed cases and five probable cases, says Director of Civil Defence Emergency Management Sarah Stuart-Black.
Two people are in intensive care units, one is on a ventilator
Fifty individuals have recovered, 12 people are in hospital with Covid-19 - three in Wellington Regional Hospital, two in Nelson Hospital, two in Whangarei Hospital and one each in Auckland, Waikato, Taranaki, Dunedin and Greymouth hospitals.
Laboratories are working to process and report test results as quickly as possible, average daily test number over a 7 day period is 1613, says Sarah.
Total number of confirmed and probable cases in New Zealand now 451, with overseas and travel and links to confirmed cases still being the most significant infection path.
More than 2500 retired health workers have signed up to help with the Covid-19 response.
All of Government controller John Ombler says most people are following the nationwide lockdown rules.
This weekend is different from usual, he says.
"It is important for everyone to stay home and save lives. Stick to your bubble."
There have been isolated incidents of people congregating and they have been warned by the police, he says.
Stay local and don't go to playgrounds is his advice.
He has heard reports of people playing touch rugby and Frisbee in parks, that's just stupid, stay in one place, John says.
"Don't be stupid."
John says he has heard reports of New Zealanders who have arrived back in the country and are in self-isolation at hotels without food, and that's not good enough.
He says they are working with hotels to ensure people are fed and the Red Cross will brought in to help if needed.
John reiterated that none needs to worry about a lack of food at supermarkets because supply chains are working. Households should elect one person to do the shopping and respect physical distancing as well as packing their own groceries.
"When you get home wash your hands thoroughly."
All New Zealanders are in this together, keep up the great work and break the chain of infection, he says.
There is also guidelines on the COVID-19 website that provide information about the personal protective equipment people working in essential jobs may need.
Earlier: The Government COVID-19 National Response team will provide an update at 1pm today.
All of Government Controller John Ombler will provide an update on the COVID-19 national response and Director of Civil Defence Emergency Management Sarah Stuart-Black will provide a health update.
So far there is a total of 368 confirmed and probable cases of COVID-19 in New Zealand.
Director-General of Health Ashely Bloomfield said on Friday that there had been 85 new cases confirmed since Thursday.
Of those cases 76 were new confirmed cases and 9 probable cases and there are 37 individuals that have recovered, he says.
Currently there are eight people in hospital with COVID-19.
There are three in Wellington regional hospital, two in Nelson hospital and one each in Waikato, Auckland and Northland hospital. Seven are stable, and one is in ICU in Nelson hospital.
"A lot of the cases have strong links to overseas travel, as well as links to those who have been overseas," Ashley says.
The Ministry of Health continues to investigate possible clusters.
More on SunLive...