Wedded bliss in isolation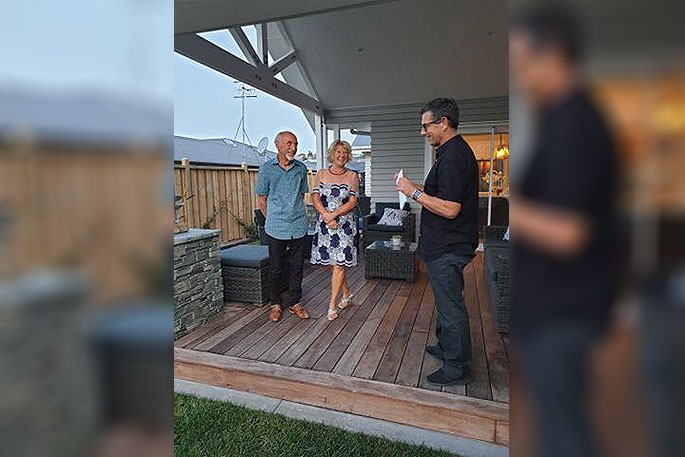 They got married in the nick of time and now the honeymoon is a lock-down love affair.
David and Eunice (nee Chivers) Reid, are supposed to be getting married this weekend, but because of a nationwide quarantine, they were destined for a lonely month apart.
Their Christian faith is very important to them, so David was destined to be in Papamoa while Eunice stayed at the new house in Bethlehem.
"With self isolation looming, we wanted to be married."
As events unfolded during the week, Eunice says they changed their venue from The Charthouse at Sulphur Point, to the amphitheatre at Te Puna Quarry. The 120 guests could have stood four metres apart at the new venue.
Then, on Monday, the Government announced the complete lock-down so it was action stations again and the new house was now the new venue.
The wedding was limited to Pastor Ross Horton from the Mount Baptist Church and a "very, very limited" group of guests.
After the wedding, members of their walking group drove past the house in Bethlehem, tooting and blasting on their horns.
Before the lock-down, Eunice was more concerned about leaving her new husband behind to go to work, once the honeymoon in Fiji was over.
She said it was nothing compared to the war brides in World War 2 who got married and then were immediately parted, with no guarantee of seeing their new partner again.
"I've got the flip side, he's here for a whole month.
"I'm so grateful I'm not a war bride and that we are able to batten down the hatches together."
They will still have a proper wedding celebration in front of their friends and large families, when everything gets back to normal.
In the meantime, they are looking forward to the isolation.
The emerging crisis has taken its toll on Eunice's not-for-profit work, including her involvement, through the Ruel Foundation, in a new orphanage in the Philippines.
Staff have just been hired and the orphanage was ready to go but had to be closed as countries started shutting their borders.
She is also heavily involved in Ruel Foundation's Give a Smile programme which raises money to help children with cleft lip and palate problems.
Donation boxes for the Ruel Foundation - Give a Smile are scattered in shops around Tauranga but will not be receiving any donations.
To help out people can visit www.ruelfoundation.com or www.giveasmile.org.
More on SunLive...