LIVE: A total of 368 cases of COVID-19 in NZ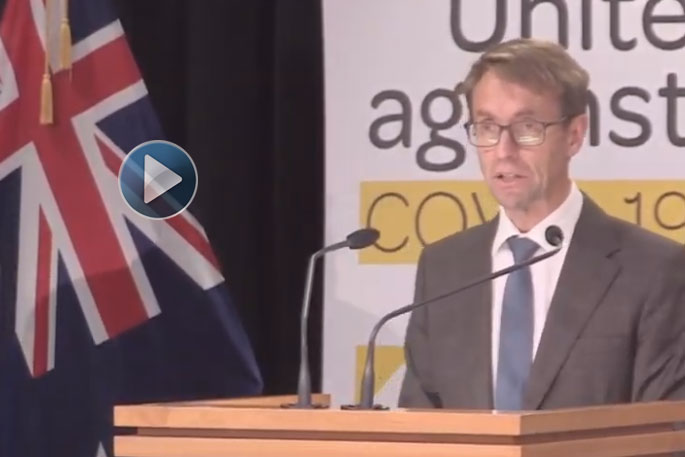 UPDATED: There is a total of 368 confirmed and probable cases of COVID-19 in New Zealand.
Director-General of Health Ashely Bloomfield is delivering the latest update from the Ministry of Health this afternoon.
He says there are 85 new cases in the last 24 hours.
"There are 76 new confirmed cases and four probable cases."
He says 37 people have receoved from the virus.
"There are eight people in hospital. Three in Wellingon Hospital, two in Nelson, one in Waikato, one in Auckland and one in Whangarei.
"Six people are in a stable condition. Two are in a less stable condition and one is in ICU."
Ashley says they expect the number of cases to growing in the coming days.
"A lot of the cases have strong links to overseas travel, as well as links to those who have been overseas."
EARLIER:
The All of Government COVID-19 National Response will provide an update at 1pm today.
Speakers:
• Sarah Stuart-Black, Director of Civil Defence Emergency Management – update on Covid-19 national response

• Dr Ashley Bloomfield, Director-General of Health – health update.
Here is what we know so far
As of Thursday, there were another 78 confirmed cases of COVID-19 in New Zealand. Bringing the total number to 283.
This is mix of 73 new confirmed cases and three probable cases.
Director-General of Health Ashley Bloomfield in probable cases, the person has returned a negative laboratory result, but the clinician treating the person has diagnosed them as a probable case due to their exposure history and clinical symptoms.
A total of 27 people have recovered from COVID-19.
Seven people are in hospital. All in a stable condition.
Three are in Wellington, two in Nelson, one in Waikato and one Northland Base Hospital.
A total of 2417 test were carried out on Wednesday, bringing the total number of tests carried out to date to 12683.
"Those awaiting tests should be in strict isolation and should not be having contact with anyone, and should be isolating from other family members," says Ashley.
An Auckland man is facing a number of charges after being pulled over twice by police during the coronavirus lockdown.
On Friday, police confirmed that a man has been charged with driving offences for breaking the rules.
Police Commissioner Mike Bush told Newstalk ZB: "The person was stopped last night and he was stopped the night before. He had no reason to be out there.
"Unfortunately for him, he wasn't complying with a number of driving matters . . . he wasn't entitled to have that car or to be out there."
Surf lifesavers are asking people to stay out of the water.
Surf lifesavers were called out to a swimmer in trouble on a remote stretch of the Raglan coast just hours before the country moved to the Level 4 COVID-19 lockdown.
In response, lifesaving officials have re-emphasised their advice to kiwis to stay out of the water while the COVID-19 emergency continues.
All surf lifesaving patrols in New Zealand have been discontinued till further notice as part of the COVID-19 response moving to Level 4 – a move SLSNR Chief Executive Matt Williams says is a "no-brainer."
Matt says surf lifesaving clubs will clearly not be able to provide lifeguards under the self-isolation requirements, "but equally, we expect to see very few people at the beaches, apart from residents who we are advising to stay on land and not go for a swim or take part in any other water-based activities."
He says surf lifesaving emergency callout squads will remain on readiness should an on-water incident occur.
Growers stay positive in COVID-19 pandemic
The kiwifruit industry is short 1300 workers who can't enter New Zealand under COVID-19 border restrictions, but growers are focussing on the positives.
"We have a great opportunity to employ New Zealanders who wouldn't otherwise be employed, and to earn an income for the regional and national economy that wouldn't otherwise be earned," says New Zealand Kiwifruit Growers Incorporated chief executive officer Nikki Johnson.
"It's really important that the industry strives through COVID-19. It will present some challenges, but I am confident we can get through them."
Before COVID-19 became rampant in NZ, NZKGI, who rely heavily on Recognised Seasonal Employer workers from overseas, were already taking steps to encourage Kiwis to join their workforce.
"There was already a positive uptake from Kiwis because of our targeted Labour Attraction Campaign, which we ramp up in February before the season's peak in mid-April.
"Obviously that has been taken over by the COVID-19 situation. We have less backpackers and RSE workers, but a large number of New Zealanders applying as a substitute to that.
"RSE workers already in NZ who were scheduled to go home have now had their visas extended, which has also helped fill the short fall."
More on SunLive...