LIVE: Another 78 new cases today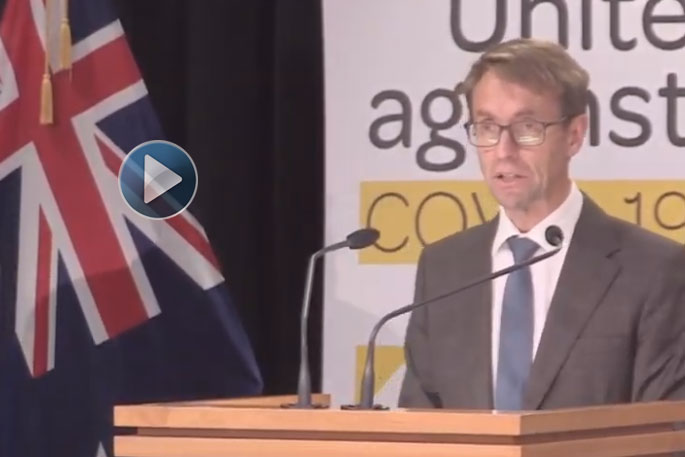 UPDATED: Today's update sees another 78 confirmed cases of COVID-19 in New Zealand. Bringing the total number to 283.
This is mix of 73 new confirmed cases and three probable cases.
Director-General of Health Ashley Bloomfield in probable cases, the person has returned a negative laboratory result, but the clinician treating the person has diagnosed them as a probable case due to their exposure history and clinical symptoms.
A total of 27 people have recovered from COVID-19.
Seven people are in hospital. All in a stable condition.
Three are in Wellington, two in Nelson, one in Waikato and one Northland Base Hospital.
A total of 2417 test were carried out yesteday, bringing the total number of tests carried out to date to 12683.
"Those awaiting tests should be in strict isolation and should not be having contact with anyone, and should be isolating from other family members," says Ashley.
Six cases of Covid-19 in Hawke's Bay
Hawke's Bay has three newly confirmed cases of COVID-19.
This takes the total COVID-19 cases in Hawke's Bay to six.
Hawke's Bay District Health Board's Medical Officer of Health, Dr Rachel Eyre says two of the three cases returned from overseas travel and these people are recovering well and had been in immediate isolation since returning from overseas.
Flight information is available here: https://www.health.govt.nz/our-work/diseases-and-conditions/covid-19-novel-coronavirus/covid-19-current-cases
The third case was not linked to overseas travel but did have a connection to the Cruise Ship - The Ruby Princess.
Rachel says anyone who had COVID-19 symptoms and came into close contact for 15 minutes or longer with passengers from The Ruby Princess, which docked 15 March, Napier Port, and is now symptomatic should call their GP.
If someone was symptomatic and in isolation with others they should further distance themselves and have as little contact as possible with anyone else in their household, not share crockery and be vigilant regarding cleaning and handwashing.
While this case was still being investigated and Hawke's Bay DHB's Public Health team and the National Contact Tracing Service were following this up, it was known that places visited by the confirmed case while symptomatic were:
Gladys Mary Care Home, Tamatea, 17, 18, 19 and 20th March
Hohepa, Clive, 18 March
Harvey Norman, Hastings -19 March 10am
Cornocopia, Hastings,
Weleda, Havelock North, 19 March
Te Mata Bakery, 19 March
Mission Winery, 19 March
Rachel says while the chance of infection being passed on while a person is visiting shops and wineries is low, anyone with symptoms of COVID-19 should call their GP.
Close contacts from these locations would already have or will shortly be contacted by members of the Public Health team or National Contact Tracing Service, if there was a greater risk of infection. Now everyone was in isolation, it would help prevent wider spread,says Rachel.
In relation to The Gladys Mary Care Home, the Public Health and infection prevention teams are working closely with the staff and all close contacts have been identified.
The home did have a resident that was symptomatic and linked to the confirmed case. Test results are due tomorrow.
In the meantime, every precaution is being taken and the home is closed to all visitors.
Rachel says this reinforces how important the rules of self- isolation are. If we can break the chain we will help prevent the virus from spreading any further.
For more information go to https://covid19.govt.nz/government-actions/covid-19-alert-level/
If you are feeling unwell, recently returned from overseas, or if you have been in close physical contact (less than two metres for more than 15 minutes) with someone from the Ruby Princess, or with a suspect or confirmed case of COVID-19 call your GP who may make an appointment for you to be assessed at a Community-Based Assessment Centre or call Healthline's free 24/7 dedicated COVID-19 number on 0800 358 5453. Interpreters are available on request.
EARLIER:
The All of Government COVID-19 National Response will provide an update at 1pm today.
Speakers:
• Mike Bush, Commissioner of Police – update on Covid-19 national response

• Dr Ashley Bloomfield, Director-General of Health – health update.
Here is what we know so far
As New Zealand enters the unprecedented four-week COVID-19 lockdown that started at midnight, here's how the country prepared to cope just the day before on March 25.
Ahead of the lockdown, a State of National Emergency has been declared.
As we go head into isolation, confirmed cases of the coronavirus have hit 205. Fifty new cases were announced on Wednesday.
The number of cases is expected to go up, despite the lockdown, before it goes down.
Prime Minister Jacinda Ardern made her final comments to the public before isolation kicks in, aiming to inform and reassure.
But she also had a simple message - "stay home".
"It will break the chain of transmission and it will save lives.
"You are not alone, you will hear us and see us daily, as we guide New Zealand through this period. It won't always be perfect, but the principle of what we're doing is the right one."
• If you have symptoms of the coronavirus, call the NZ Covid-19 Healthline on 0800 358 5453 (+64 9 358 5453 for international SIMs) or call your GP - don't show up at a medical centre
Jacinda, along with a small number of MPs, returned to Parliament to debate and pass much needed legislation to allow the government to effectively deal with the COVID-19 pandemic.
The legislation covers tax, welfare, immigration, voting, health, and more.
But it wasn't just the government trying to get ready for the lockdown.
People seeking clarity over what constituted essential services got some of the answers they were looking for.
Local government was getting ready, tenant groups called for more support for renters, people shared tips for staying connected and how to keep kids happy and healthy.
See all SunLive coverage of COVID-19
There were another 50 confirmed and probable cases of coronavirus as of 9.30am on Wednesday.
This brings the total of confirmed and porbable cases to 205.
Director-General of Health Ashley Bloomfield in probable cases, the person has returned a negative laboratory result, but the clinician treating the person has diagnosed them as a probable case due to their exposure history and clinical symptoms.
There are a total of 47 new confirmed cases and three probable cases.
Ashely says there are 22 recovered cases to-date.
There are six people in hospital. Three in Wellington, one in Rotorua and two in Waikato.
More on SunLive...