Hospitals restrict visits, postpone surgery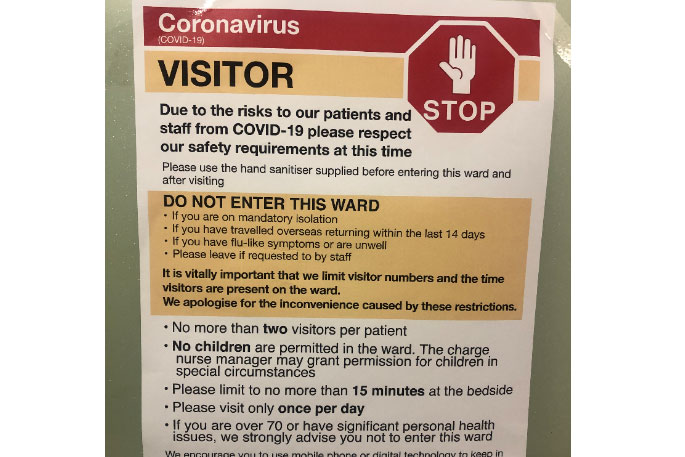 Access to hospitals will be severely restricted for the next few weeks.
District health boards' group of chief operating officers chair Dan Coward says anyone needing treatment for serious injury or non-COVID-19 illnesses will "absolutely" still get the care they need.
But as a result of the coronavirus lockdown, most people in hospital now will not be able to have visitors.
"We are in extraordinary times and we are restricting access to members of the public coming into our hospitals," he told Morning Report.
Exceptions would be made for end of life care and parents or caregivers of children on a case-by-case basis, and ensuring personal protective equipment (PPE) is provided.
Visitors would be asked about their travel or exposure to people who have travelled, says Dan.
A sign in Waikato Hospital is asking people to respect staff and patient safety requirements at this time.
"We encourage you to use mobile phones or digital technology to keep in contact with whanau and family," reads the sign.
"Our job is to protect vulnerable patients and staff from nasty viruses."
Surgeries have also been postponed due to what is currently going on in New Zealand.
Dan says by postponing surgeries, hospitals have been able to create the capacity they need for the next four weeks in the event of a surge of cases.
DHBs have also been planning to ensure they can provide the "right care in the right place by the right professionals".
In some cases that might mean using different spaces, he says.
Facilities like gyms or field hospitals would be a last resort.
Dan says DHBs had a dedicated workforce but there would be some who simply would have no option but to stay home to look after children.
"This is extraordinary times so we are looking at extraordinary efforts to be able to support them.
"We really encourage people to talk to managers and seek the help that they need.
"But I do want to say that we have a very dedicated workforce that love providing care. And I know that for a number of them, this is going to be a challenging time."
If people needed advice they can phone the Helpline or their GP and if they felt acutely unwell or really believed they need to come to hospital they can dial 111, he said.
More on SunLive...