PM speaks as State of Emergency declared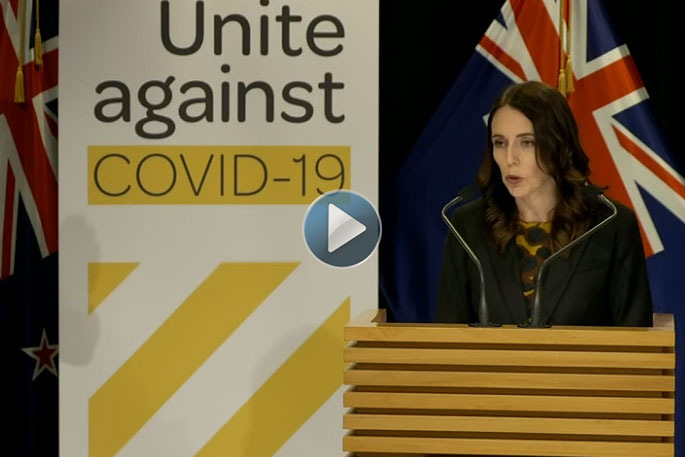 Prime Minister Jacinda Ardern says she has one simple message for New Zealanders on the eve of an unprecedented lockdown - 'stay home'.
"It will break the chain of transmission and it will save lives."
Jacinda is speaking to media after Parliament received the COVID-19 epidemic notice, with the country officially now in a state of emergency.
She says breaking the rules could risk killing someone close to you, could contribute to extension of the lockdown, due to begin at 11.59pm tonight.
She says the government now has all of the legislative and other tools it needs to combat the spread of the coronavirus, and Civil Defence controllers now had power to take the actions they needed to to protect the country.
The COVID-19 cabinet met today and Jacinda says border enforcement will step up again.
"Every New Zealander coming through our border will be screened."
If symptomatic, they will be quarantined in an approved facility.
Jacinda says essential services rules may be changed but says if in doubt, do not open your business.
She acknowledges that some are going into the lockdown unemployed, but she's aiming to reassure them the government would support them during the lockdown.
"As we enter into a stage that none of us have experienced before, I want to share a few messages. You are not alone. Success won't be instant. You may not be at work but that does not mean you don't have a job. Your job is to save lives.
"If you have any questions and you are looking for answers, apply a simple rule - act like you have Covid-19.
"Be kind, stay at home, break the chain."
Urgent business has been dealt with in Parliament as authorities establish lock-down systems after the country entered a State of Emergency at 12.21pm this afternoon.
Leader of the House Chris Hipkins this week said the government's regular legislative programme was now on hold as Parliament was being suspended for almost five weeks.
It has technically been in recess this week, but this afternoon was recalled to focus on receiving the epidemic notice from the Prime Minister and to pass an Imprest Supply Bill, which will allow government funding to continue to flow as normal.
The epidemic notice would enact the Epidemic Preparedness Act, allowing for actions to be taken to prevent the spread of Covid-19, without having to comply with usual statuary requirements.
Parliamentary business begin with a debate on the epidemic notice and other documents tabled by the Government.
Civil Defence Emergency Management director general Sarah Stuart-Black said a state of national emergency was declared at 12.21pm today.
A nationwide mobile alert will be issued between 6-7pm tonight.
The State of Emergency legislation allows it to be in place for seven days and can be extended.
- More to follow
More on SunLive...