Mayor to apologise for "bullying comments"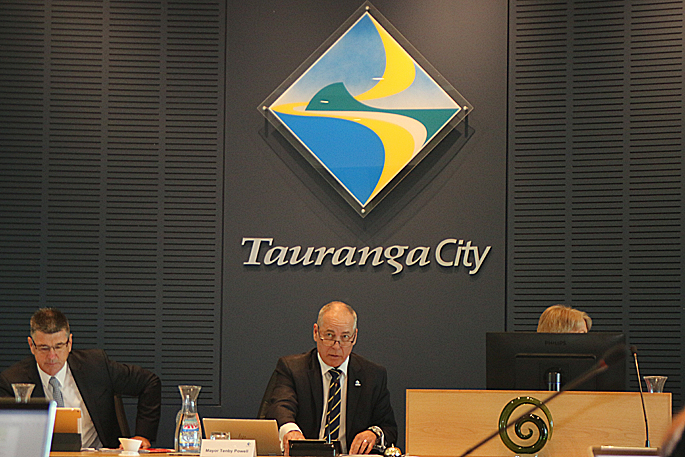 Tauranga's Mayor Tenby Powell will receive a letter of censure and has been asked to apologise for comments made about councillors Dawn Kiddie and Andrew Hollis.
Councillor Steve Morris says the comments made by Tenby about Dawn Kiddie constitute bullying and are a breach of the Tauranga City Council's code of conduct.
Steve made the comments in today's council meeting addressing the issue of a code of conduct complaint made by councillor Andrew Hollis.
It stems from a briefing meeting on March 5, where Tenby said "Councillors Dawn and Andrew need to stop posting the s**t they have over the past couple of weeks".
He was referring to social media posts made by Andrew about the 12.6 per cent proposed rates rise.
He followed that statement with "… I will never drink with a f***ing climate denying racist", referring to Andrew
In the meeting today, Steve says Dawn had been vilified in the March 5 meeting and he has looked through her social media posts and can't find anything that she has done wrong.
"The attack on her, as a man, as a husband and a father of daughters, is not something I can tolerate in our workplace. I believe he [Tenby] can do better."
Steve is disappointed that in the mayor's speech to councillors before the code of conduct complaint was discussed, Tenby did not apologise to Dawn.
Tenby, as the subject of the complaint, was given the opportunity to speak in his own defence.
He admits he made a mistake and apologised to all the councillors present and says his demeanour is because of a complete lack of trust in Andrew, because of his social media posts.
Tenby says it's interesting that he is facing censorship, while months of Andrew's social media posts have gone unchecked and that it reflects a divided council.
He also made assurances that his behaviour would not happen again.
Dawn, Andrew and Tenby were excluded from the discussions and subsequent voting, because they are all part of the complaint.
The remaining councillors unanimously agreed to accept the independent investigation into the complaint and that the comments made by Tenby are a breach of the code of conduct, and then discussed what the penalty would be.
Steve says the claims of racism are a red herring because the meeting was about the proposed rates rise, and both Dawn and Andrew are opposed to it.
Kelvin Clout says the mayor crossed the line with his explosive outburst and there are mitigating factors including the long hours he works and Andrew's social media posts.
He says those factors are not an excuse to explode in an aggressive manner and Kelvin is not comfortable with Tenby's use of language.
"We all need to learn to take challenges and insults on the chin."
Good leaders handle people's disagreeing views, he says.
The council's unanimous decision to lower the rates increase earlier in the meeting show that people can come from diametrically opposed views but still work together over matters for the city, says Kelvin.
Tenby will receive a letter of censure for his comments made in the meeting.
He has been asked to give a written apology to Dawn and Andrew, but this is not enforceable and he may decline to do so.
The councillors were unanimous in their vote to give Tenby a letter of censure and request the apology letters.
The councillors that voted are, deputy mayor Larry Baldock, Heidi Hughes, Kelvin Clout, Steve Morris, John Robson, Jako Abrie, Tina Salisbury and Bill Grainger.
All council and committee meetings have been suspended except for the Civil Defence committee and the Emergency Committee that has been activated this morning.
More on SunLive...