LIVE: Prime Minister's update on COVID-19 pandemic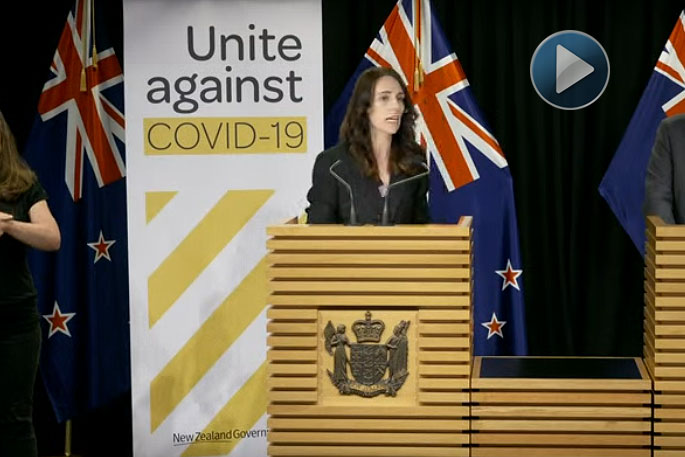 Anybody who is not an essential worker but tries to go to work during the alert level four lockdown, is "literally putting people at risk", says the Prime Minister.
Prime Minister Jacinda Ardern has spoken this afternoon after putting the country on alert yesterday for an unprecedented four-week lockdown to combat the spread of COVID-19.
Jacinda says the simplest thing New Zealanders could do to stop the spread of the virus is stay home.
"That's how we will save lives.
"Isolation and physical distancing from other people is key to our response at this level. Now of course, some New Zealanders will still be needed to operate our essential services, those who provide the necessities of life, such as our front line health workers and police being obvious examples.
"And to these people, every one of us owes a debt of gratitude, and I can tell you that we can repay that now by staying at home."
She says if you are not an essential worker, but you try to go to work, or try to carry on as usual, "you are literally putting at risk those who have to be there".
She says Parliament will sit tomorrow to put the country into a state of emergency and establish the lockdown.
"People can not expect it to be life as normal, because it won't be for a period of time, and that's so we can keep this period as short as possible.
"If we're succesful, the shorter this period of self-isolation for all of us will be."
Jacinda says the underlying principle of alert level four is to bring contact down between people to the bare minimum, that meant people outside the essential services needed to stay home.
The Prime Minister reiterated that people could go outside for exercise, but those people must remain two metres away from anyone they are not in isolation with.
She says while people can drive locally to places like the supermarket to get groceries, she encouraged people to stay inside as much as possible.
She says people needed to establish what their "bubble"ias for the self-isolation period and they must stick to only interacting with each other.
Jacinda says this must be a very small group and everyone must remain "faithful" to only having contact with each other.
More on SunLive...