Live: NZ moves to Alert Level 3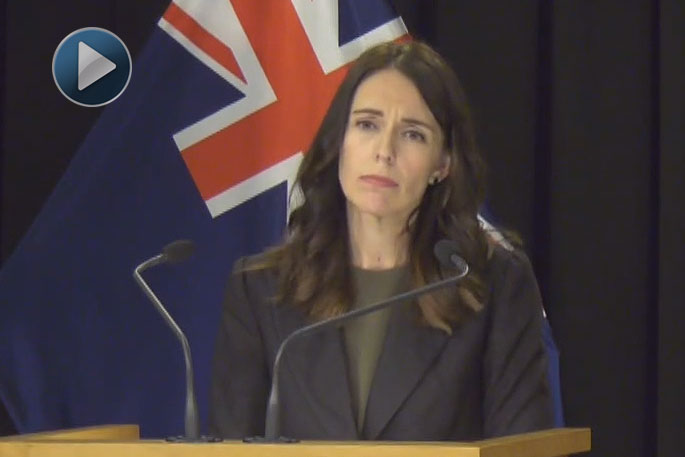 New Zealand is now at Alert Level 3.
Prime Minister Jacinda Ardern says "we are all preparing to stay home".
In the next 48 hours, New Zealand will move into Alert Level 4.
This will give essential services time to get measures in place to continue working.
Supermarkets, doctors, pharmacies, service stations, access to essential banking services will be available throughout New Zealand at every alert level.
Schools will be closed from tomorrow, except for children of essential workers. School's will close entirely from midnight on Wednesday.
"We are now asking all people to stay at home and avoid contact with other people, except for family.
"Only spend time with those you are in self-isolation with."
Jacinda says all bars, restaurants, pools, libraries, movie theatres, and other businesses are being asked to close all their face-to-face services.
This measure is expected to be in place for the next four weeks.
Jacinda says if we don't do this now, then we will be in lockdown for a longer period.
"Together we do have the opportunity to contain the spread. I am asking you to do everything you can to help us."
She says people will still have access to essential services.
"Please do not panic buy. This then deprives other people from being able to buy what they need."
Travel around New Zealand will also change, says Jacinda.
"Over the next 48 hours, people will need to get home, be it locally or throughout the country. We have asked all air transport providers to ensure social distancing for that period. After 48 hours we will be moving to air travel only applying to the transport of people undertaking essential services and the transport of freight.
"Public transport will also begin to transition over the next 48 hours will only be available for those working in essential services, for medical reasons, and to move essential goods – including ferry services between the North and South Island.
"Further details on the transition we are all now making will be made publicly available on the COVID-19 website.
"Now I want to share with you what will happen while we are all in alert Level 4 to get ahead of COVID-19.
"We will continue to vigorously contact trace every single case. Testing will continue at pace to help us understand the current number of cases in New Zealand and where they are based. If we flush out the cases we already have and see transmission slow, we will potentially be able to move areas out of Level 4 over time.
"But for the next wee while, things will look worse before they look better. In the short term the number of cases will likely rise because the virus is already in our community. But these new measures can slow the virus down and prevent our health system from being overwhelmed and ultimately save lives."
There are 36 new cases of coronavirus in New Zealand, as of 8am today.
This brings the total number of cases in the country to 102.
The Ministry of Health's Director-General of Health Dr Ashley Bloomfield will provide an update to the media on the national COVID-19 response at 12.30pm today.
He says more than half of the cases confirmed have clear links to overseas travel.
"Most are close contacts of a confirmed case.
"There are two that there is no link to where it has come from and is being treated as community transmission."
Ashley says Prime Minister Jacinda Ardern will be delivering an update on the country's alert level later this afternoon.
More than 7400 tests have been carried out so far.
"Your actions will be critical to our collective ability to stop the spread of COVID-19," says Jacinda.
"Failure to play your part in the coming days will put the lives of others at risk. There will be no tolerance for that and we will not hesitate in using enforcement powers if needed.
"We're in this together and must unite against COVID-19.
"I am in no doubt that the measures I have announced today will cause unprecedented economic and social disruption. But they are necessary.
"I have one final message. Be kind. I know people will want to act as enforcers. And I understand that, people are afraid and anxious. We will play that role for you. What we need from you, is support one another. Go home tonight and check in on your neighbours. Start a phone tree with your street. Plan how you'll keep in touch with one another. We will get through this together, but only if we stick together. Be strong and be kind."
New Zealand COVID-19 alert levels
The alert system means people can see and plan for the kinds of restrictions we may be required to put in place. This includes escalating restrictions on human contact, travel and business operations.
Download a table of the COVID-19 alert levels [PDF, 50 KB](external link)
These alert levels specify the public health and social measures to be taken.

The measures may be updated on the basis of (i) new scientific knowledge about COVID-19 and (ii) information about the effectiveness of intervention measures in New Zealand and elsewhere.

The alert levels may be applied at a town, city, territorial local authority, regional or national level.

Different parts of the country may be at different alert levels. We can move up and down alert levels.

In general, the alert levels are cumulative, e.g. Level 1 is a base-level response. Always prepare for the next level.

At all levels, health services, emergency services, utilities and goods transport, and other essential services, operations and staff, are expected to remain up and running. Employers in those sectors must continue to meet their health and safety obligations.
Level 4 Eliminate
Likely that disease is not contained.
Risk assessment
• Sustained and intensive transmission

• Widespread outbreaks
Range of measures (can be applied locally or nationally)
• People instructed to stay at home

• Educational facilities closed

• Businesses closed except for essential services (e.g. supermarkets, pharmacies, clinics) and lifeline utilities

• Rationing of supplies and requisitioning of facilities

• Travel severely limited

• Major reprioritisation of healthcare services
Level 3 Restrict
Heightened risk that disease is not contained.
Risk assessment
• Community transmission occurring OR

• Multiple clusters break out
Range of measures (can be applied locally or nationally)
• Travel in areas with clusters or community transmission limited

• Affected educational facilities closed

• Mass gatherings cancelled

• Public venues closed (e.g. libraries, museums, cinemas, food courts, gyms, pools, amusement parks)

• Alternative ways of working required and some non-essential businesses should close

• Non face-to-face primary care consultations

• Non acute (elective) services and procedures in hospitals deferred and healthcare staff reprioritised
Level 2 Reduce
Disease is contained, but risks of community transmission growing.
Risk assessment
• High risk of importing COVID-19 OR

• Increase in imported cases OR

• Increase in household transmission OR

• Single or isolated cluster outbreak
Range of measures (can be applied locally or nationally)
• Entry border measures maximised

• Further restrictions on mass gatherings

• Physical distancing on public transport (e.g. leave the seat next to you empty if you can)

• Limit non-essential travel around New Zealand

• Employers start alternative ways of working if possible (e.g. remote working, shift-based working, physical distancing within the workplace, staggering meal breaks, flexible leave arrangements)

• Business continuity plans activated

• High-risk people advised to remain at home (e.g. those over 70 or those with other existing medical conditions)
Level 1 Prepare
Disease is contained.
Risk assessment
• Heightened risk of importing COVID-19 OR

• Sporadic imported cases OR

• Isolated household transmission associated with imported cases
Range of measures (can be applied locally or nationally)
• Border entry measures to minimise risk of importing COVID-19 cases applied

• Contact tracing

• Stringent self-isolation and quarantine

• Intensive testing for COVID-19

• Physical distancing encouraged

• Mass gatherings over 500 cancelled

• Stay home if you're sick, report flu-like symptoms

• Wash and dry hands, cough into elbow, don't touch your face
At risk people
People over 70 years of age, people who have compromised immunity or people who have underlying respiratory conditions should stay at home as much as they can.
At risk people include:
Those over 70: Older people often have underlying health issues, including respiratory issues that make them more vulnerable to COVID-19.

People with medical conditions: Underlying medical conditions can make you more vulnerable to COVID-19. In particular, people with respiratory conditions, such as COPD (Chronic Obstructive Pulmonary Disease), heart conditions, high blood pressure, kidney problems and diabetes.

People undergoing a treatment for cancer and blood conditions: As treatments for cancer and blood conditions affect people's immune systems, this makes them more vulnerable to COVID-19.

Pregnant women: Health experts do not yet know if pregnant women are impacted by COVID-19 in the same way as other people. However, pregnant women experience changes in their bodies that may increase their risk from some infections.

People without easy access to healthcare
Download a poster asking people not enter your building(external link)
For some of new Zealand's communities, other aspects of their lives may mean they are also at risk. This includes:
• Residents of aged care facilities: Aged care facilities are susceptible to rapid transmission of viruses like this. Residents are more susceptible to illnesses due to their age and they are also more likely to have underlying health conditions.
More on SunLive...