Nine and climbing Mauao for Child Cancer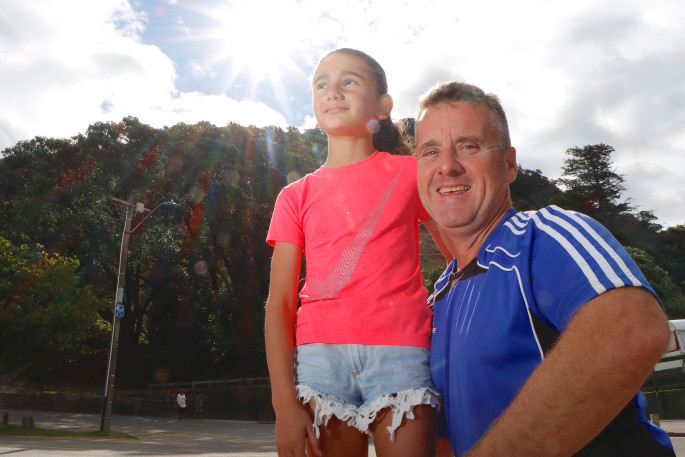 On Wednesday, March 18, Demi Coombe turned nine years old and on the Tuesday beforehand she was gearing up to complete her 23rd walk up Mauao.
This year she is taking part in her version of the Mount Everest Challenge. She will still be climbing the Mount 38 times in 50 days, but instead of raising money for the TECT Rescue Helicopter which is the charity of choice this year, she has chosen a charity closer to home.
Each time Demi walks up Mauao, she is raising money for Child Cancer and her younger cousin who is in Starship Hospital battling the disease.
She heard about the challenge on the radio and decided she wanted to do something like this.
"When you do the Mount Everest Challenge you have to sponsor someone so I chose to do it for Child Cancer because [my cousin] is getting treated right now."
So far she has raised $1200 and her dad, Bernie Coombe, says people have been really generous towards the cause and it is quite humbling.
Demi says so far there hasn't been any challenges, but what gets her through the walks are the seats located throughout the walking tracks.
Her dad has been accompanying her on every walk and says there have been some days where the muscles have been sore, leading to some long trips up the mountain.
Some trips they've even gone up after dark and taken the headlights just to mix it up. They have also been walking up rain or shine.
"I'm really impressed with what she's doing. At first, I thought I would join as a team because I wasn't sure that she was going to be able to do the 32 [climbs], but it's really cool. She's had no intention of only doing half of them and me doing the rest, we are both doing them together.
"I'm really, really proud of her."
He sees it as a bonding thing as well.
"We have a few laughs up there and we have fun. I think on the 14th one we were really struggling just getting up and so we decided the next day that we would get the whole family. They came across and we all climbed up just to give us a bit of motivation."
He says doing it for family also gives you that extra motivation as well.
"Some days you want to go home and fall into the lounge chair after having a stressful day at work but it's actually really good. You come out here and climb this thing and you tend to forget about your stresses."
The duo have also set up a Give-a-Little page for anyone wishing to donate to their cause. To find their page, click on 'Demi and Dad'.
More on SunLive...