Live: Nation steps up to COVID-19 Alert Level 2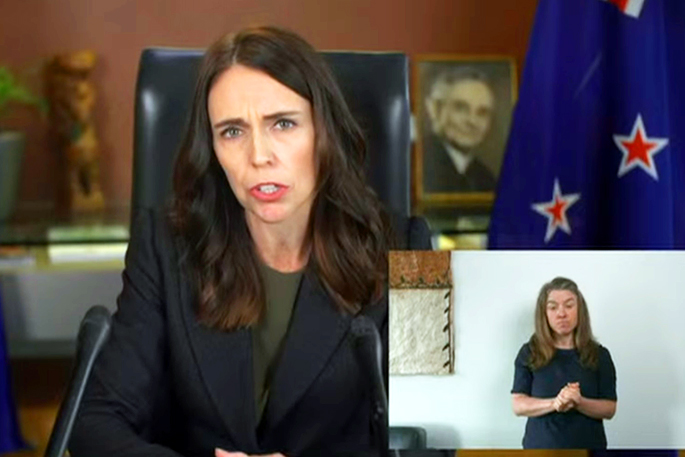 New Zealand has been moved up to COVID-19 Alert Level 2, Reduce Contact, in an escalation of efforts to reduce the spread of the virus in New Zealand, Prime Minister Jacinda Ardern announced today.
"Protecting New Zealanders from the virus is our number one objective, and we must take decisive action to prevent the worst occurring here," says Jacinda.
"New Zealand is fighting an unprecedented global pandemic. We must fight by going hard and going early with new measures to slow the transmission of the virus.
"Today I am announcing a four stage COVID-19 Alert Level system, with escalating restrictions on human contact, travel and business operations.
"The international situation is changing rapidly and we need to clearly sign-post the changes New Zealanders will be asked to make as we step up our efforts to limit the spread of the virus. The alert system means people can see and plan for the kinds of restrictions we may be required to put in place, which may be required rapidly.
"Based on expert medical advice and international evidence I am moving New Zealand to Alert Level 2, Reduce Contact. This will have a significant disruption on how we go about our daily lives, but it is necessary to protect lives.
"People over 70 years of age, or people who are immunocompromised or have certain pre-existing conditions, need to stay at home as much as they can from now on.
"I'm asking everyone to support our older New Zealanders by doing things like keeping in contact with them and dropping off food or other supplies.
"I am also asking businesses and workplaces to play their part. Many workplaces already have plans for staff to work from home or to distance themselves in the workplace. We are now asking you to put those plans in place.
"Health and emergency professionals, transport and delivery staff, supermarket and food production workers, and other essential people will be continuing on at their place of work at this alert level.
"It's also important to note that at every alert level supermarkets around New Zealand will remain open.
"We are also asking New Zealanders to limit all non-essential domestic travel. We need people to significantly reduce the number of interactions they have at this time and that includes visiting people in different parts of the country for non-essential reasons.
"These measures are being taken in the national interest. We know people, business, and sports events will be impacted, but these are short-term disruptions for the overall health of our people and country.
"I know many New Zealanders are anxious. The alert system is designed to offer certainty around future action and the ability for people to plan and prepare for any future eventuality. Please be strong, be kind, and unite against COVID-19," says Jacinda.
Further details available at www.covid19.govt.nz
Key Points:
Four stage Alert System for COVID-19 announced
New Zealand moved up to COVID-19 Alert Level 2 – Reduce Contact
New Zealanders over 70 and those with certain medical conditions told to stay at home as much as they can to reduce risk of contact with the virus
Workplaces to implement plans to reduce person-to-person contact, including work from home where possible
Limit all non-essential domestic travel
Four stage Alert System for COVID-19 announced:
Today Jacinda Ardern announced an alert system for COVID-19. That alert system can apply to the whole country, but sometimes, it may only apply to certain towns or cities.
There are four levels to the alert system.
"At each level there are things we need you to do, to keep you safe. And there are things the government will do too," says Jacinda.
"Alert Level One is where COVID-19 is here, but contained. In this phase we prepare. The basics, like border measures, contact tracing, and cancelling mass gatherings are activated. You'll see that this is where we have been when COVID first arrived in New Zealand.
"Alert Level Two is where the disease is contained but the risks are growing because we have more cases. This is when we move to reduce our contact with one another. We increase our border measures, and we cancel events. This is also the level where we ask people to work differently if they can, and cancel unnecessary travel," says Jacinda.
"Alert Level Three is where the disease is increasingly difficult to contain. This is where we restrict our contact by stepping things up again. We close public venues and ask non-essential businesses to close.
"Alert Level Four is where we have sustained transmission. This is where we eliminate contact with each other altogether. We keep essential services going but ask everyone to stay at home until COVID-19 is back under control.
"It's important to note, that at every alert level supermarkets and essential services, like access to pharmaceuticals will continue. Shop normally. If we do that, our supermarkets will have time to restock their shelves.
"We will use this alert system every time we update our cases, so you'll know if the status in your area has gone up, or down, or stayed the same. And what you'll need to do.
"Today I am confirming that New Zealand is at alert level two," says Jacinda.
Earlier, 11.50am: Director-General of Health Dr Ashley Bloomfield says there are 14 new cases of Covid-19 in New Zealand, and the ministry cannot rule out community transmission.
The new cases bring the total to 53 confirmed, and four probable.
Three of New Zealand's confirmed cases are in hospital and all are a stable condition.
"Most of these cases are travel-related but as yet, in two instances, no link to overseas travel has been ascertained and we continue to investigate," Bloomfield said.
"We always knew that cases apparently not linked to travel would happen and we are prepared for that."
Of the new cases in the past 24 hours, Bloomfield said the two cases not linked to travel are one in Auckland and one in the greater Wellington region.
The person in the Wairarapa is symptomatic, which is why the clinician decided to test, Bloomfield says.
They are now investigating whether these people have had close contact with anyone who has travelled overseas, he says.
"In the case of the Wairarapa [person], we can't rule out the risk of community transmission."
Bloomfield said testing had ramped up as practitioners have identified people who needed testing. Yesterday, 1500 people were tested.
It is now more important than ever that we continue to track and trace individuals who may have been in contact with confirmed Covid-19 cases and get those people in self-isolation so that we can contain any further spread."
If you have symptoms of the coronavirus, call the NZ Covid-19 Healthline on 0800 358 5453 or +64 9 358 5453 for international SIMs.
More on SunLive...