Another star for Maketu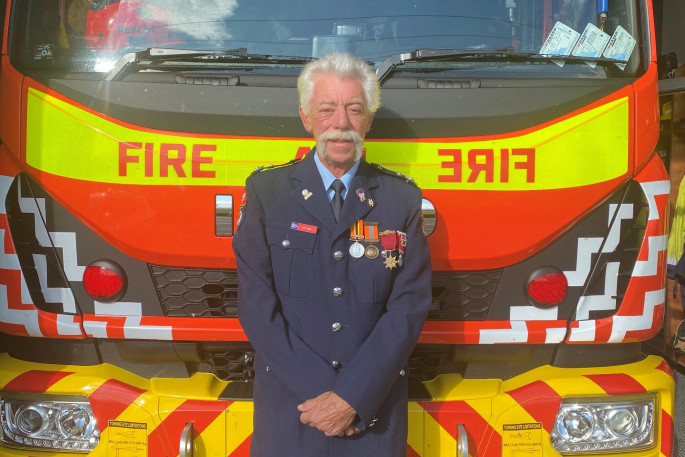 After a busy week as a truck driver you would expect Maketu resident Eric Ashe to just put his feet up.
Nothing could be further from the truth for this fit 67-year-old.
Eric is the deputy chief fire officer at the Maketu Volunteer Fire Brigade and his evenings and weekends are more likely to be spent attending crashes, medical events and other emergencies.
In a special award ceremony held at the Maketu fire station on Saturday night, Eric received his 25-year gold star, an award presented to those who have given 25 years' voluntary service.
And he has no intention of slowing down yet.
When asked how long he intends to keep volunteering, Eric said: "As long as I can".
"It's something I still enjoy after all these years. There's no glory in it, but…a lot of satisfaction."
Eric is the fifth member of the seaside community to receive the notable honour and is one of three still actively serving.
His voluntary career kicked off at Pukehina in 1995 when a mate came round one day and asked him if he'd be interested in joining the fire brigade.
I had spare time and it became all about helping other people, he says.
He did nine years at that brigade before moving to Maketu.
There are tough times in the job and highlights too.
"With some motor vehicle accidents you arrive and don't think the outcome is going to be good," he says.
"[Then] you find out a time later that these people are actually back at home, walking and they're carrying on with normal lives.
"That's what makes it worthwhile."
Attending community events like the recent Top Schools competition is also rewarding he says.
It takes Eric about two minutes to get from home to the fire station.
At times this has seen him have to drop everything and leave family functions with little time for goodbyes.
"If the siren goes off you go."
Jackie, his partner of 16 years, is very understanding. She knows it's part of the package that comes with me, says Eric.
The fire brigade training has changed a lot over the years too.
In the early days part of Eric's breathing apparatus training was done down in the storm drains in Kawerau.
"Now it's very work-safe orientated." BA training is done in a purpose-built facility in Rotorua."
The Maketu Fire Brigade has 20 members, including seven women and volunteers ranging from 17 to 67-years-old.
It's a busy station with about 280 call outs in 2019 alone.
"We could always do with more volunteers," says Eric.
A callout in a smaller community like Maketu involves the effort of more than just the volunteers.
"There are mums at home with kids who sometimes need to arrange a babysitter when the alarm goes off," says Eric. "It's a community thing."
For anyone considering volunteering with the fire service, Eric's advice is to "Just do it".
"I tell you it's the skills that you can pick up which you can use as a volunteer, also impact on your personal life.
"It gives you another side to your normal day living that you incorporate in your work, how you deal with people."
More on SunLive...