Father found guilty of murdering daughter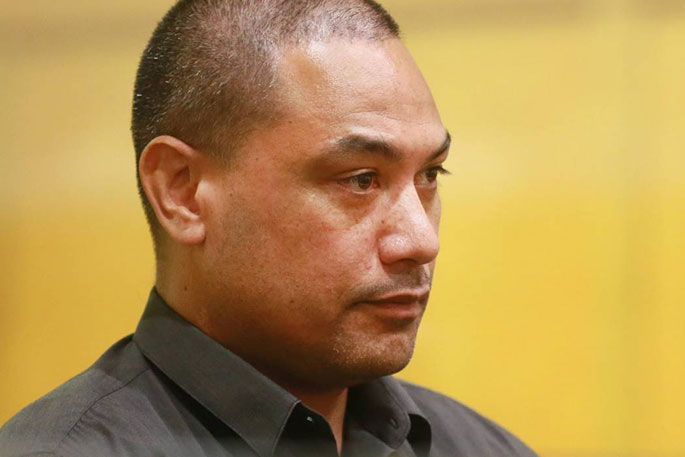 A Bay of Plenty father has vented his anger and dismay at a jury who found him guilty of murdering his two-year-old daughter.
"You got it f...ing wrong," Tewi Savage shouted as the jury of eight women and four men unanimously found him guilty of the murder of Arnica Savage, whose body was found in a Bay of Plenty river in 2018.
They returned their verdict shortly before midday on Friday, following more than a day of deliberations at the end of the week and a half-long trial in the High Court in Hamilton.
Justice Paul Davison ordered the enraged Savage be taken from the courtroom so he could address the jury and thank them for their service.
Savage, 35, of Te Mahoe, had taken his daughter into the Rangitaiki River, after becoming angry at the breakdown of the relationship with Arnica's mother Santana Moses.
He was discovered naked in blackberry bushes saying he'd "f..... up" upstream from where his daughter's body was found snagged in trees on in July 1, 2018.
Crown Prosecutor Richard Jenson had argued that Savage was in turmoil over the separation with his estranged partner and walked down to the river where he decided to "end it all".
He took off his clothes, grabbed Arnica and took her into the river where she was asphyxiated - either by constricting her breathing, being held under the water, or simply by letting her go into the fast flowing chilly waters.
But defence counsel Shane Tait had contended that Savage was suffering from a disease of the mind due to an undiagnosed bipolar disorder and had no murderous intent.
Justice Davison convicted Savage and set a provisional sentencing date of June 25, in Hamilton.
However Tait informed the court it was unlikely he would be able to be present in court at that time. He is representing the man accused of the 2019 terror attack in Christchurch and that trial, due to begin on May 4, is expected to take six weeks.
"The ban on trials (due to Coronavirus) ends the day before I am due to start."
The judge let the jurors know their dedication to the task was greatly appreciated, particularly given the distressing nature of the evidence they had heard and the massive disruption caused by the ongoing pandemic.
"Over recent days major things have happened ... Your commitment to your civic duty is recognised. The community is grateful for the service you have given.
"I wish you well and safe lives, as you are reunited with your family and your colleagues."
As the jurors heard earlier in the trial, Savage, an electrician, and Arnica's mother, Santana Moses, had been together for 14 years and had five children together. Arnica was the second youngest.
The pair had separated and Moses was living in Whakatāne and in the early stages of a new relationship. The pair had shared custody of the children.
In the days leading up to July 1, Savage had found out about the new relationship and was struggling to cope.
On the afternoon of Sunday, July 1 the pair, along with Savage's parents, gathered for a planned family meeting to discuss the separation with the children.
Savage told Moses he was going to "earn her heart back". But she told him she didn't want him to, Jenson said.
Savage became angry and frustrated, saying he was not afraid to hurt her.
His mother told him to go for a walk and cool off. He put Arnica in a pram, took a book and headed off towards the river. Moses left back to Whakatane.
It was getting dark and family back at Te Mahoe village began to get worried.
Savage's mother and two of his boys started to search. Near the river they found clothes and the push chair.
Then they heard Savage's voice from the blackberry bushes - crying and yelling "he'd f..... up".
"She's drowned, she's dead, I drowned her," Jenson had told the jury.
Police arrived about 7pm and were taken to a maize paddock where Savage was "screaming and yelling".
He told police he "needed to be cleansed. He knew he was in the water naked with his baby. He saw her face under the water and he went under with her. He let her go and saw her float away."
More on SunLive...