Gardening for life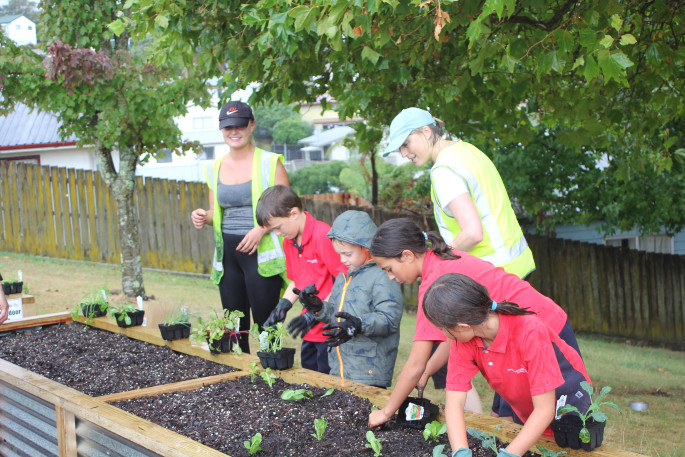 Children are getting a chance to shine in an outdoor classroom.
Garden to Table Trust is helping to establish vegetable gardens in local schools like Welcome Bay's Selwyn Ridge primary.
The school's Year 4 students now have the opportunity to discover for themselves a love of fresh food by learning how to cultivate and cook their own vegies during class time.
Selwyn Ridge principal Craig Price contacted GTT for help after seeing the positive outcomes other schools were having.
It's not only students who are excited about the project.
"Their teachers are too," he says.
The process of growing, harvesting and cooking ties in well with curriculum topics like health, science, maths and literacy, says Craig.
A recent working bee run by Tui Products and Good Neighbour volunteers saw four raised garden beds installed at the school and the first crop of seedlings includes celery, spinach, beetroot and leeks.
GTT has helped 14 schools around the Bay of Plenty to set up similar gardens and Bay of Plenty regional coordinator for the trust Belinda Smith says they would like to see that number grow.
"I think it's something we need to keep in mind in today's fast-paced world of pre-packaged foods that sometimes children and families can lose touch of where food actually comes from."
Getting children to grow and eat more vegies and develop long term healthy choices around food is important she says.
"Often there's a flow-on effect with the whanau, with the family, and the community."
Students often end up taking seedlings home and growing vegetables there too.
"The whole family learns more about gardening in their back yard" says Belinda.
Aside from hands-on work, the programme teaches students to plan ahead when choosing what seasonal vegetables they will plant, along with an awareness of environmental responsibility.
Anyone interested in learning more about the programme can visit the Garden to Table website at: www.gardentotable.org.nz or email: info@gardentotable.org.nz.
More on SunLive...