LIVE: 11 new cases of COVID-19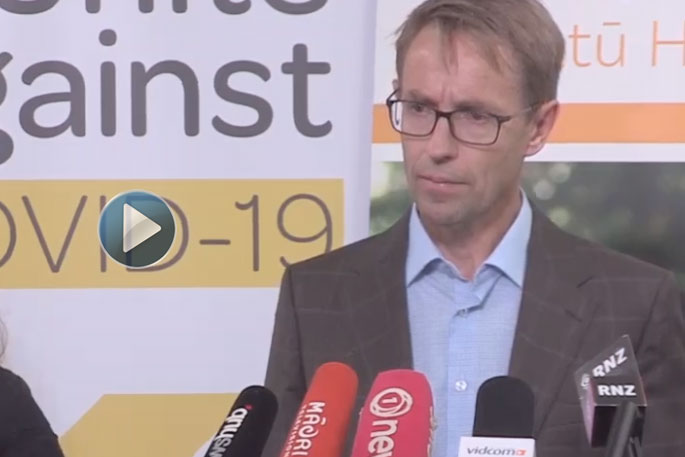 There have been 11 new cases of COVID-19 in the last 24 hours. This brings the total number to 39.
The Ministry of Health's Director-General of Health Dr Ashley Bloomfield is providing an update on the health response to COVID-19.
He says of those new cases, five are in Auckland, two in Wellington, two in Waikato, one in Canterbury and one in Hawke's Bay.
Close contacts will traced and contacted, says Ashley.
They will be required to take 14 days of self-isolation and those who were on the same flights into the country and sitting within two seats to the front, rear, and side and diagonally will be contacted.
"We are expecting more given the rapidly evolving situation overseas and the number of people who have returned to New Zealand if they are Kiwis or if they have come from other countries, from some of those hotspots."
He says there is a clear link to overseas travel in some of the 11 new cases, although some were still being fully investigated.
All of the latest victims are at home in self-isolation.
Ashley says one of the people announced yesterday that had the virus - a man in his 60s - is in Queenstown Lakes Hospital in a stable condition.
He also highlights the importance of keeping up communication with people self-isolating, as it was very important for people's mental health that they keep in touch with friends and family.
He says work, school and public transport are considered "essential gatherings", and do not need to be closed
COVID-19 case confirmed in Hawke's Bay
The Ministry of Health today confirmed Hawke's Bay had its first confirmed case of COVID-19.
Hawke's Bay District Health Board's Medical Officer of Health, Dr Nick Jones says the confirmed case was a male in his 30s.
The man has recently returned from overseas and had been in self-isolation since returning to New Zealand on March 17.
There were no close contacts to follow-up in New Zealand as the man had done everything as he should have, and had followed all precautionary advice including calling ahead to a general practice where he was tested in a carpark. Air travel contacts will be followed up through the national contact tracing service.
Flight information the man travelled on is available here: https://www.health.govt.nz/our-work/diseases-and-conditions/covid-19-novel-coronavirus/covid-19-current-cases
The man is recovering well and is in isolation in a home on his own.
Dr Jones says there is no wider risk to the community from this confirmed case and he congratulated the man for his vigilance and following the precautionary advice.
Dr Jones says with continued vigilance, the chance of a community outbreak remained low.
We can stamp this out if we follow these simple rules:
Wash and dry your hands with soap for 20 seconds. Then dry. This kills the virus by bursting its protective bubble

Stay home if you are sick and you have any of these symptoms: a fever, cough, shortness of breath, sneezing or a runny nose. THEN call your GP, before you visit. If you do not have a GP call Healthline (for free) on 0800 358 5453.

Self- isolation means staying at home – it's an effective way to help protect those around you
For more information go to https://covid19.govt.nz/
Foodstuffs South Island chief executive Steve Anderson also talked about New Zealand's food supply chain at the update and said all of New Zealand's supermarket chains were asking the population to shop normally, "so we can collectively continue to feed New Zealand".
With the closure of international borders, New Zealanders are being told to prepare but not to panic, after confirmation of eight new cases of the Covid-19 coronavirus, bringing the total to 28 as of Thursday afternoon.
Underlining the seriousness of the threat now posed by the Covid-19 outbreak, Prime Minister Jacinda Ardern announced the national border would be closed to anyone not a New Zealand citizen or permanent resident from 11.59pm on Thursday.
Earlier, she advised New Zealanders to prepare for the full effects of the Covid-19 coronavirus, but urged the public not to act on rumours and misinformation.
"We are in a very heightened state as a nation, and so is the world... The last thing we want is for that anxiety to be based on misinformation."
• If you have symptoms of the coronavirus, call the NZ Covid-19 Healthline on 0800 358 5453 (+64 9 358 5453 for international SIMs)
Speaking in Rotorua, she said New Zealanders needed to take social distancing "really seriously" and to put their trust in health authorities and not social media posts. She urged against panic buying.
On Thursday, Countdown announced it was introducing limits on some items to stop panic buying. It's putting limits of two items per customer on products such as packs of toilet rolls, hand sanitiser, personal wash, Panadol, wipes, pasta and rice.
More on SunLive...