Fish & Game gives anglers the thumbs up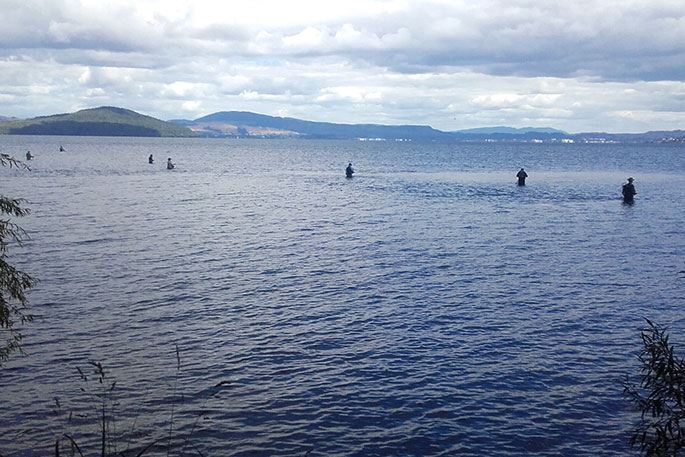 Eastern Region Fish & Game staff have given anglers the big 'thumbs up' for following the rules.
So far for the 2019/20 fishing season, Fish & Game has spoken to and checked fishing licences of about 1700 anglers in the Eastern Region with only 10 of those people found to have committed an offence; seven of those were fishing without a licence, while the others were offences including fishing in closed waters, fishing with two rods, and fishing with illegal tackle.
Most of those checked were fishing in the Rotorua Lakes area but rangers also talked to anglers as far away as Lake Waikaremoana, and the Ruakituri and Waioeka Rivers.
"This is the best compliance rate we have had for years, and is very pleasing to see," says Fish & Game Officer Anthony van Dorp.
Fish & Game is asking for the public to keep an eye out and report any suspicious behaviour around streams, especially once the trout spawning season commences later in autumn.
"Hopefully the low rate of offending continues throughout the spawning season and trout can spawn undisturbed."
Public can report any suspicious behaviour or poaching activity to Fish & Game by calling 0800 POACHING (0800 762 244).
Fish & Game's Matt Osborne sayst the summer has seen some great fishing on the Rotorua Lakes.
Lakes Rotoiti and Okataina in particular, have produced some very good size and well conditioned trout.
Lake Tarawera remains popular with some anglers, and while the fish there haven't been quite as large as those from Rotoiti, anglers have been rewarded with some excellent catches over summer.
Hot, dry conditions this summer have enhanced shoreline fishing at Lake Rotorua's stream mouths also.
Trout are forced to seek out cooler water during hot periods, and this year was no exception with surface water temperatures hitting 24 degrees at times and catch rates rewarding anglers at Hamurana, Awahou, Waiteti and the Ngongotaha stream mouths.
More on SunLive...