Man accused of BOP murder has sanity questioned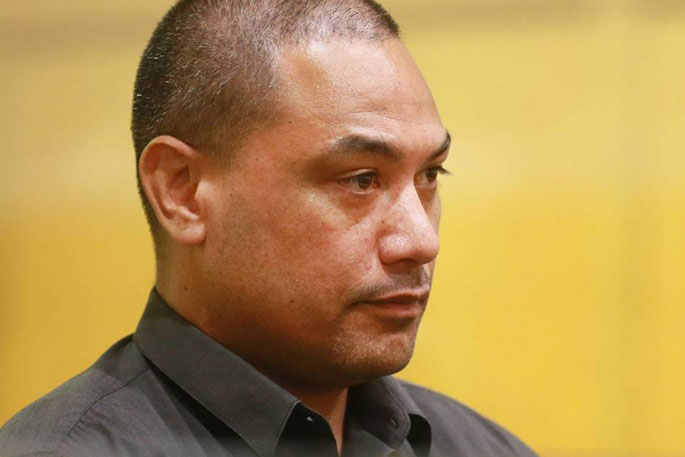 A father accused of the murder of his two-year-old daughter whose body was found in a Bay of Plenty river, was suffering from bipolar disorder and had showed signs of manic behaviour, a court has heard.
But it was difficult to say whether Tewi Daniel Savage had a moral understanding of the nature and quality of his actions in the water the night Arnica Savage died, specialist psychiatrists have said.
Tewi, 34, an electrician, is on trial in the High Court at Hamilton after pleading not guilty to the murder of his daughter Arnica who drowned in the river near the Matahina Dam on July 1.
The Crown allege that Savage was angry and frustrated over the relationship break-up with Arnica's mother Santana Moses and had gone to the river with the intention of "ending it all".
But the defence say that Savage was suffering from insanity and had no murderous intent when he went into the river.
The defence called their one and only witness on Monday afternoon - psychiatrist Mhairi Duff.
In her assessment, Duff said Savage suffers from bipolar affective disorder characterised by long episodes of normality followed by an episode of mania, before returning to a normal state.
Savage's family's religious beliefs and support, along with previous substance abuse, likely accounted for why he had not been previously diagnosed, the court has heard.
In the months leading up to July 1, Duff said Savage began diligently reading the Bible and pamphlets from a spiritual philosopher. He became more talkative, wanting to explain and enlighten others.
On his walk on the night Arnica died, he passed a bench that had a sign saying "dead-end". He believed it was a special message left there for him.
Savage told Duff he thought this was a test from God and he needed to show "true humility" so he removed his clothes.
"He couldn't remember going into the river. He said he can't remember if [Arnica] was already in the river, whether he followed her, whether he took her into the river."
In his interview with police, Duff said Savage gave a series of "odd phrases and religious references".
"He talks about demons, screaming at God and Jesus. He talks about racing thoughts, surges of energy, and read telepathically.
"Savage was suffering from mental illness at the time and the court may consider that to be disease of the mind."
But whether Savage was labouring under that disease to the extent he didn't understand the nature and quality of his actions at the time, Duff could not say.
Under cross examination, Crown Prosecutor Richard Jenson asked whether Duff had given any weight to Dr Peter Dean's earlier report that said Savage was not suffering from delusions at the time he was assessed on July 25, 2018, as there was no mention in Duff's report of the inconsistencies.
Savage's confusing sentences and his apparent emotional disconnection could be consistent with a person responding to shock, Jenson asked.
"Yes," Duff replied.
Jenson asked Duff whether Savage could have been "talking up" or embellishing the religious side to make him more amenable to the defence of insanity.
"That is always a possibility," Duff replied.
When asked by Justice Paul Davison whether Duff believes Savage knew the moral wrongfulness, she said she could not say one way or the other.
Earlier on Monday Tauranga-based forensic psychologist Dr David Chaplow, who was tasked to assess Savage's fitness to stand trial, said Savage recalled parts of what happened that night, but there were also patches of disassociation. This was common in those exposed to trauma.
"In my interview with him he did have awareness of dancing naked in front of his child to express humility," he said.
"He talked about his daughter swallowing water and then watching her slip away."
But it was hard to say what state of mind Savage was in and what his motive was in entering the river that night, Chaplow said.
He had exhibited signs of "hypomania" earlier during his walk with Arnica and was someone in "great distress" yet there was no eye witness to those moments.
"Did he know what he was involved in morally wrong? It's pretty difficult to say," Chaplow said.
"We know he loved his child and was very grief-stricken."
Telling his family when he was found "Mum I've f*** up' showed some signs of moral awareness, he said.
Chaplow said Savage likely suffered from a mood disorder.There were long periods of normality in his life amid depressive episodes.
When he met with Savage, about 17 months after his daughter's death, Savage was candid, held eye contact and appeared confident.
"He was reactive, and fairly normal to me. He had insight."
There was no signs of exert mental illness at that time, Chaplow said, although it was sometime after the incident and Savage was on medication and seeing a psychiatrist at the time.
However, Savage spoke of two previous episodes - on a fishing boat in his late teens where he wanted to shut himself in the room and take his life and then in 2014 when he felt "grandiose and full of new and brilliant ideas". These instances were often associated with interpersonal disturbance.
"When you look at his history there were times of instability."
Savage had broken up with the mother of his five children in early 2018 and she had revealed to him she was in a new relationship with his close friend in the days leading to his daughter's death.
He was also working long hours, caring for five children and had moved to Te Mahoe.
"We know stress precipitates whatever is lurking in the system. Bipolar or manic depression is not like schizophrenia, which is always there. Bipolar comes and goes."
Under cross examination lawyer Mark Ryan asked Chaplow to expand on what Savage's state of mind was at the time of his daughter's death.
"...his mind state was flicking around and had thoughts of illuminati. He talked about needing to be humbled. It's difficult to say how much these were delusional."
Chaplow's assessment was that Savage had a disease of the mind, Ryan said, but he was "sitting on the fence" when it comes to discussions on insanity.
"Sometimes we just don't know," Chaplow said.
Savage was clearly unwell and distressed, whether he understood the "nature and quality of his actions" in that moment Chaplow couldn't say.
"Yes. This is one of the rare cases where I haven't made a decision. There seems to be a lack of nexus between his mental state and what happened."
More on SunLive...