Union seeks a voice as Air NZ prepares to axe jobs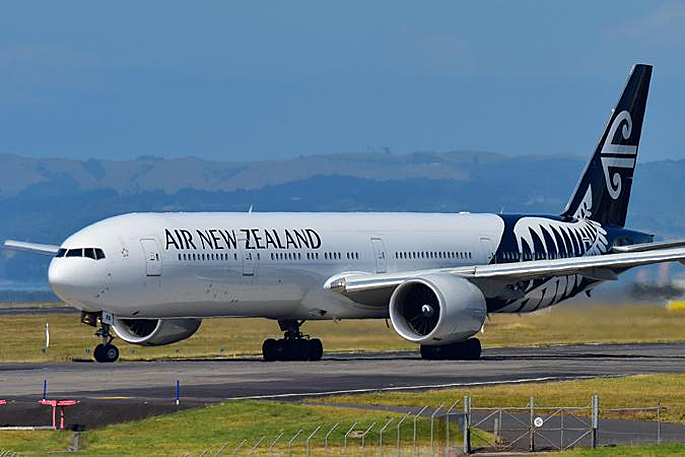 The E tū union has started meeting with members as it tries to influence Air New Zealand and save as many jobs as possible at the troubled national carrier.
Yesterday Air New Zealand placed itself in a share trading halt and announced widespread cuts to its international and domestic services because of the worldwide impact of Covid-19 on its services.
It announced it was cutting its long haul capacity by 85 per cent, suspending flights between Auckland and Chicago, San Francisco, Houston, Buenos Aires, Vancouver, Tokyo Narita, Honolulu, Denpasar and Taipei from March 30 to June 30.
The domestic network capacity will be reduced by about 30 per cent in April and May, but no routes would be suspended.
The airline says it is likely it would need to reduce its workforce by 30 per cent as the effects of Covid-19 take their toll on the aviation industry.
This could mean up to 3500 employees potentially may lose their jobs
It's being described as the biggest downturn in world aviation since World War II.
As a result of the downturn in travel, the company says it will review its cost base and begin the process of redundancies for permanent positions, and is working with four unions representing 8000 members of its workforce of 12,500.
President of Airline Pilots Association Andrew Ridling says these are extremely trying times.
"This afternoon they've told us that across the business we've basically gone from a $6 billion business to arguably a $1 billion business and that's going to entail up to 30 per cent job cuts across the board."
The company and the unions met yesterday afternoon.
E tū aviation organiser Savage says while they were unhappy with the news they were not surprised.
"I think all New Zealanders are going to face the effects of Covid-19 and the possible recession that's going to happen. Aviation workers are at the frontline. Air New Zealand workers are experiencing it right now."
The union is disappointed the workers weren't the first to know that 30 per cent job losses are being considered.
He says meetings are being set up with union members in each business unit "so that workplace leaders can hear first-hand and understand what that might look like in their area and what can be done to try and avoid or minimise job losses".
Overseas, other airlines are also taking drastic action. In Australia, Qantas has cut its international capacity by 25 per cent over the next six months. Analysts expect the move to have a significant effect on Qantas's business.
Last week British Airways announced it is also grounding flights like never before and laying off staff in response to the outbreak.
Its chief executive Alex Cruz described the industry as facing a crisis worse that 9/11.
At the weekend American Airlines said it was grounding almost all its largest planes and curtailing 75 per cent of its international flights until early May.
Aviation analyst for Forsyth Barr Andy Bowley says there would be redundancies at Air New Zealand but the airline's response will need to be carefully managed.
"The company will want to be well positioned for any ultimate recovery and by making any large-scale redundancies you limit yourself in terms of how well you can respond to the upside through that recovery phase."
He says Air New Zealand would fare better than some airlines because of the likelihood of funding from the government, its majority shareholder.
"But in the context of Air New Zealand's pretty favourable market position in New Zealand where it's reasonably dominant domestically and it has reasonably dominant positions on its international routes, what you tend to find in downturns generally through economic cycles, is that the stronger businesses if they play their cards right they tend to strengthen."
Auckland Airport's shares opened nearly 13 per cent down following yesterday's update to the market but recovered slightly.
An increase in air cargo to China may prove a sign of improvement in the sector battered by the Covid-19 virus.
The massive disruption to international travel and trade is forcing all parts of the industry to cooperate, the airport says.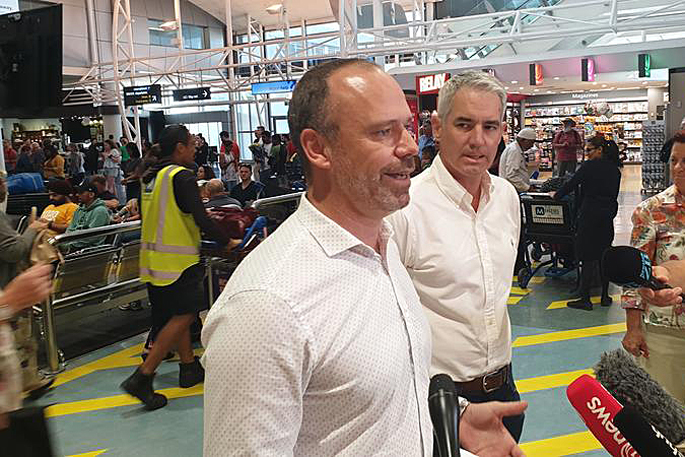 Auckland Airport chief executive Adrian Littlewood, right, is pinning his hopes on an increase in air cargo over the next few months. Photo: RNZ / Matthew Theunissen.
Chief executive Adrian Littlewood says the higher air cargo volumes may partly offset the slide in passenger traffic.
"And I actually think that will be an important part of the ultimate recovery. Airlines can hopefully help to sustain some of those routes through air cargo providing some support as passenger markets rebuild.
"This is certainly going to be a very challenging time for the industry and it's really important that we just work together to try and help each other through."
Unions say government support for Air New Zealand and the wider aviation sector will be vital for their survival.
More on SunLive...