Mount barista wins latte art competition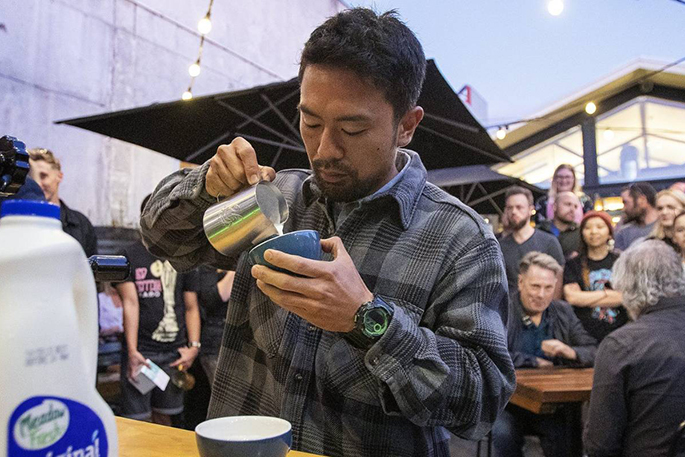 They came, they poured. There were intricate patterns, creative designs and a rainbow of colours.
But nobody put a lid on these milky masterpieces.
The smell of fresh coffee and the hiss of milk being steamed set the scene for the Palmerston North Latte Art Throwdown at Brew Union on Thursday night.
Frothing at the chance to treat a cup of coffee as a canvas and be deemed the top latte artist in town, Baristas looking to show their flair were pitted against each other in sudden death rounds.
Most were from Manawatū, but the contest also attracted coffee-making maestros from around the North Island.
Shogo Shimoji, from Eighty Eight Cafe in Tauranga, beat hometown lad James McKenzie, from Arrosta Coffee, in the final.
Shimoji's repertoire of tricks proved too strong, his drinks imprinted with everything from jewellery to animals.
The winning design, a unicorn, had taken six months to perfect.
Shimoji moved to New Zealand three years ago from Yokohama, Japan. He arrived on a holiday visa, but liked what he saw and chose to stay.
He became a barista 12 months ago and started work in Tauranga.
"If there's something happening in New Zealand for latte art competitions, I [attend]," says Shimoji.
"I just really like it. I fail, I fail a lot, but I still try new things and try to get better."
He's been practising his art every day at work when it's not too busy. People pay for the coffee, so he likes to give them something worthy.
Three judges – Suntory Coffee NZ head roaster Andrew Lane; Nathan Gillett, from Meadow Fresh; and Chris Innes, from Bean Addicted in Auckland – scored the contestants on design, the pour and the presentation of the coffee.
More on SunLive...