New van allows for inclusion of disabled youth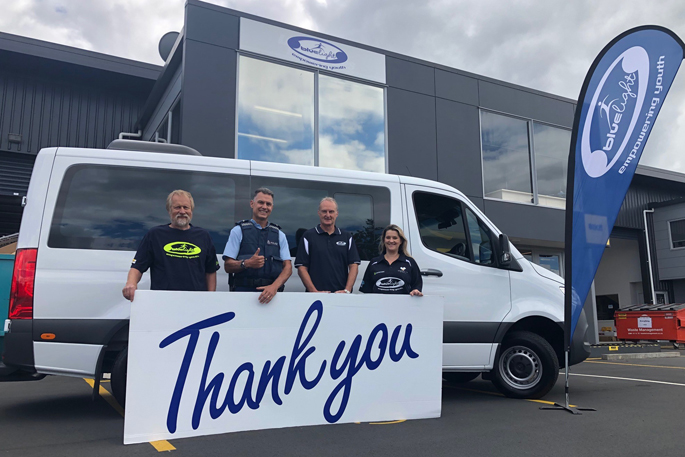 A new van for Blue Light in Kawerau means more youth, including those with disabilities, can attend the charity's programmes.
Lasts weeks delivery saw Blue Light receive a brand-new 12 seater Mercedes Sprinter van, funded by the New Zealand Community Trust.
Blue Light Kawerau's treasurer Bob Austin says that young people with disabilities have been enquiring about getting involved in Blue Light's activities.
"This van with its Turny Orbit seat modifications and large rear storage enables us to include young people experiencing disability, and their equipment, when we travel."
Blue Light Kawerau provides positive opportunities and experiences for all youth that are free from smoking, drugs and alcohol.
However, the poor public transport and the lack of modified personal family vehicles in Kawerau often acts as a barrier for disabled youth eager to attend Blue Light programmes.
Kawerau Police constable and Blue Light constable George Westerman says this van will help keep passengers safe.
"We are always conscious of the safety of all our young people when we travel and this Mercedes Sprinter van, with its modern features, and modifications, ensures the highest practicable safety standards".
While not being used by Blue Light Kawerau local community agencies will be able to borrow the vehicle, creating a valuable resource increasing inclusivity for youth across the wider Kawerau community.
Blue Light Kawerau would like to thank New Zealand Community Trust for its "generous funding" enabling the van to be purchased.
More on SunLive...