"A good, old-fashioned, honest man"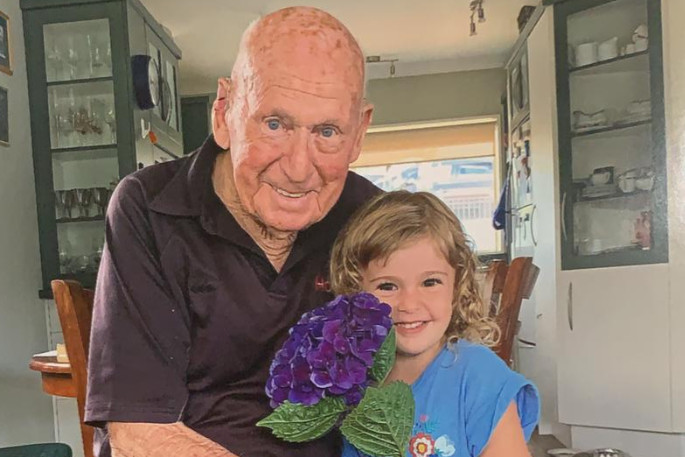 It was pretty easy to like Ray Mead.
A respectful observation from actor and TV frontman, Peter Elliot who developed a brief but special affinity with Ray.
"It was his bravery, his sincerity and generosity of care for others refreshing and heartfelt."
Words that could have been Ray's epitaph, etched comfortably onto a tombstone, when he passed away recently. Nonetheless, the Mead family will accept that eulogy and treasure it.
"A dear old boy, a lovely old chap, gentle to the core," says Peter Elliot, who is attributed with rescuing Ray Mead from his darkest days, from the torment of the Ranui tragedy – Thursday, December 28, 1950, when the pleasure launch was capsized by a freak mountainous wave at the mouth of Tauranga Harbour and smashed onto the brutal, ugly, black North Rock at the foot of Mauao.
Many passengers, singing to overcome their fear, were cast into the sea, others went down with the boat.
Nineteen holiday makers and three crew drowned. Just one survived. Ray Mead could have, should have been on that vessel that day. He wasn't. Even so, he lost his best mate and had an experience that scarred him for years. He came to Tauranga for a holiday with his wife and one-year-old and left an emotionally broken man.
Daughter Jonette Mead says her father would have thought he had his Ranui experience under control. "He didn't mention it, didn't want to upset anyone – 'no it's alright, I'm OK', so stoic."
"The weird thing was that in the 1950s no-one dealt with this stuff," says Peter Elliot.
"It was just brushed away, it happened, get over it, move on. All his feelings were deeply suppressed."
But then sitting under a tree on a windswept Matakana Beach with Auckland actor and television presenter Peter Elliot the Ray Mead story unfolded. They were filming an episode of TVNZ's 'Descent from Disaster' based on the Ranui disaster.
"Dad obviously felt so safe with Peter Elliot, he just opened up."
"He told me Jack Williams, his mate, was meant to pick him up and take him fishing on the Ranui that day," says Peter. But something happened.
"Jack went straight to the Ranui while Ray was at home waiting for him. Ray never got to go on the ill-fated trip. Jack did. And Ray never got to see his mate again.
"I really felt for Ray," says Peter.
"It deeply affected him. He felt some responsibility for what happened."
In the days after the tragedy – and before Jack's body was found floating behind Rabbit Island – Ray and another mate would hire a dinghy and row out to Matakana in search of his body.
"It was an extraordinary service for his friend. But in his heart he was just one of those guys. Always prepared to put himself out for other people."
Like when reports came in of another body being washed up on Matakana. Ray Mead climbed straight back in his dinghy and rowed out to retrieve the badly decomposed body of a young Gisborne woman.
"Ray told me the only thing that made sense to him were the brightly painted finger and toenails. It would have been very hard to take."
It was an image that would haunt the man, especially in later years when the women in his family wore nail polish. It would trigger something. It was always upsetting for him.
"But it was serendipitous the series chose to do the Ranui story," says daughter Jonette Mead.
"With the doco came Dad's moment to face his demons. He was a good guy and a soft guy, and although he hadn't healed, he did finally feel safe to talk about it with Peter. Dad changed after that TV programme."
Ray Samuel Mead - husband, father, grandfather, great-grandfather, godfather, uncle, cousin, friend and more to so many, as the death notice read. And clay bird shooter and surfer.
A family friend summed up the man.
"Whenever I want to explain that I have met someone trustworthy in business and life, the good, old-fashioned, honest man, I say, you know, like Ray Mead." Another epitaph.
A chapter of the Ranui story has now closed. But the connections will live on.
"I didn't set out to be a confessor," says Peter.
"But I am grateful I was there for him. Perhaps we were just lucky that we found each other when we did."
They walked down a windy isolated beach, shared an untold story and it was cathartic for an elderly man.
There's a memorial Ranui victims on the Mount base walking track. It could also be a nod to the Ray Mead of this story, the people drawn into the Ranui tragedy and who with quiet dignity lived through many years of anguish.
More on SunLive...