Great idea but at what cost?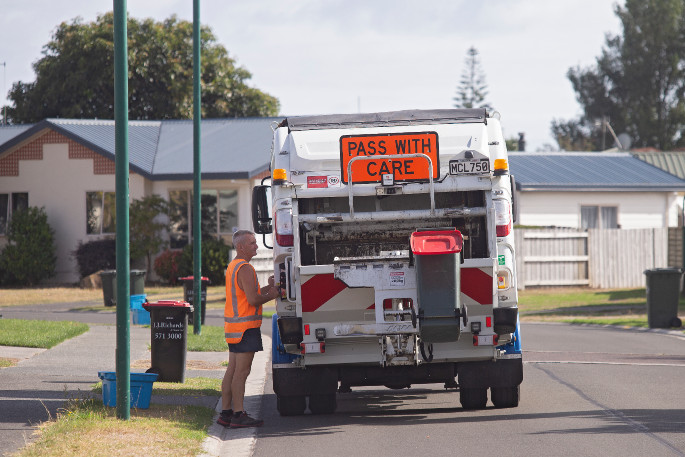 They're sorting the rubbish from the recyclables, the fact from the fiction, as the debate over the Tauranga City Council's proposed new kerbside food waste, rubbish and recycling pick-up system simmers along.
For example, it's claimed the scheme could cost each household more than $500 plus GST.
"On top of any rates increase," says Philip Brown of the Papamoa Residents and Ratepayers Group, after consulting with rubbish industry experts. "How will fixed or low income people pay that?"
In a statement to The Weekend Sun, the Tauranga City Council says it doesn't know where Philip Brown got his figure, but its own analysis indicates the cost would be "significantly less".
Philip Browns says they are simply trying to fire up some public debate on a scheme he believes is being railroaded through.
"And while it may turn out the best thing since sliced bread, we are being denied a full public debate."
For the moment, the council has just received industry proposals for a proposed new kerbside collection system - what services they can provide and at what cost. The best proposal will be voted on in June.
Currently Tauranga has a mainly user pays waste system, the council only providing a rates-funded glass collection service. But public feedback to the council's long-term plan indicated 68 per cent of ratepayers wanted the council to take ownership of the kerbside collection and address the city's waste problem.
The Papamoa group questioned whether 9000 respondents to the long-term plan in a city of 134,000 was sufficient representation to shape policy? But after statistical analysis, the council was confident it reflected the feelings of the wider community.
Eighty-eight per cent of those ratepayers said a fortnightly recycling collection would work for them, 82 per cent want a fortnightly rubbish collection, 68 per cent a food scraps collection and the existing glass collection and 75 per cent want the green waste collection kept in private hands.
Every day a convoy of trucks and trailers carts the city's 'crap' over the Kaimai Range to a landfill. Sadly 70 per cent of that 'crap' could be, should be, composted or recycled.
"Recycling and re-using must be done," says Philip.
"But the method being pushed on the community is not best practice. Last year's best practice is not the next decade's best practice and recycling is rapidly evolving."
But the council insists it's kerbside system will be best practice, money will be saved through economies of scale and rival companies competing for the work. Long term contracts will ensure ratepayers aren't exposed to price increases.
Overseas experience tells the council that even with improvements in recycling, and initiatives like container deposit schemes and product stewardship, which holds companies responsible for making packaging recyclable or compostable, the very best way to reduce waste to landfill is to have a variety of tools. And it says kerbside collection is a key tool.
The council is now working on the minutiae of the kerbside service – a preferred service, cost, collection frequencies, size and types of bins. But Philip has been consulting with the rubbish industry and wants the council to tie-ho.
"How can decisions be made without knowing the exact cost to each household?" asks Philip.
The council says many ratepayers are already paying privately for their waste services, so it will largely be a cost shift from private contracts to a rates charge.
Philip Brown and the Papamoa group have made their own recommendations. They give the food waste pick up a big tick.
"This is a role for the TCC because currently there is nowhere else to process the waste."
But they recommend keeping the current competitive rubbish pick-up system.
"Only through competition will costs stay reasonable."
What about the "frugal and caring", the people who produce very little waste? They will see a significant increase in costs, says Philip.
However the council has asked suppliers to allow flexibility for different quantities of waste, different sized bins, 'pay as you throw' and frequency of collection.
The residents and ratepayers group also wants any decision on recycling deferred for two years. Why, it asks, would council lock ratepayers into a recycling system for 10 to 15 years, with no chance of change, should a better system show up?
But the council says its contracts will be written with uncertainty in the recycling markets in mind, so any service can adapt to national and international changes.
Philip Brown points the way with the humble plastic meat tray.
"Take it back to the supermarket so it can be returned to the supplier. Why recycle it into a bin, mix it with other rubbish, separate it at a materials recovery facility, contaminate it, and throw 20 per cent of it away before recycling?"
Meat trays are not currently recycled in Tauranga because it's not cost-efficient to do so. They go to the landfill. However the council does back product stewardship schemes which puts the burden back on manufacturers to ensure packaging can be recycled or composted.
More on SunLive...