What's Your Chance Of Surviving A Cardiac Arrest?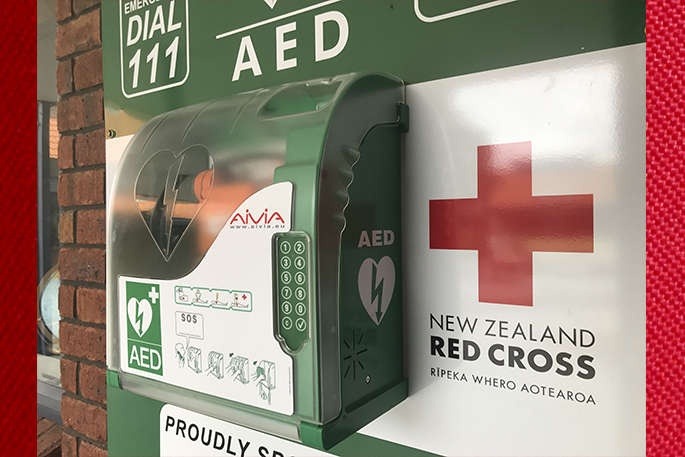 Research undertaken by St John shows there is a 13 per cent chance of survival from a cardiac arrest outside of hospital.
Each year St John publishes its Out of Hospital Cardiac Arrest Report and this year's study now released reveals that while survival rates remain constant, there is much more we can do to save lives.
Each day in New Zealand St John treats approximately five people for an out-of-hospital cardiac arrest, and in 76 per cent of cases a bystander starts Cardiopulmonary resuscitation - CPR, but an automated external defibrillator - AED is only used 4 per cent of the time.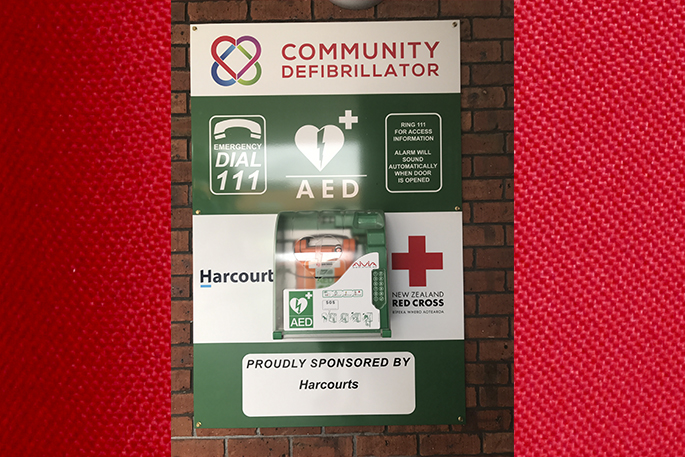 AED at Tahatai Coast School
The report shows that of those who needed help, 62 per cent are European, 30 per cent Maori, and 8 per cent Pacific peoples. Males make up 60 per cent of cardiac arrest incidents, females 31 per cent and children 2 per cent. In rural and remote areas, 11 per cent survived a cardiac arrest as opposed to 15 per cent in urban areas.
St John Medical Director Dr Tony Smith says these statistics show that while New Zealanders are becoming aware of the importance of CPR, not only are more AEDs needed in local communities, but the public needs to be comfortable using them.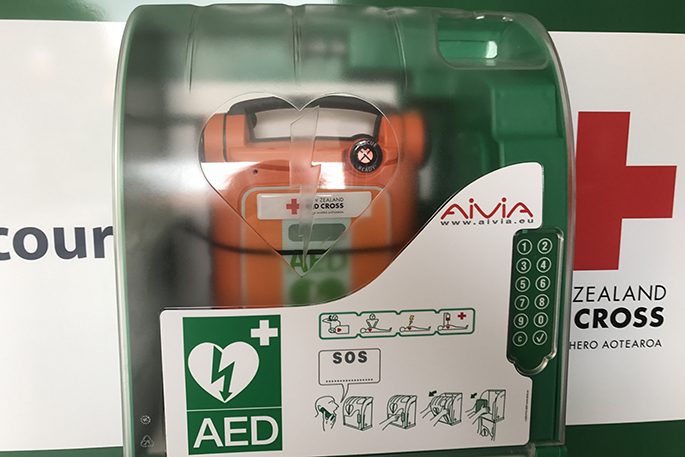 In September 2017, a lifesaving community AED was installed in Papamoa at Tahatai Coast School on Evans Rd. Located near the school library in a sheltered and secured cabinet with secured access, the Powerheart G5 AED is available for the Papamoa community to use when required.
The cabinet that stores the AED is robust, temperature controlled to prevent the pads freezing and has LED lighting to provide illumination at night.
The AED is particularly well suited for community use as it provides real-time CPR feedback and user-paced instructions. Even first-time users can successfully use the fully automatic defibrillators.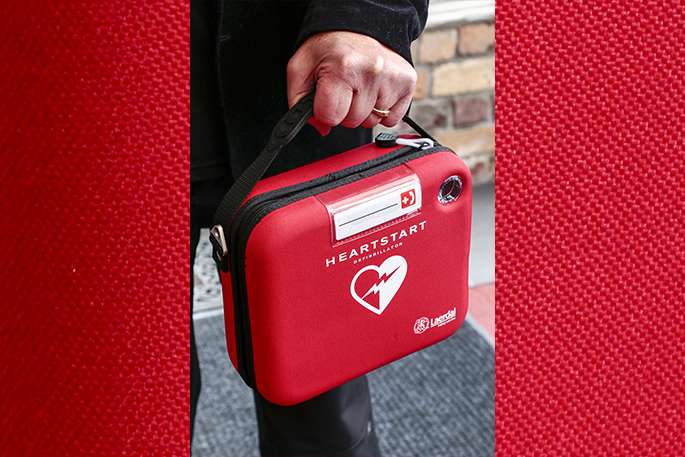 A Heartstart defibrillator
"Anyone can use an AED; all you need to do is turn it on and follow the simple instructions," says Dr Tony Smith. "Know where the AEDs are in your area, for example via the AED locations website, and have the confidence to use one. For every minute that goes by without CPR or using an AED the chance of survival drops by 10-15 per cent."
One way of improving the use of CPR and AEDs is to increase the number of people registered as GoodSAM responders. The GoodSAM Responder App allows people who are confident in CPR and using an AED to register and be alerted when someone nearby is in cardiac arrest. If you accept a call for help, a map will immediately show you both where the patient is and the location of nearby AEDs.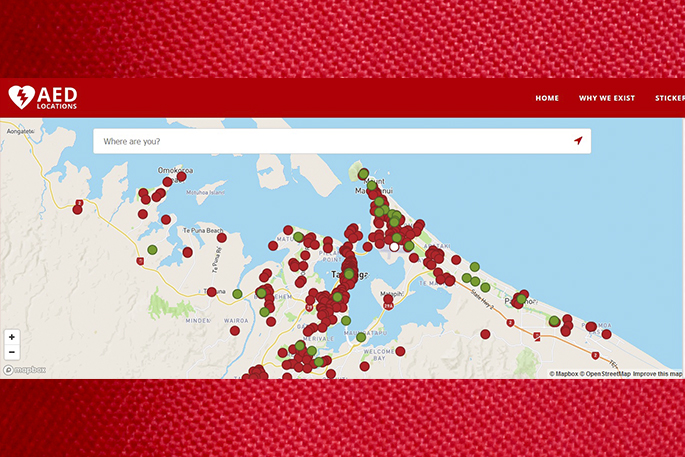 AED locations in the Western Bay of Plenty are shown on the AED website
"More AEDs are needed in remote and deprived areas as these are the people more likely to have a cardiac arrest but less likely to survive."
The report shows community defibrillation can improve cardiac arrest survival by over 35 per cent and St John is working with community partners, such as ASB, to get AEDs into remote communities, including marae, to help address this inequity.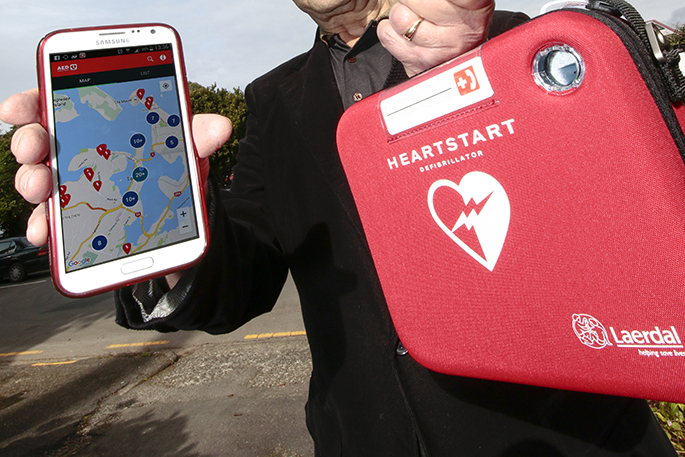 The NZ Red Cross believe that AEDs increase the chances of survival for people who have heart-related emergencies. According to the Red Cross, a New Zealander dies from heart disease every 90 minutes. This equals 16 deaths per day, and many of these deaths are believed to be premature and preventable.
A victim's chance of survival decreases by 7-10 percent for every minute that passes without defibrillation.
AEDs are placed in areas where members of the community gather such as around libraries, schools, shops and sports grounds. Providing 24/7 AED access in public places increases the chances of survival for people who have heart-related emergencies. For every minute defibrillation is delayed, the chances of survival drops by around 10 per cent.
First Aid Training courses are provided at the Western Bay of Plenty Red Cross training rooms in Greerton. The NZ Red Cross also runs a training session in the community with every AED station purchased. The AED training course is also available online and covers everything anyone needs to know about using an AED.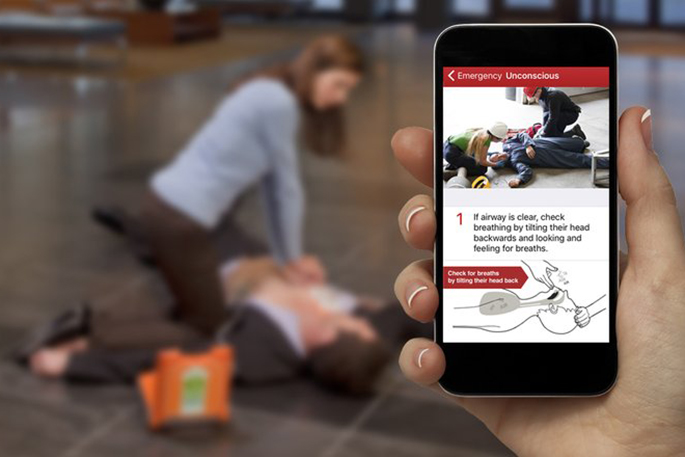 A NZ Red Cross First Aid and Emergency App is available for download.
A NZ Red Cross First Aid and Emergency App is available for free download, and is designed to give people lifesaving skills at their fingertips. The free app features simple, easy advice on everyday first aid scenarios, and step-by-step instructions on what to during an emergency. This can be downloaded from www.redcross.org.nz/first-aid-app
Red Cross also provide a free downloadable Hazard App, which is a tool for receiving disaster alerts and helping people get through emergencies such as floods, earthquakes, tsuanami, fire, weather and biosecurity risks. This can be downloaded from www.redcross.org.nz/hazard-app
The Powerheart AEDs are available for sale in New Zealand exclusively by New Zealand Red Cross. Every purchase is supported by the Red Cross AED management programme to help ensure each AED is always RescueReady. Contact 0800 AED AID or email products@redcross.org.nz for more information.
Dr Smith explains that there are many factors that go into cardiac arrest survival.
"The chain of survival starts from the bystander recognising someone is in cardiac arrest, calling an ambulance, starting CPR and using an AED, and continues with treatment on scene by skilled ambulance officers, through to arrival at hospital and ongoing treatment by hospital clinicians."
Dr Smith says more work and resourcing is needed in order for St John to improve cardiac arrest survival statistics to a similar level of comparable ambulance services internationally.
"St John's clinical processes continue to be of a high standard but without greater funding and resources we are unable to make the same improvements as other services. We want to establish more complex clinical training and auditing of each cardiac arrest, improve technology and equipment and, significantly, implement the Global Resuscitation Alliance 10 steps to improving outcomes for New Zealand."
"Nonetheless the message is clear, if someone is in cardiac arrest, call an ambulance by dialling 111, start CPR and use an AED."
This year St John has published three Out of Hospital Cardiac Arrest reports, which can be accessed here.
Learn the 3 Steps for Life
Download the free St John mobile CPR app for instructions on how to do CPR
Learn how to locate the nearest public AED.
More on SunLive...