A slash of lipstick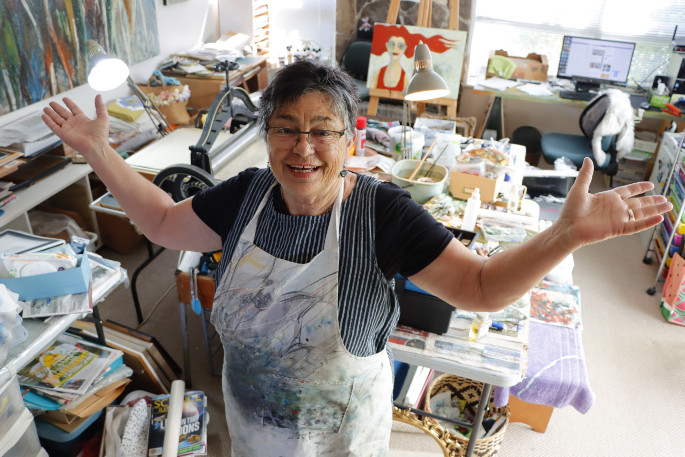 Janice Giles has titled her new solo exhibition at the Cottleston Gallery 'Lipstick and other tropes'.
This is intriguing to me, as tropes are not quite clichés but are used to give a deeper or additional meaning.
I wondered how Janice would create imagery that plays into an audience's senses, bringing other shades to an idea.
"They're ideas around femininity, the gendered idea of what it is to be female, that kind of thing," says Janice.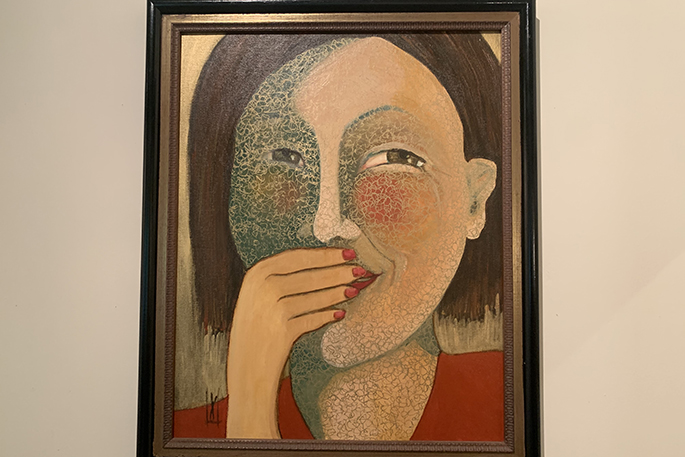 'It's written all over her face' by Janice Giles
Her 'It's Written All Over Her Face' is whimsical, showing a bemused look as the subject hides her thoughts behind a hand, with her face covered in tiny squiggles, like quivering laughter. Painted in acrylic and oil paint, it also has Shiseido lipstick mixed into the portrait.
Another is called 'Red Dress and Heels'. Others have titles like 'Little Black Dress' and 'Call of the Wild'.
"She's a bit crazy looking," says Janice.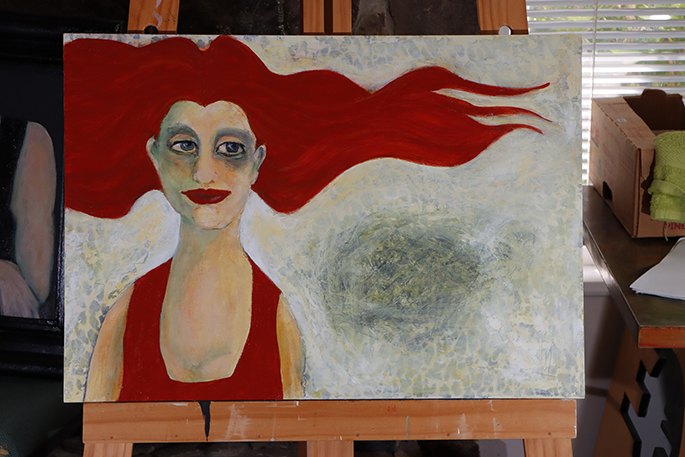 'Call of the Wild' by Janice Giles
"The 'Blue Lady', 'Her with the Fur', 'Natural Blonde' –everybody has an idea in their mind when you say those phrases. Because they're not quite clichés, but are ideas about what women are supposed to be about.
"So lipstick in a sense is a trope because we are all supposed to wear it."
She has actually used lipstick in every work. It may be not on the lips, it may be as an oil-based glaze over the skin or over the background, mixed with oil paints.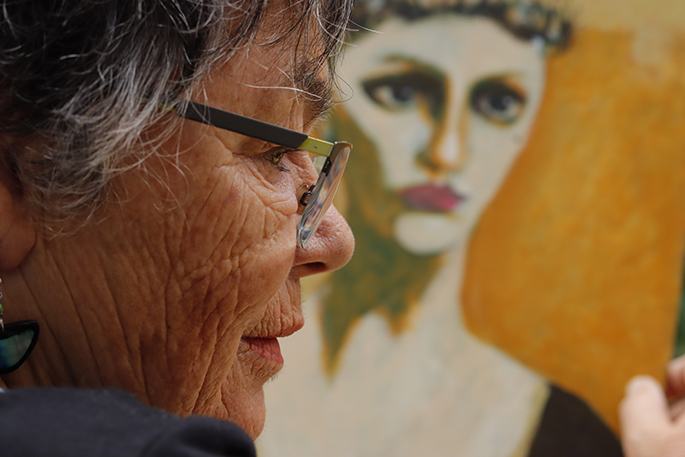 "I've used my mum's lipstick. I've had to mix them with other things, some encaustic with the melted wax works. And I've mixed them with oil paints."
In Janice's studio a printing press is used for handmade printing.
"I've included some of my lino cuts into the encaustic works with lipstick."
Encaustic work is especially hardened beeswax with a natural hardener.
"It's really tricky. We use a little flame thrower," says Janice.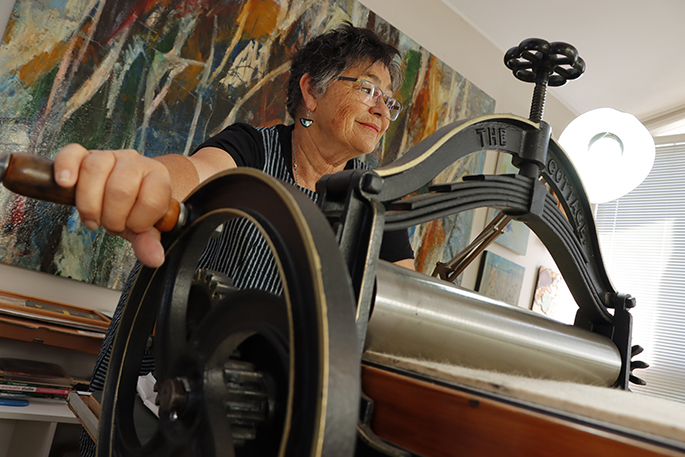 You step down through a large open doorway into a high-ceiling studio.
"It was a big living room. I also work outside on a covered terrace. So I'm in the garden really, but I'm sheltered."
Janice says she doesn't use brushes much.
"I use bits of stick and my fingers. I do it because I want to avoid being sucked into perfectionism.
"You spend your whole childhood trying to learn to paint like that and then you spend all your later years trying to not paint like that."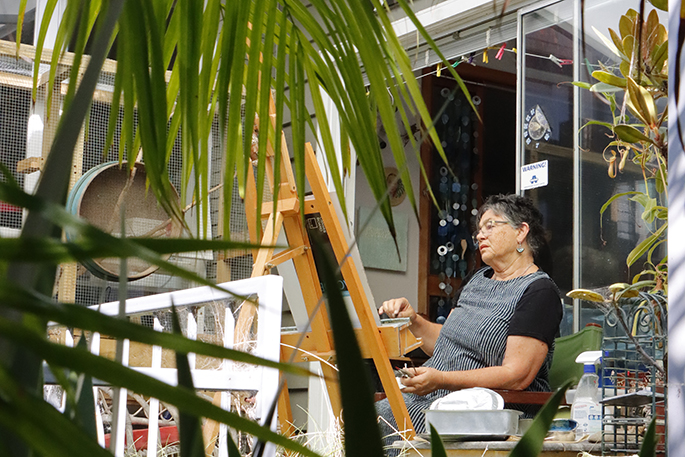 She also doesn't aspire to realism.
"I'm trying to capture an experience, or a feeling."
Most of her works carry a sense of something playing around the eyes or mouth, or is conveyed through a body – languishing, lying or poised.
In keeping with the concept of recycling, Janice has repurposed or developed frames used to contain the work.
It's clear she has had to do a lot of experimenting to find ways to work with the lipstick so that it's durable. Technically, it's an exciting exhibition, but visually it's also an expressive, joyous celebration of the spirit of women, as many of the paintings have the female form as their main subject material.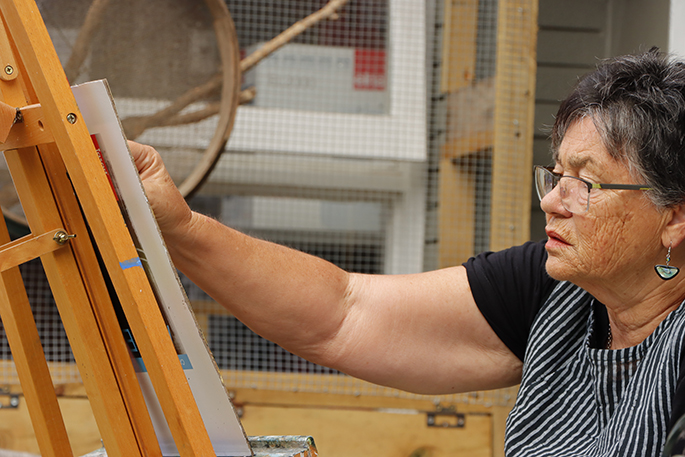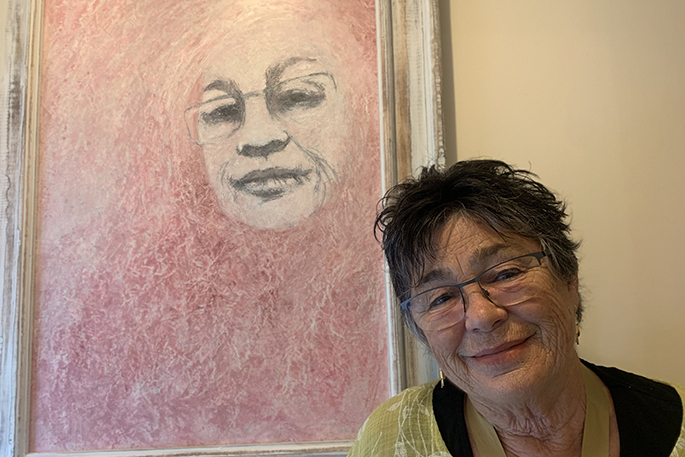 Janice, who has been a finalist in exhibitions at the Rotorua Museum, The Miles in Tauranga and the Molly Morpeth Canady in Whakatane, says that her mother Valentine Scrivener, a textile artist, grew up during the Great Depression of the 1930s and had been in the habit of saving and repurposing resources.
After Valentine's death, Janice found dozens of lipsticks among her effects: Max Factor, Lancome, Estee Lauder, Elizabeth Arden, L'Oréal, Nutrimetics, Dorothy Gray, Maybelline, Revlon, Chanel and Shiseido.
"My mum never went out without, what she called, a slash and a splash. So lipstick was the slash, and the splash was the perfume," says Janice.
In the spirit of Val's dislike of waste, Janice resolved to find a way to use these in her own work. It's a beautiful expression of acknowledging her mother and well-worth seeing.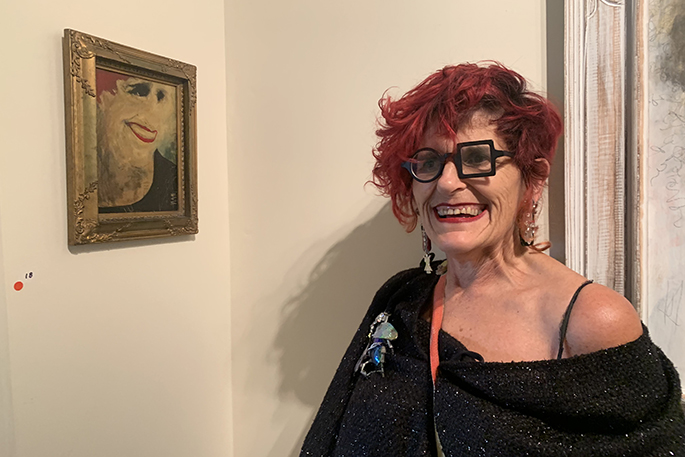 Mary Borman
A favourite amongst them is the portrait of Mary Borman who runs High St Boutique.
"That's called 'High Street Woman'," says Janice.
"You have an idea of what that's about when you say 'high street woman'. But of course it's nothing like that. Mary's Mary."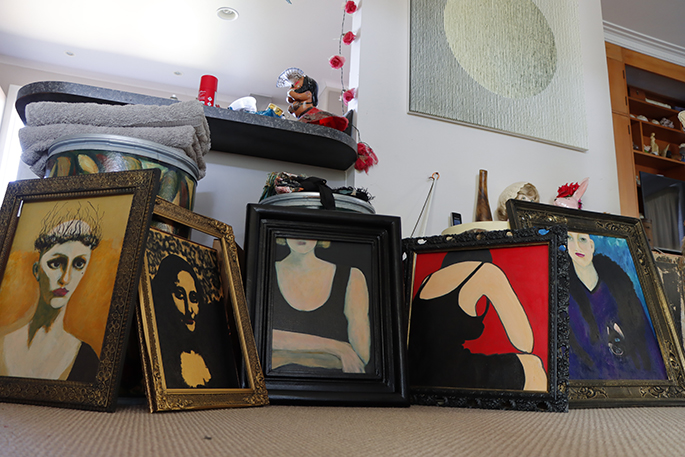 Each painting is unique and very different. Janice seems to like cutting off a head above the eyes, and just showing a mouth, again drawing attention to lipstick.
'Call of the Wild' has a dreamy element with the subject's hair flowing away from her face. She's looking far away because she's thinking about the wild.
"I used a yellow lipstick in that, from an old one of Dorothy Gray. It's over the top of a painted leopard print which I've painted over the top of with yellow lipstick and white oil paint.
"It's that cliché where you see women wearing leopard print, and it's meant to imply in some way that we're wild sexy things."
Janice Giles' exhibition 'Lipstick and other tropes' is on at the Cottleston Gallery, 128 Oropi Rd until March 29. Open 11am to 4.30pm Tuesday to Sunday.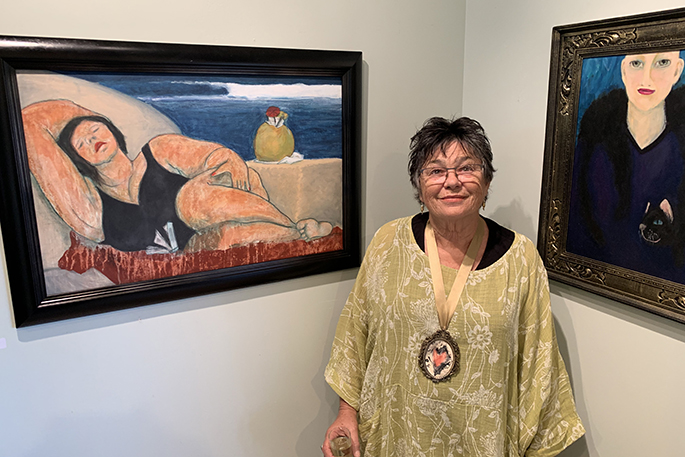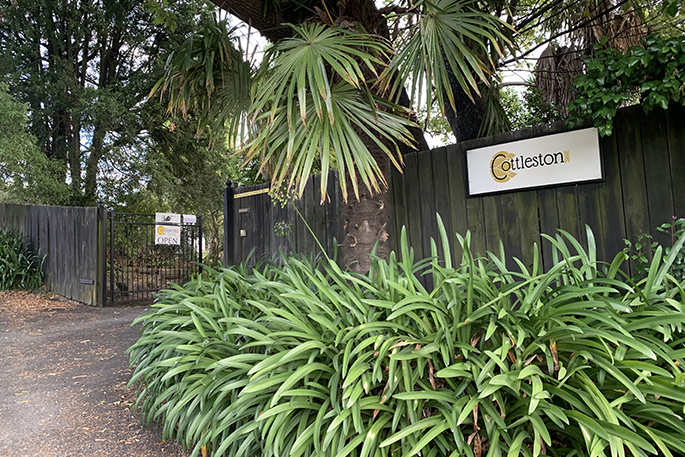 More on SunLive...