What's on - death cafe, water fight, water cricket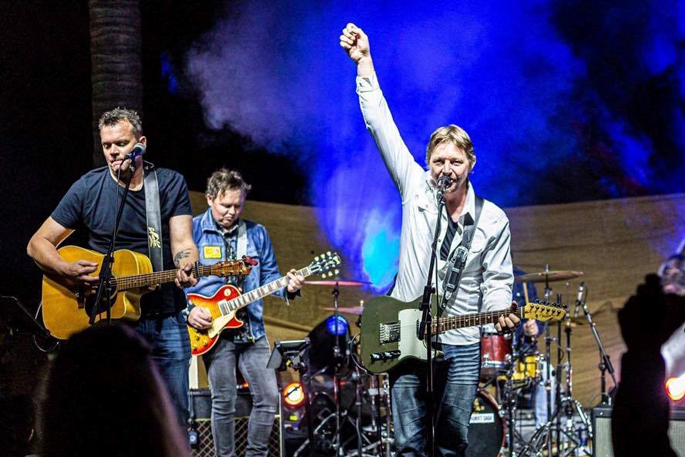 Kia ora and welcome to Saturday. Morena koutou! Me koa te ra.
Today we are expecting a mainly fine day with southeasterlies, gradually tending northerly, and dying out at night.
It's a one-to-two-layer clothing day with an expected high of 23 degrees and an overnight low of 14 degrees. Sunset is at 7.36pm.
Remember that sun protection is required all day today even if it's cloudy, until 4.30pm. Cloudy days mask the UV risk.
What's on today?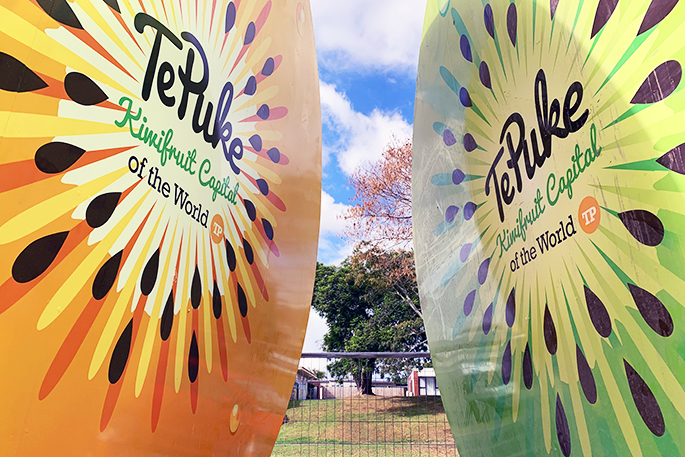 The world's first ever kiwifruit race is on today. Come to Te Puke for Te Puke Primary School's inaugural kiwifruit festival including the world's first ever kiwifruit race, stalls, prizes, live music, fun activities for all ages, supporting the school and showcasing the best of the local community.
While visiting Te Puke, head on to the Sustainable Day Out festival at the Te Puke Memorial Hall from 9am – 1pm. This is a free family fun day with games, performances, stalls, workshops and more.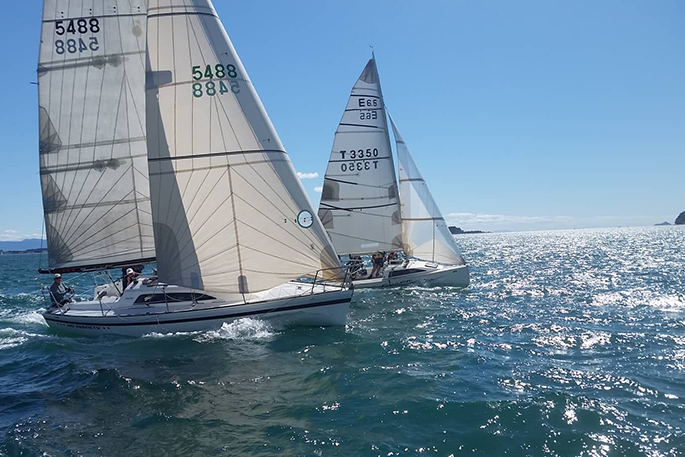 The 'world famous' Mount Maunganui Yacht Club Cricket Match is on today from 3.30pm – 6.30m on 'Clayton's Island' in the Tauranga harbour. The match is held on the sand bank which appears at low tide in the middle of the harbour between marks 13 and 9, at low tide - the lowest of the season. Being low tide and with the steep channel cutting even boats with deep keels can "moor" alongside the playing field. Come along, bring some food and refreshments, shoes (essential) and join in the fun. This is a fun afternoon, in the most novel of settings. More information here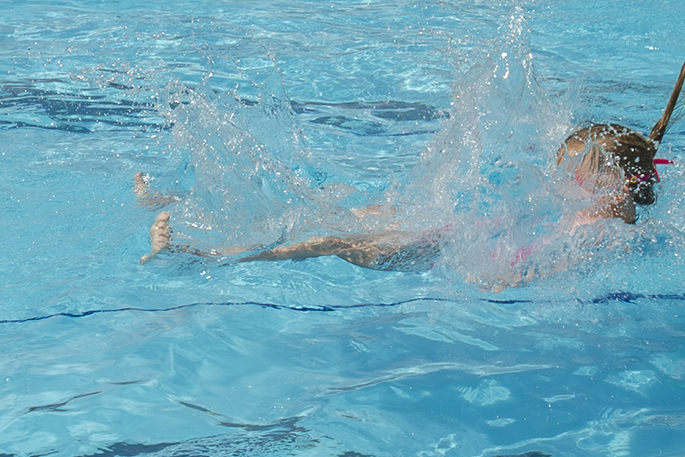 The Bay's biggest water fight is on today from 10am – 2pm at the Memorial Park Pool in Devonport Rd. The first 50 kids get a free water pistol on entry. Come and join in the fun.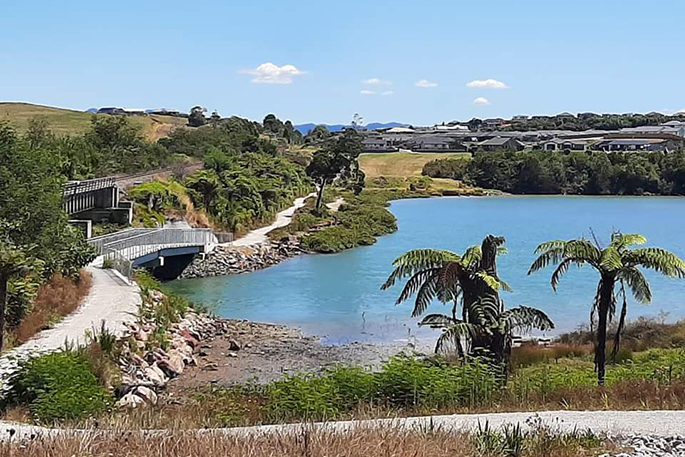 Frocks on Bikes are hosting a ride from 9.30am – 12pm in Omokoroa. Ride the new Omokoroa trail to Plummers Point, 15km total – approximately one hour riding time - then coffee afterwards at the Boat Club. The path is a mix of compacted metal, boardwalk and concrete path, and includes a few small inclines.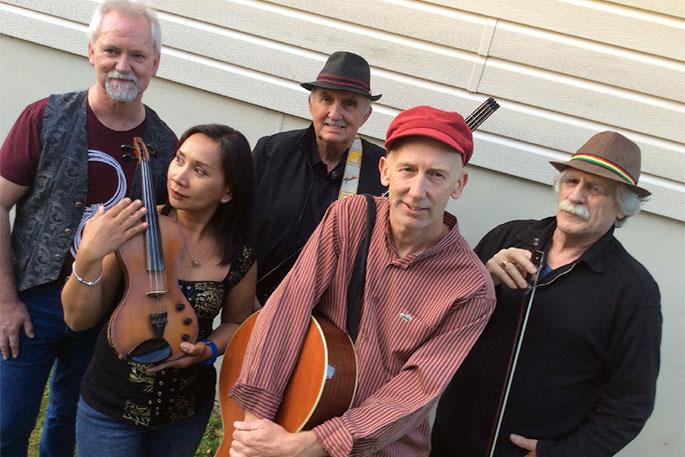 Greerton Village is turning green today for a St Paddy's Fun Day in the village square from 10am – 1pm with the Whittakers band playing music, fun prizes and circus entertainment.
Also in Greerton will be the Saint Patrick's Day Races from 10.30am – 5pm at the Tauranga Racecourse. Entry is free with free kids entertainment and prizes for best dressed.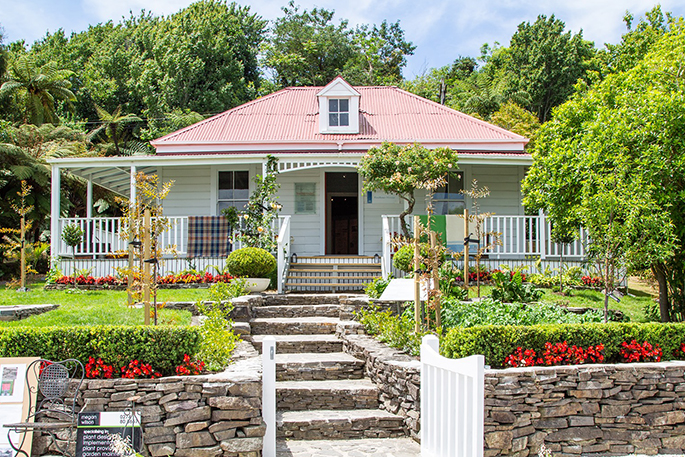 Faulkner House
Share your whakapapa on film. You are welcome to share your family background and connection to John Lees Faulkner and Ruawahine/Elizabeth Faulkner, today at Faulkner House, The Historic Village, 159 17th Avenue from 9.30am to 5pm. Footage will be filmed and collated by Doppler Media and will be archived with the Tauranga Heritage Collection for Okorore Ngā Toi Māori to share the Faulkner descendants' narrative. This is a collaboration between The Incubator Creative Hub and the Tauranga City Council Heritage Collection. For more information please click here
Also at Tauranga Historic Village is an exhibition by Arohanoa Mathews titled 'Ko ahau/I am'. This is on display at The Incubator Creative Hub from 10am – 3pm.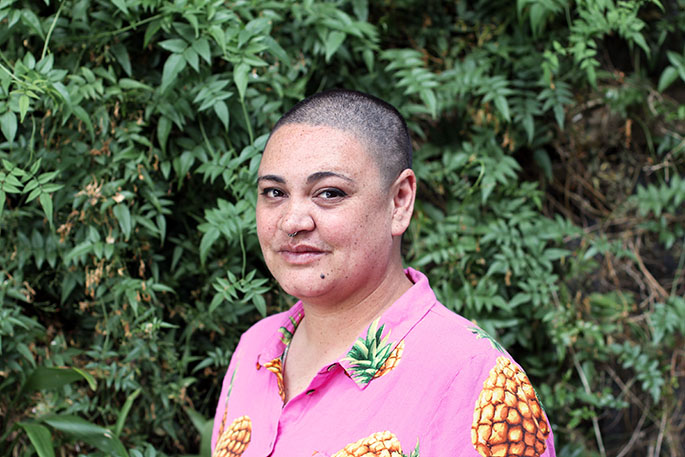 Sarah Hudson
Miles Art Award judge Sarah Hudson will be hosting a 'walk and talk' today from 11am – 12pm at Tauranga Art Gallery, showing the Miles Art Awards 2020 exhibition and sharing her insights into the selection process of the 40 exhibited finalists. Free entry.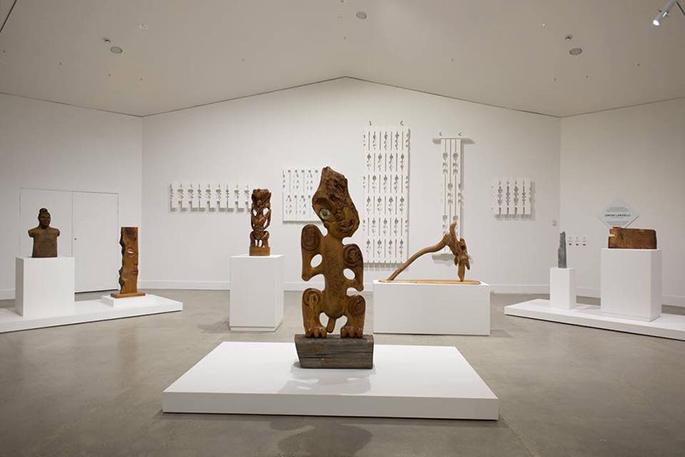 At Tauranga Art Gallery, the Matatoki: Mata a Waka exhibition is the first exhibition to open Tauranga Art Gallery Toi Tauranga's 2020 programme celebrating Mana Moana – Mana Tauranga. The Tauranga Art Gallery is open Saturday and Sunday.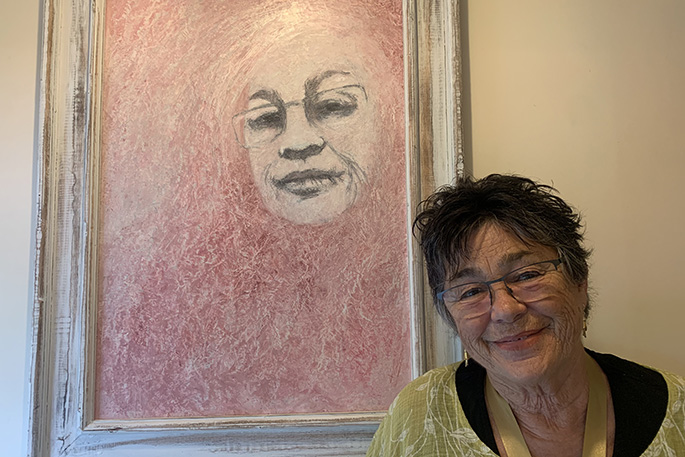 Janice Giles
Lipstick- an exhibition by Janice Giles is now showing at the Cottleston Art Gallery at 128 Oropi Rd. Gallery is open today from 11am – 4.30pm. Click here for more information.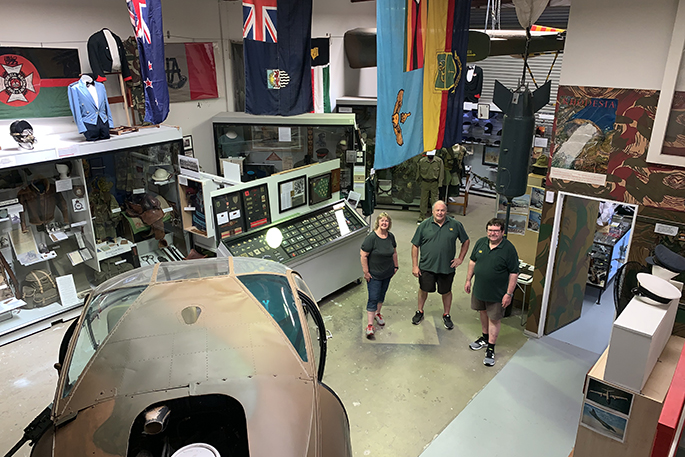 Diana Bomford, Tony Fraser and Hugh Bomford at the Lion and Tusk Museum at Mount Maunganui
Have you been to the Lion and Tusk Museum yet? It's open today from 10am - 3pm at Unit 4, 14 Portside Dr, Mount Maunganui. Come and see a massive display of Rhodesian military history records and exhibits of uniforms, medals and equipment. For more information click here.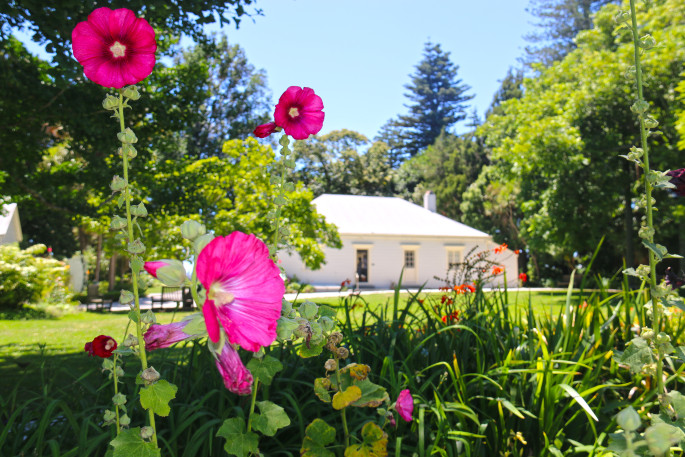 The Elms | Te Papa Tauranga, one of New Zealand's oldest heritage sites is open today from 10am – 4pm and is located in Mission St, Tauranga. Come for a guided tour. More information here.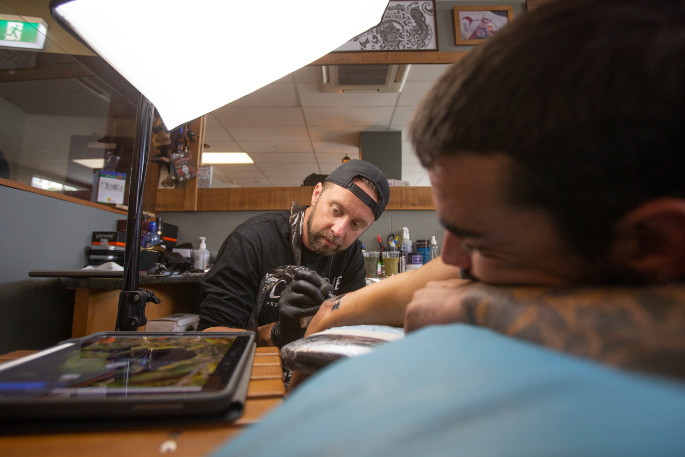 The Tattoo and Art Extravaganza is on today and tomorrow at Trustpower Baypark from 11am – 5pm.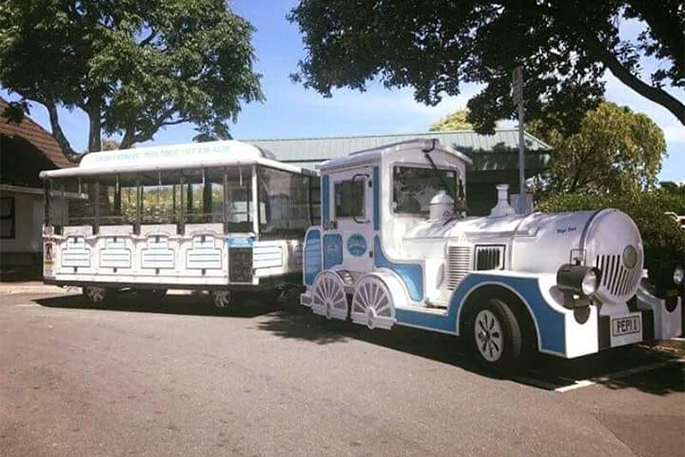 Next to Coronation Park is the Pepi Toot train which will be out about today from 10am – 2pm, leaving from Salisbury Ave outside the Spongedrop Cafe. All aboard! Toot! Toot!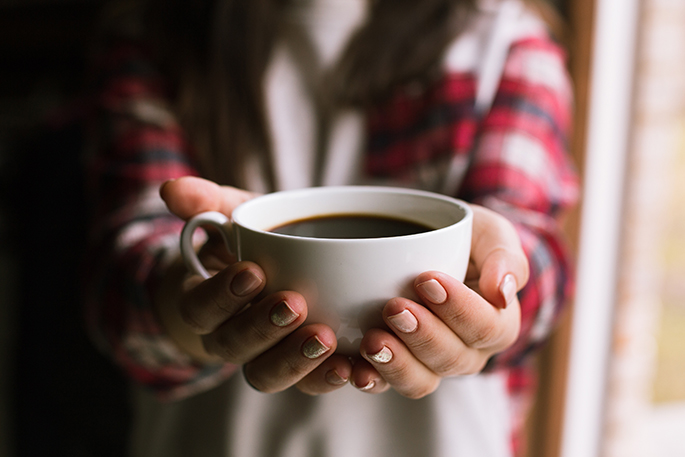 The Tauranga Death Café are hosting an event at the Grindz café in First Ave from 1pm – 3pm. Everyone is welcome to this open, relaxed and spontaneous conversation on dying and death. More information here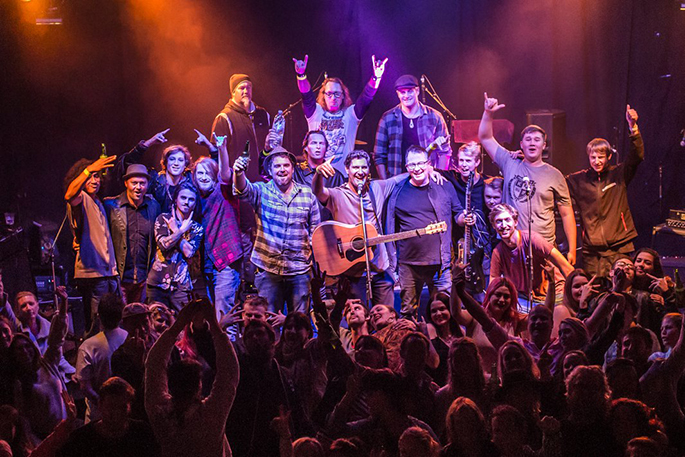 Bay Originals are at Astrolabe from 3pm – 11.30pm with a line up of youthful acoustic duos and solos, chill NZ reggae sounds, and from the electric to the intense with Alchemy of Sound, Joe Emanuel, Matty Buxton Music, Flava Town, DELTA and Solomon Crook. Free entry. More here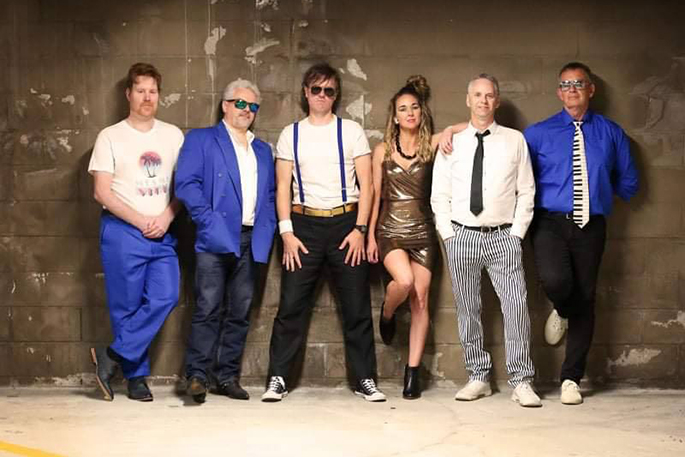 Max Headroom
Tonight will be the last chance for Bay of Plenty residents and visitors to enjoy some top-class live music while supporting the victims of Australia's bush fires with 'Bay Rains'. The performers, who have come from around New Zealand and Australia, have put on some great funk, blues and rock shows, with one more show to come tonight at the Black Sheep Restaurant in Whakamaramara. Acts include Shabang, Chalkie White Band, Max Headroom and Wellington-based musician Steve Wright and many more.
For more of what's happening around the Bay:
Art In The Park
Original art for sale. Coronation Park, Mt Maunganui. Weather permitting. 9am-4pm. Tauranga Society of Artists
---
Bay Network Singles Club
Social club for over fifties, meets mostly weekends for dinners, barbecues, pot-lucks, shows & occasional outings. Ph Maureen 021 112 307, Jonathan 572 2091
---
Bethlehem Market
2nd Sat @ Bethlehem Hall. Giftware, food, coffee, art, crafts, kids gear, man-cave supplies, fresh produce. Affordable local enterprise. FB BethlehemMarketTauranga, Txt 027 334 8301, tracey.king.BOP@gmail.com
---
Blues Brothers Musical: Auditions
Want to audition for the world premiere of the musical The Blues Brothers: First Contact? Auditions in January 2020. Head to https://www.taurangamusicaltheatre.co.nz/shows/thebluesbrothers/ for audition info.
---
Classic Motorcycle Coffee Meeting
Join us for coffee 10am @ Four14, 414 Pyes Pa Rd & talk classic motorbikes. Join our rides. Ph Don 027 241 3595
---
Croquet
At Croquet Mt Maunganui, 45 Kawaka St. Mon, Wed, Sat 9:15am for 9:30am start. New players & visitors welcome. Jacqui 574 9232
---
Gate Pa Junior Tennis
9am Hotshots 5-8 yrs, 10am Hotshots 9-11 yrs, 11am 12-16 yrs. Coaching included. Ph Turu 021 061 1942 or just turn up to have a go.
---
Katikati Lions Moggies Market
Katikati War Memorial Hall 8am, 2nd Sat of month. Ph Alan 027 279 1096 (outside) or Sharon 022 318 0196 (inside)
---
LOL Laughter Wellness
Get the new decade going with a laugh. Join us at Arataki Community Centre, Zambuk Way, Bayfair. 11-11:45am. Trish 022 036 6768 lollaughterwellness@gmail.com Koha only
---
Ottoman Upholstery Workshop
Want to learn upholstery? Cover your own Ottoman with Paula Jones. $145, 28th March 9:30am-4:30pm, The Artery, Historic Village, 17th Ave. Book @ www.theincubator.co.nz. Ph 571 3232
---
Pétanque Tauranga BOP
At Club Mt Maunganui Tues & Sat. Improve your fitness, meet new people. Tuition & Boules available. petanquetauranga@gmail.com
---
Repair Cafe Te Puke
A place where people can repair things together with expert volunteers for free. 9am-12:30pm at The Orchard Church. Now with Car Boot Sale/Market.
---
St Stephens Jigsaw Library
10am-12noon. Borrow from 500 puzzles (100-1500 pieces) for 50c-$1. Cnr Highmore & Brookfield Tce, Brookfield.
---
Synchronised Swimming
Tauranga Synchro is a friendly synchronised swimming club based at Baywave. Beginners train Sat mornings. First lesson free. Ph Jo 027 543 1697, www.taurangasynchro.co.nz, Facebook: @taurangasynchroNZ
---
Taoist Tai Chi
New beginner classes today: 15 Koromiko St, Judea, 8:30-10am. All welcome, start anytime. Ph 578 6193 or visit www.taoisttaichi.org
---
Tauranga Floral Art Group
Meeting and workshop, every second Wednesday & Saturday at Baptist Church Hall, Tauranga 9:30 start. New members welcome. Ph Sue 552 6681
---
Tauranga Social Dance Club
2nd Sat monthly. Restarts today 7pm. Baptist Church Hall 13th Ave/Cameron Rd. Supper, raffles. Entry $7. Ph Barbara 027 284 3795
---
Te Puke Toy Library
Join up with us & play with quality toys for a fortnightly hire. Wed-Sat 10am-1pm. Friday Playgroups 10am-12pm. 7 Stock Rd, Te Puke 027 263 9309
---
Under The Stars
65 Cliff Rd (opp Mission St) Sat 6pm & Thurs 12pm for meal, showers, toiletries, clothes. Anyone in need welcome.
More on SunLive...